How are the audio cassette tapes recorded and what is the quality like?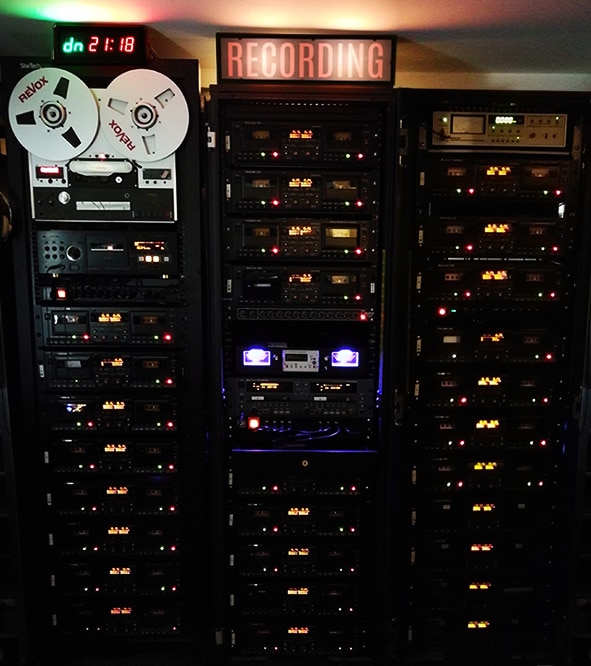 Unlike a lot of duplicated cassettes that are recorded at high speed which can lose most of the top octave or two, we record ours in real time from a CD using high quality Tascam 302 and 322 decks that are regularly calibrated and serviced for the best recording quality. The master CD source is a Tascam CD-RW402 dual CD professional deck.
We run twenty eight active decks with another fifteen or so as serviced reserves, in the process of being serviced/repaired or being used for parts. We  replace the belts and pinch rollers for new items as necessary and oil the motors to help stabilise the wow and flutter as much as possible. This setup allows us to record over fifty cassette tapes in real time in a single batch.
The decks are fed by a stable UPS power supply to avoid power quality issues or power surges causing audio issues or damaging hardware.
On a daily basis the recording heads and capstans are cleaned and on a weekly basis the speeds and wow and flutter checked via our Leader wow and flutter meter. We aim for speeds from a 3kHz master test tape to be within 0.66% of true at 2.98-3.02kHz.
At least once a month the playback and recording head azimuth alignment is also checked with an oscilloscope and adjusted as necessary, plus the heads are demagnetised.
We also regularly listen to random recorded tapes from each batch to check audio quality and relative recording levels of the decks are also checked and peak dB is adjusted to on average be no more than +2/3dB for ferric tapes or +4/5dB on chrome tapes.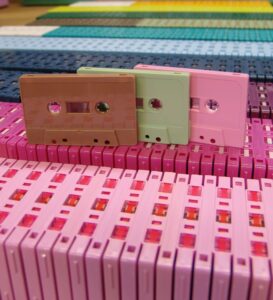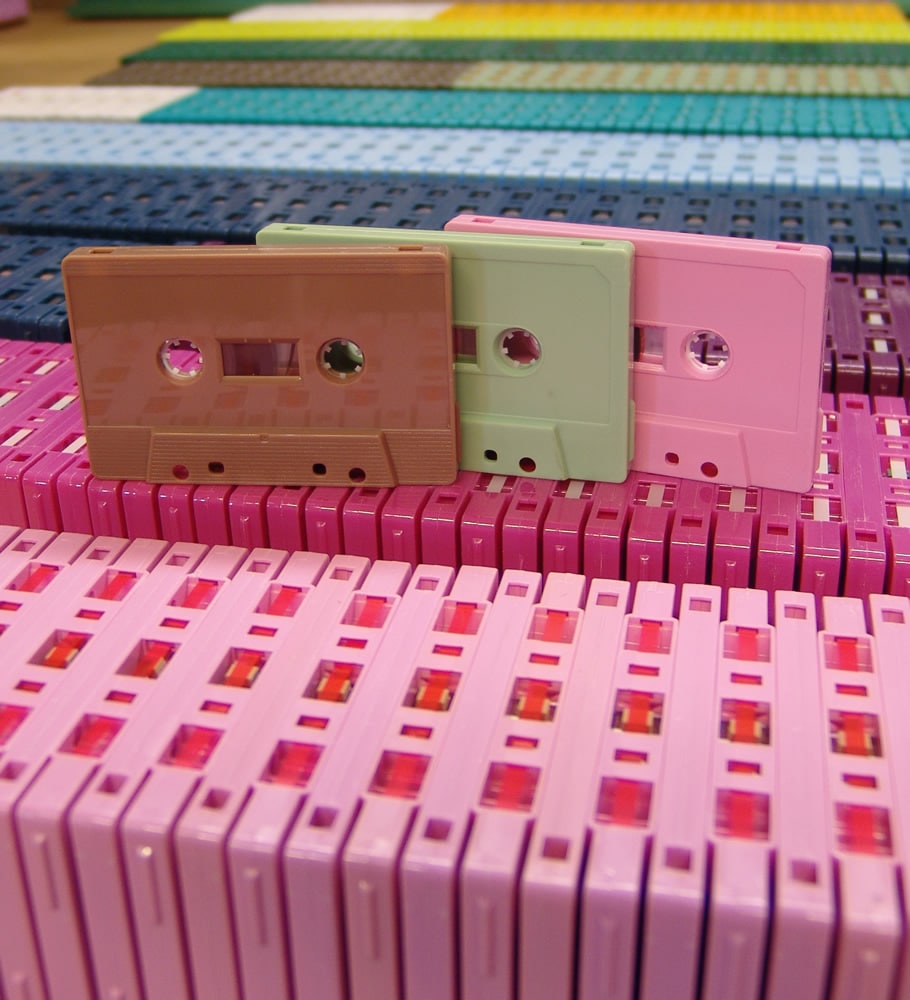 Please note that whilst we attempt to keep consistent sound recordings across all tapes, because we are using a large number of tape wells and even the newest decks are at least ten years old, there can be minor differences from tape to tape, most of which would only be picked up by direct tape-to-tape comparisons, but which will not be noticed by customers with a single copy. The cassette format was never a perfect media though and allowances need to be made in comparison to CDs or high quality digital files, however on a high quality cassette deck the sound can still be very good and the sound from cassettes (like with vinyl) is embraced by many artists and audio genres for helping give character and life to the recording.
As the tapes are recorded in real time from a master CD (which is a 16 bit audio source), if any digital audio files are sent over as 24 bit tracks then we will convert to 16 bit before recording. Our preference is for you to send us 16 bit 44.1kHz WAV files as these are exact CD audio quality.
If you have a specific sound you are looking to achieve or are worried about how your tapes will sound, we strongly recommend that you order a proof cassette before you go ahead with the order so that you know how your tapes are going to sound. Proof tapes cost either £33+VAT for a fully printed copy or £20+VAT for an unprinted audio-only copy and take up to 5 days to get to you (longer if you are overseas). You can read more about cassette proofs here.
All of our cassettes use a standard high quality ferric tape, we ran out of chrome reel in 2019 and no-one currently makes this formulation of tape, however if it does become available again in the future then we will look at stocking it again.
Please contact us for further information.
Click here for the main cassette tape duplication page.