Wedding favour CDs and wedding invitation CDs

A wide range of disc and packaging options custom printed to suit your wedding theme
In recent years we have seen a large demand for CDs and DVDs for weddings to use as initial invitations, favours at the wedding or for use after the wedding with a selection of wedding photos or videos on for example.
Retro vinyl-style discs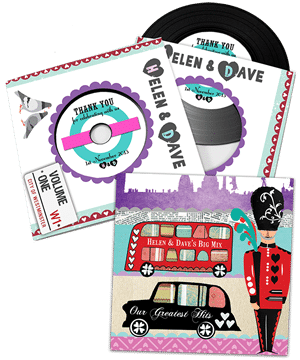 Our retro vinyl-style CDs that look like mini records are the most popular type of wedding CDs that we produce, particularly in the record-style card wallets with a hole in the front to show the central disc artwork. The wallets are available in a range of plain colours and also with your own printing on both the front and back of the wallets. The record-style CDs have raised ridges and grooves just like real record and are available with the record-style effect in a wide range of colours including black, gold, silver, white, green and orange.

Find out more about the vinyl discs here…
Other packaging options
In addition to the record-style wallets, the other popular packaging options for weddings are 4 page printed card CD wallets that offer a greater printed area than the single wallets and they can also be provided with a pocket in the left hand inner panel for cards or a booklet to be inserted in with travel directions or accommodation options for example.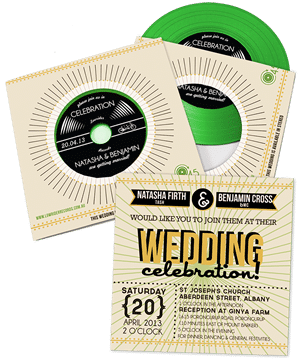 The 4 page printed card digipaks offer a similar printed area to the 4 page wallets above, but the disc is inserted into a clear disc tray that is glued to the inner right panel, rather than tucked into a card pocket. This does make them more rigid and substantial to the touch than the wallets and the digipaks can also be supplied with a pocket in the inner left panel for inserting further information if you wish.
As a more cost-effective option and with similar pricing to the record-style discs in plain record-style wallets, we can provide either standard CDs or record-style discs within a clear plastic wallet, either with or without a thick printed card full colour insert with further information or photos added. For pricing and further information, please click here.
We also have a multitude of other packaging options that are available to view on our home page or from the navigation bar at the top of the page. We provide prices and artwork templates on each of the detail pages for the relevant packaging options.
Recycled card and brown Manila stock options
We can produce each of our packaging options in a rougher texture recycled card stock if you prefer and our plain record-style card wallets are also available in a thick brown Manila card that has proved particularly popular as you can always write personal notes, place names or hand-stamps to the plain wallets to customise them yourself.
Need help with the artwork?
No problem at all. We can create the artwork for you if you like, either fitting in with existing items for the wedding, or producing a unique stand-out style. You just provide us with the text and any images that you would like us to use along with any specific requests for fonts, colours and layout and we will do the rest and produce an initial design that will then be revised accordingly until you are completely happy with it. We typically charge £35+VAT for the disc artwork and £35-70+VAT for the wallet or packaging artwork depending on complexity. We also have a corporate subscription to the Shutterstock library of royalty-free images, so can use any of these photos or illustrations in your artwork free of charge.
Adding copyright audio to the discs
If you wish to add your own music, your own spoken words or music from the band that may be playing at your wedding then you do not need a licence for adding that audio to the discs. However if you wish to add audio from any other performing artist, including the latest chart music then you need to apply for Limited Manufacture (LM) licence, which can be done online through PRS for Music. Find out more about the Limited Manufacture licence here
Cassette tape table name place holders
If you are into your music or have a retro-style wedding then why not find out more about our table name place holders that are made from two cassette tapes? The cassettes are available in 32 different colours and styles, so you should be able to colour code with your wedding theme and they are even brand new working C90 cassettes, so can also double up as wedding favours and be used by guests afterwards. Find out more, view the different colours available or order online on our sister site: www.retrostylemedia.co.uk
Any questions?
There are often many questions that customers may have about the packaging options for the wedding discs or in producing the artwork that are not answered above, in which case please do not hesitate to pick up the phone or email us and we will try to help. Our contact details can be found here.
Some examples of what we have produced for clients…