Custom printed portable stereo cassette tape players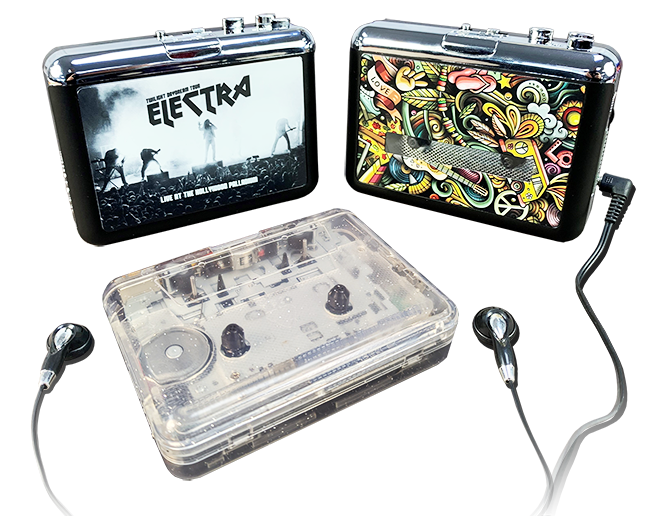 Add you own full colour print to customise them for your band, event or one-off gift
These are ideal for bands, artists or corporate promotions to create their own branded tape players as part of a cassette tape order, set/series, or to offer on their own.  Your artwork is printed on using a full colour and vibrant UV-LED print that is extremely durable and hard wearing.
These are brand new cassette tape players in black or clear (with silver glitter) in a similar style to the discontinued Sony Walkmans for audio cassette tapes with auto-reverse, a USB connection for downloading tapes onto your computer, a 3.5mm headphone jack, volume control and your own artwork printed on the font in full colour.
The audio quality is not going to compare to players from big brands back in the day and is a little bass-light with noticeable wow and flutter and background hiss, but it is certainly listenable and good option for someone from the younger generation who may have never owner a cassette player before or someone from the old generation who may no longer have their player! The sound is improved a lot if you plug in a high quality pair of headphones.
The players are compact, measuring 113mm x 30mm x 90mm and weighing only 174g. They require 2 x AA batteries to run, although can also be powered by a 3V 500mA power supply (not included) if you wish. A set of alkaline batteries in our test lasted for around 6 hours.
Included in the box:
USB cable and software (on a mini CD) to allow the transfer of tracks from the player onto your computer (but not the other way around, this is not a recorder)
Basic in-ear headphones
Your own printed custom stereo cassette player
Player features:
Fast forward, rewind, auto-reverse, selectable play modes (A+B sides, then stopping or continuous A+B playing), volume control, stop and play
3.5mm headhone jack with basic headphones included
USB music download connection
Available in two colours: black with silver elements and all clear with silver glitter
3V 500mA power supply (not included) connection
Compact, portable design with good battery life of around 6 hours from 2 x AA batteries
Some examples of our work:
Pricing for custom printed portable stereo cassette tape players:
Portable stereo cassette player with full colour custom on-body printing, headphones and USB transfer cable with software
Maintenance and care
We haven't had any tapes chewed up in our playback tests, although keeping the playback head and rubber pinch rollers clean will assist with preventing issues in the future. We recommend using pure Isopropyl Alcohol (IPA) on a cotton bud for cleaning the heads and rollers, the IPA can be purchased online or from hardware stores or chemists for example.
If you are not going to be using the player for a while then we would recommend removing the batteries and ideally store the player in a dry location at room temperature.
Artwork template downloads
The print area on the front of the player measures 94mm wide by 61mm high and below is a downloadable photoshop PDF with layers for either showing the cassette tape playback hubs through a window or for printing all over this area.
Pictures of the player prior to printing