Cassette tapes in cigarette pack cases
For small run orders of 25 items or more
These printed cigarette-style packs are the perfect size to contain a cassette tape within a standard 'Norelco' size plastic case and make an amazing packaging product for your cassettes, reminiscent of the Cigarettes & Alcohol cassette tape release by Oasis back in the 90's. They are available with full colour printing on the cigarette pack cases.
We can print on matt or gloss card stocks or even recycled card or brown Manila card if you would like something different. We can also produce the white card inners that help to keep the packs closed and add extra rigidity in matt or gloss white, recycled card stock, brown Manila card or solid black card stock.
The finished items can also be shrink wrapped and options like J-cards in the cases and full colour, full coverage on-body printing on the tapes can also be added to give you the freedom to create something really unique.
Cassette shell colours available
We have all the colours in the rainbow with over 60 different shell colours and one of the largest selections in the world. Please note that the exact tape shell style and shade can vary slightly depending on current stock and suppliers, if you have a very specific request then please contact us.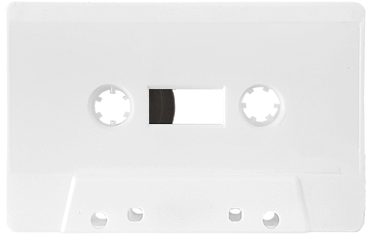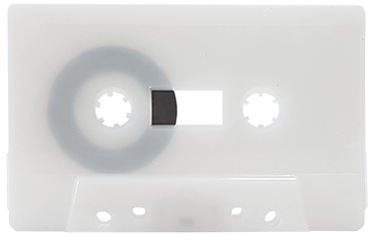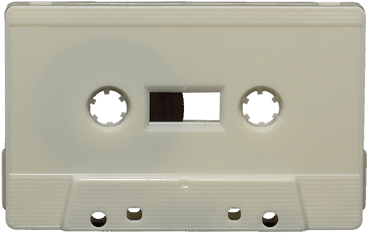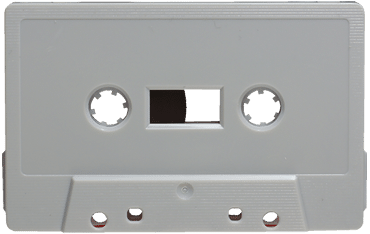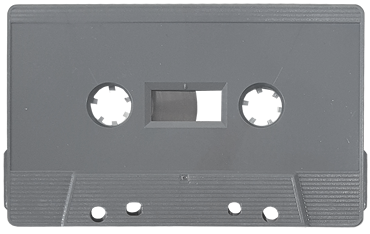 Vintage Silver (with artifical stress marks)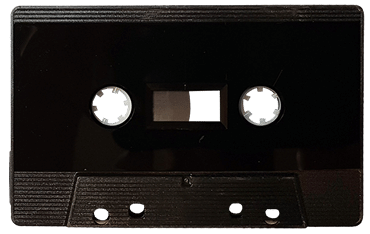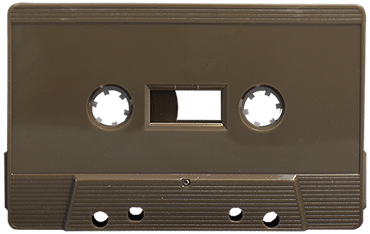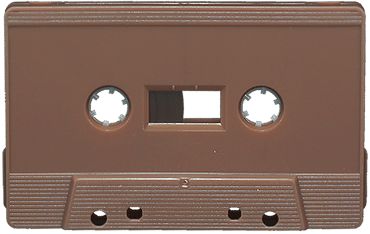 Vintage Bronze (with artifical stress marks)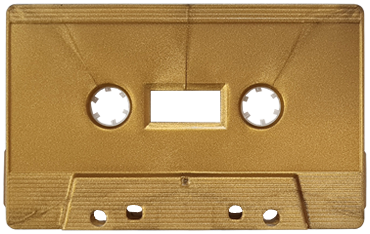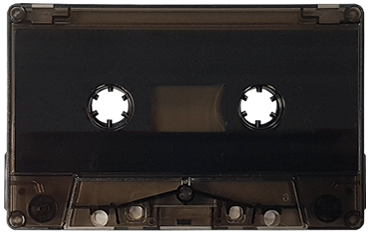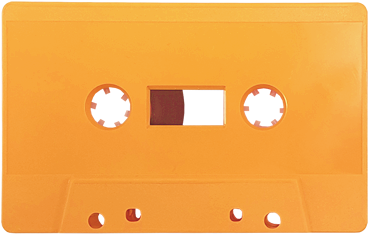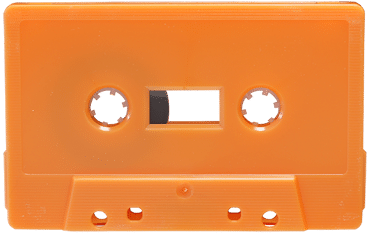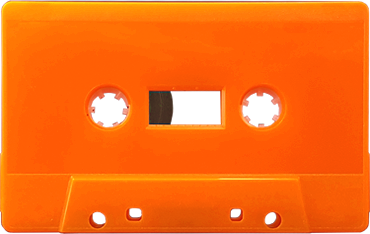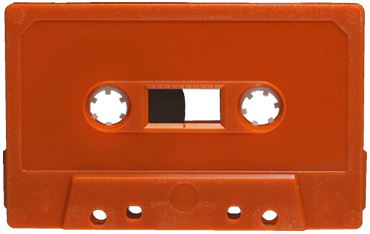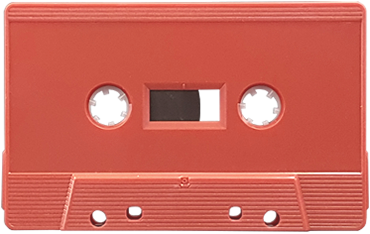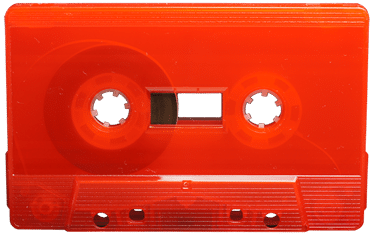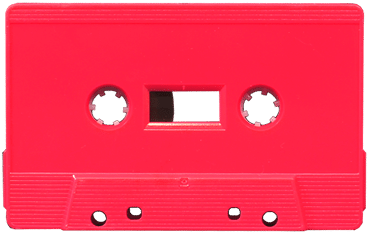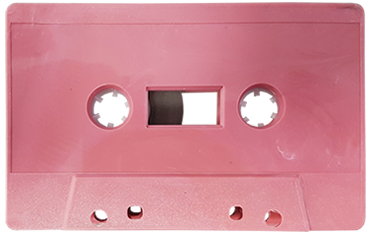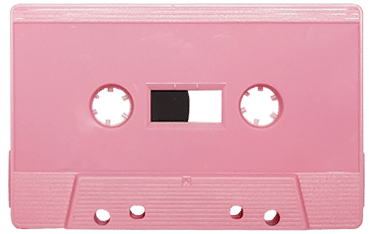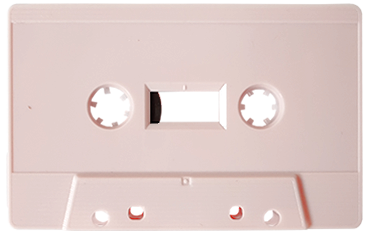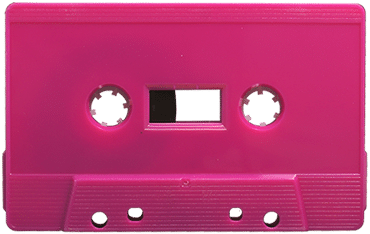 Blackberry recycled Purple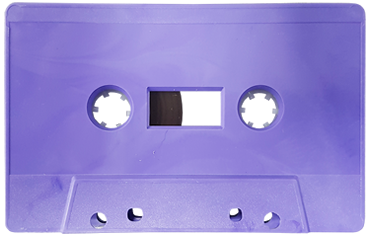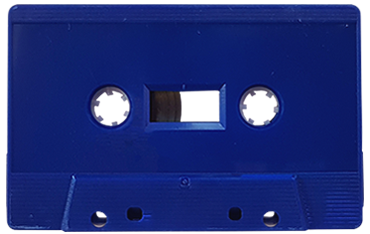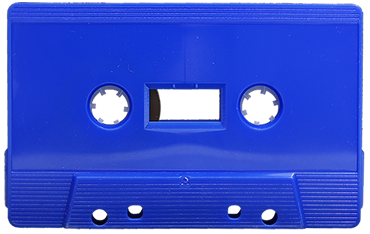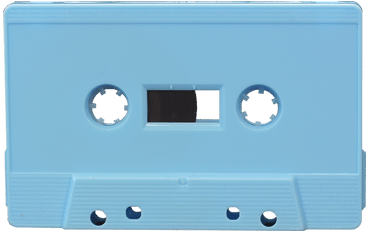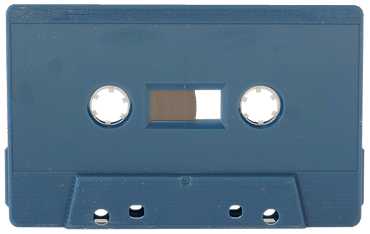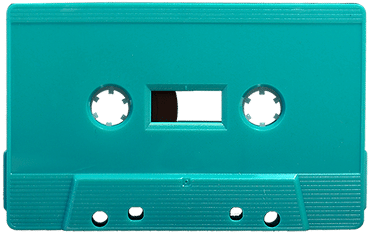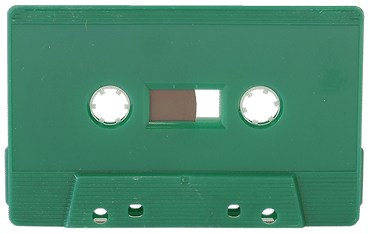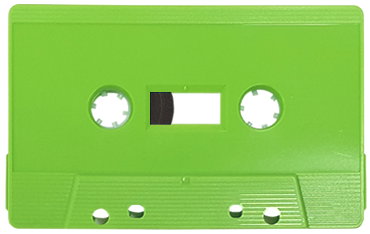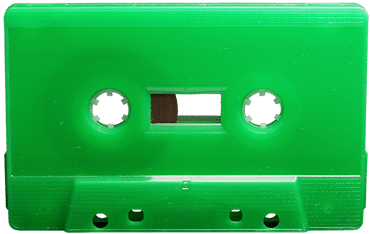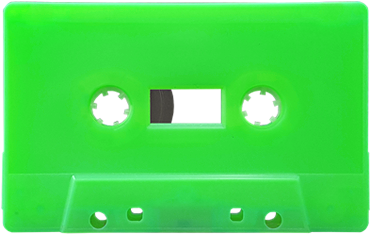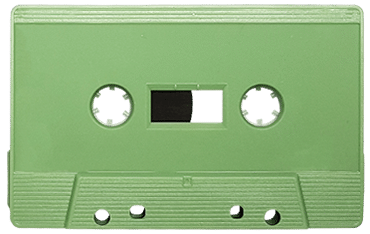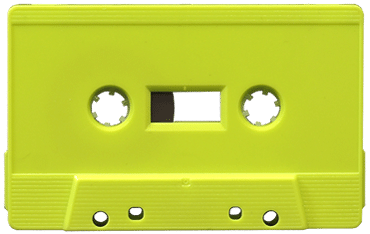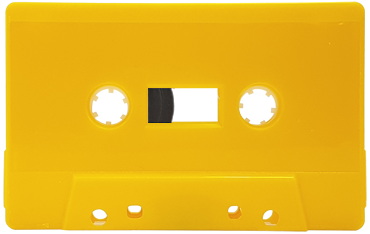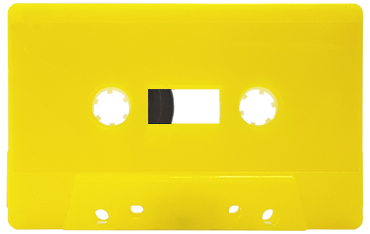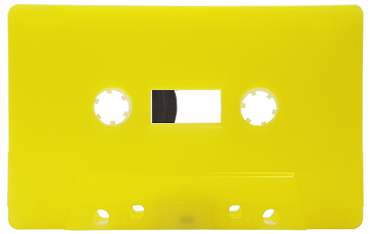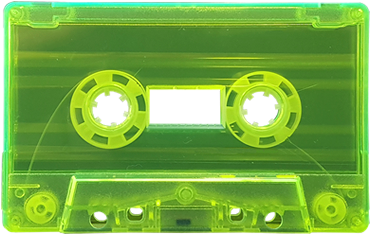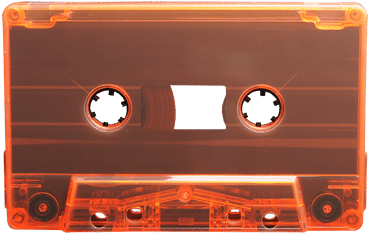 Transparent Bright Orange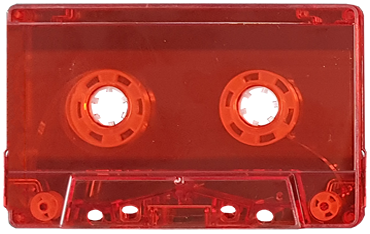 Transparent Pink (with window)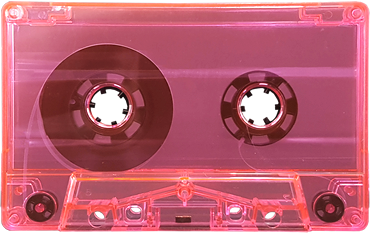 Transparent Pink (without window)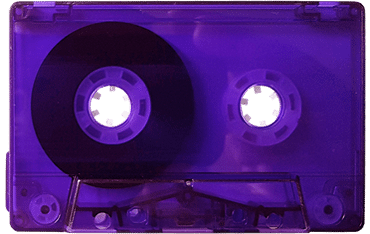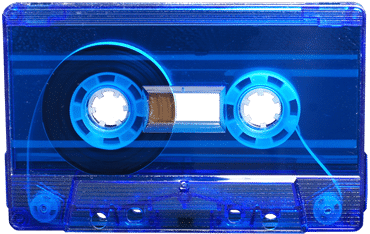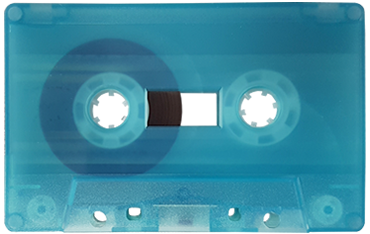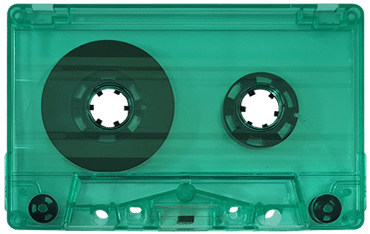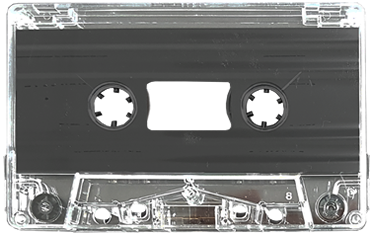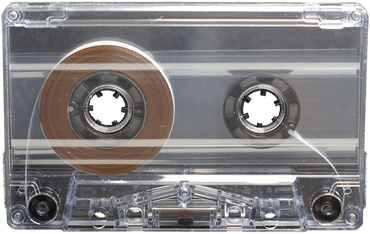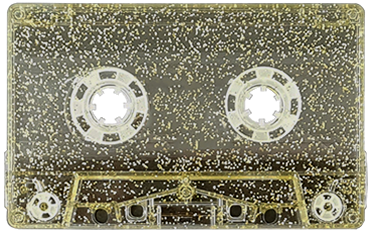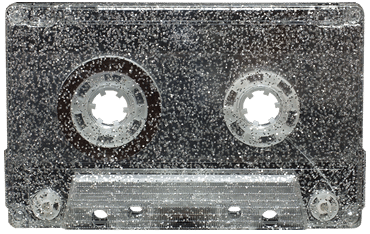 Transparent Silver Glitter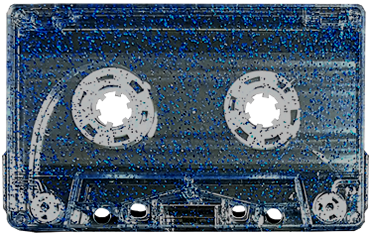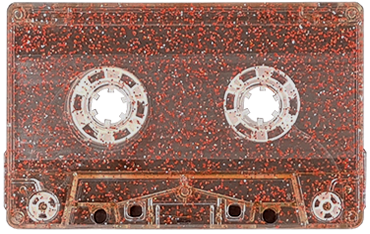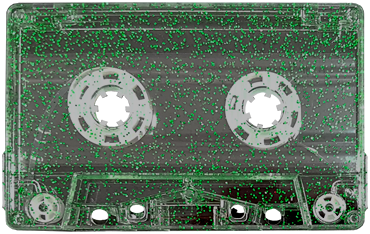 Transparent Green Glitter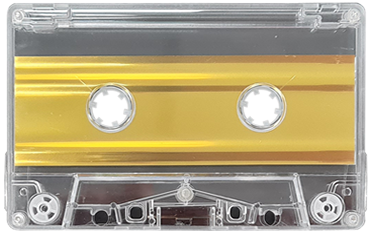 Clear with Metallic Gold Liner
Mirror Silver +£4.50 extra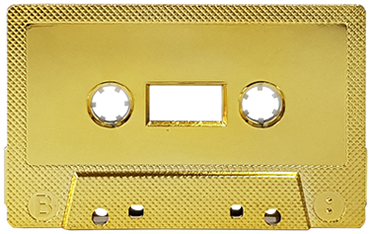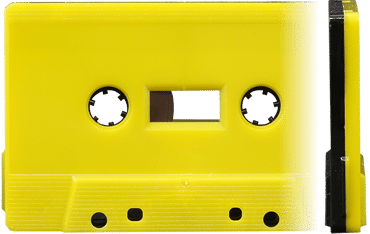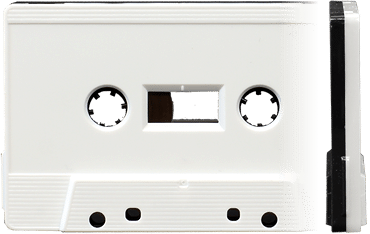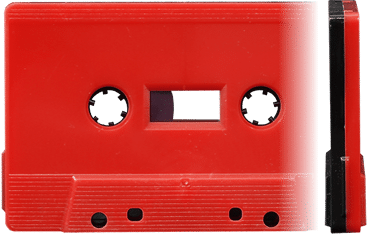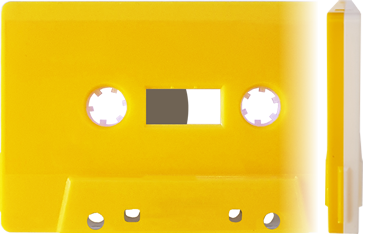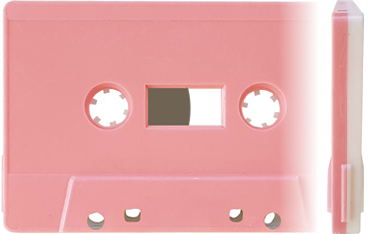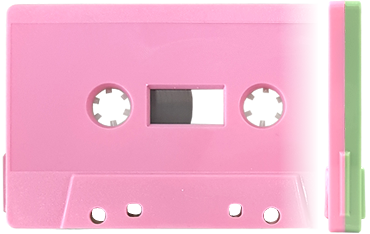 Pink & Pistachio Green Sandwich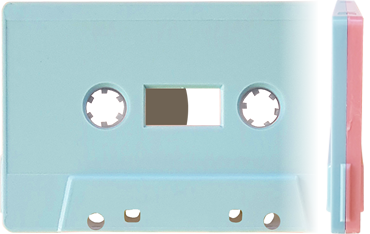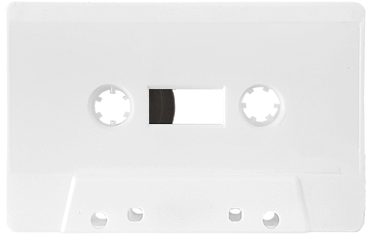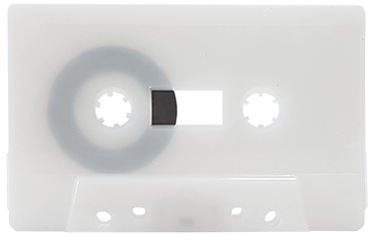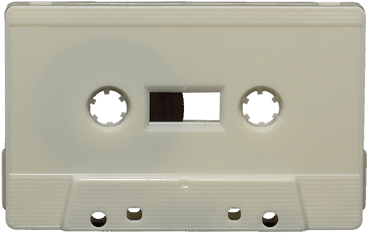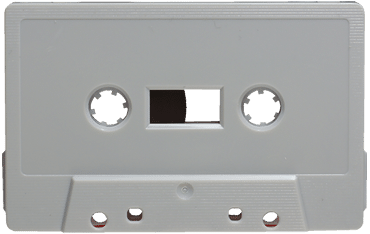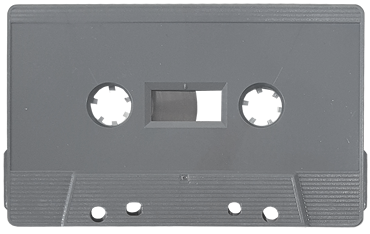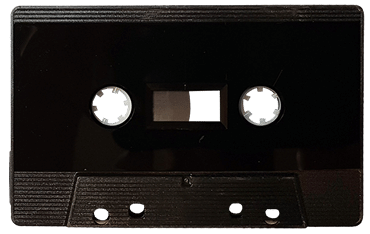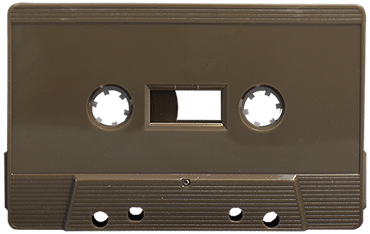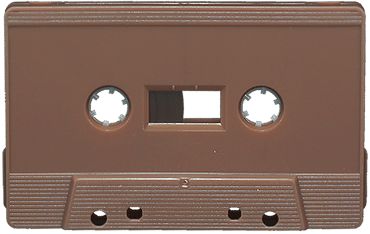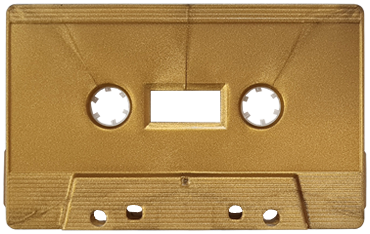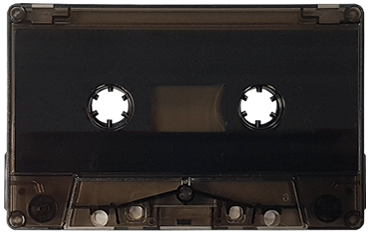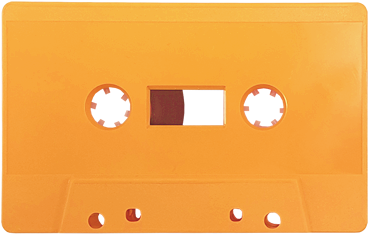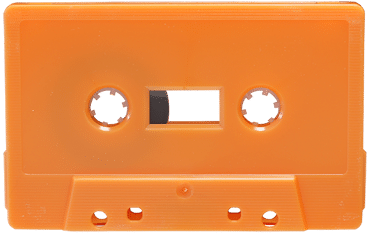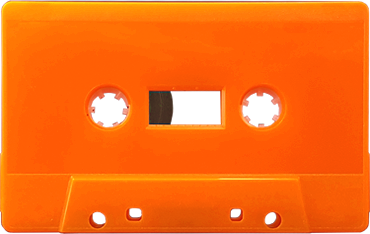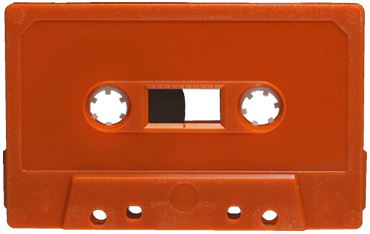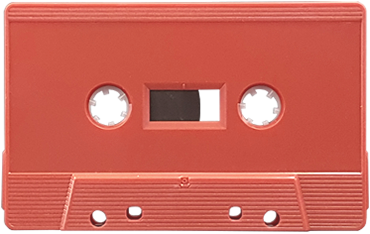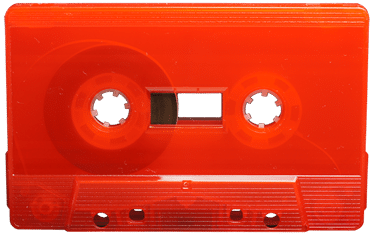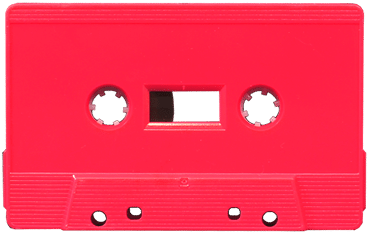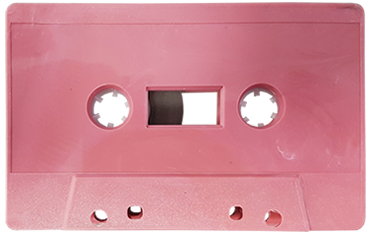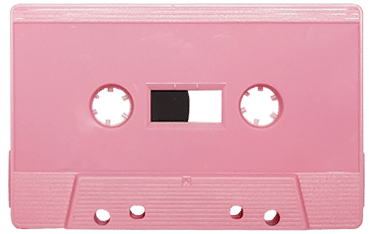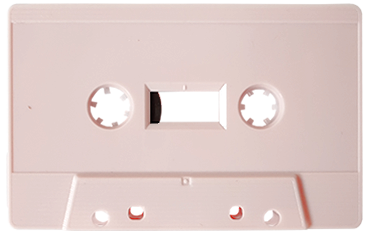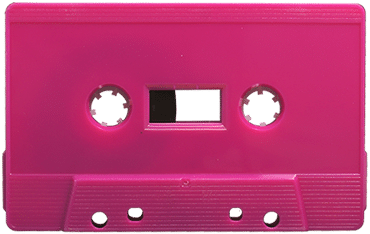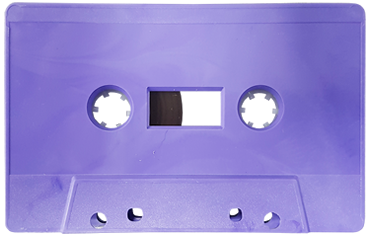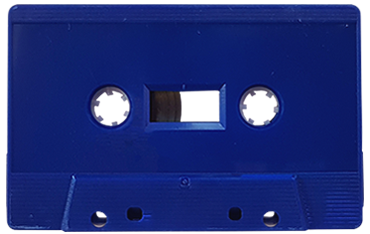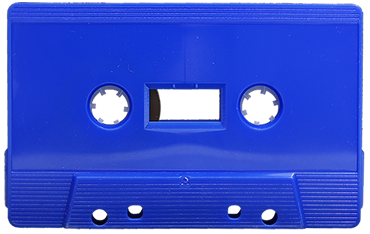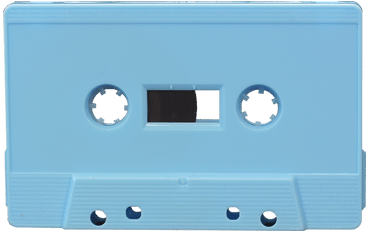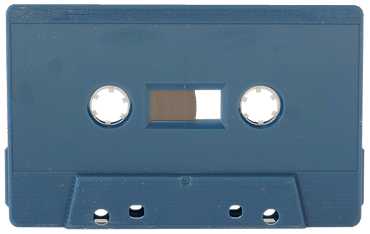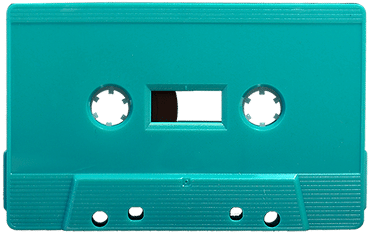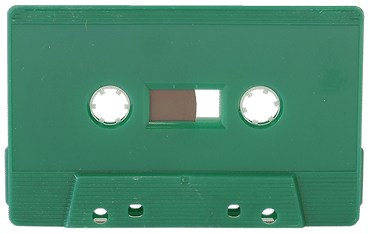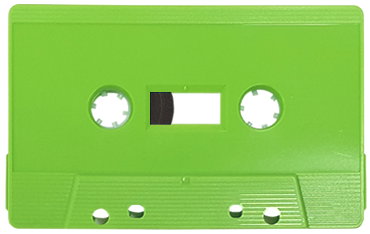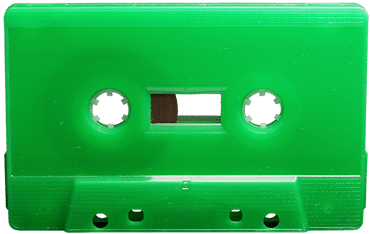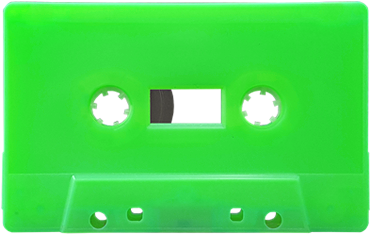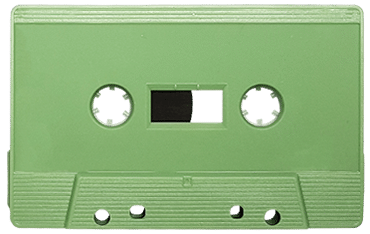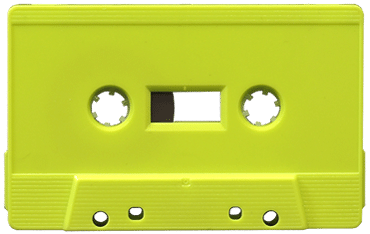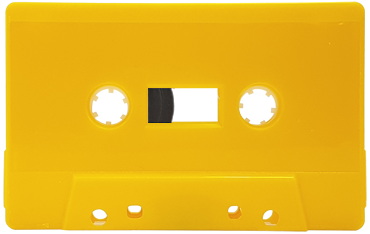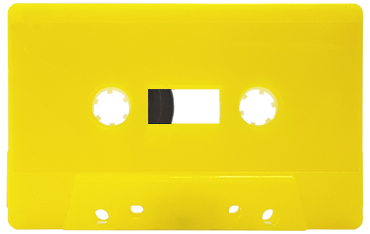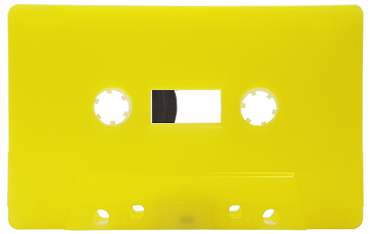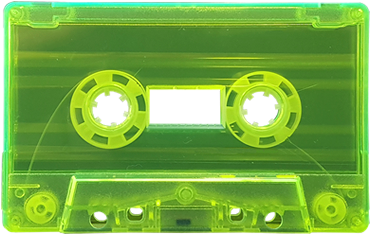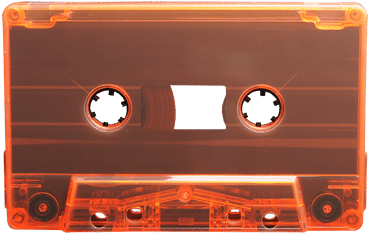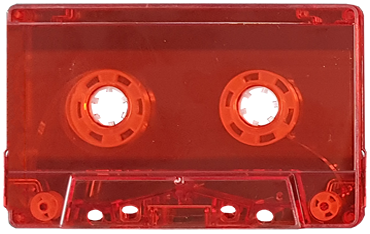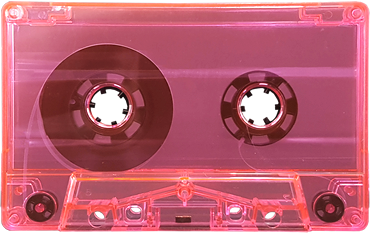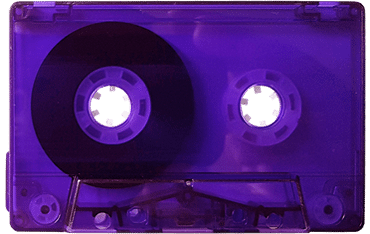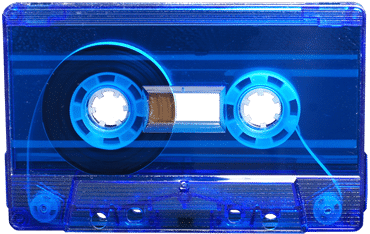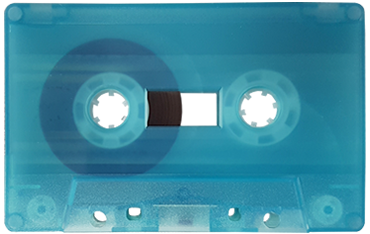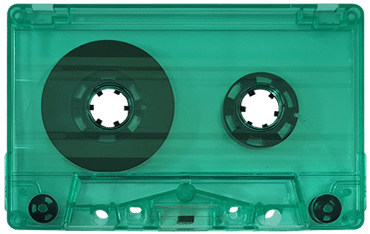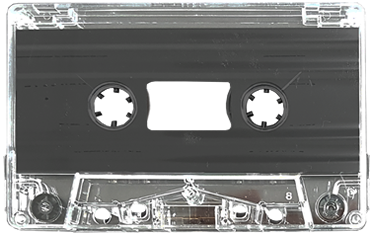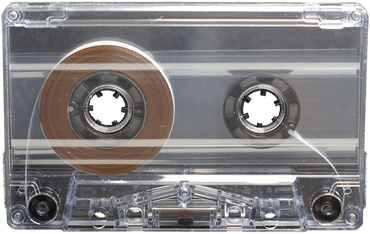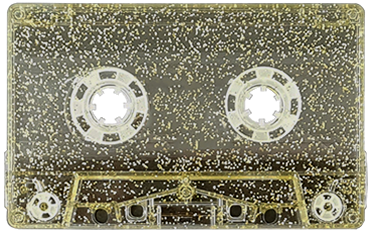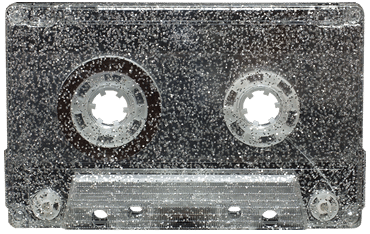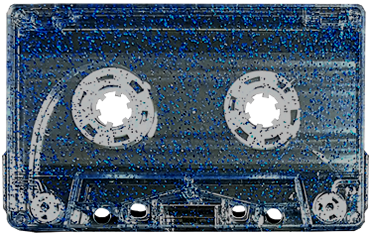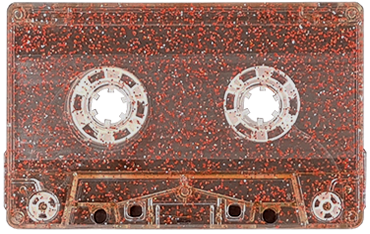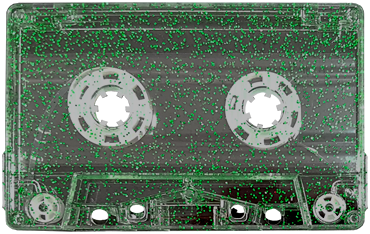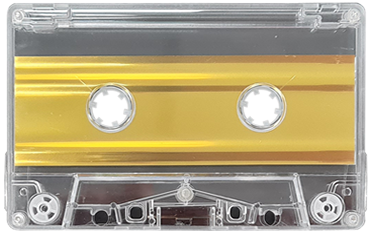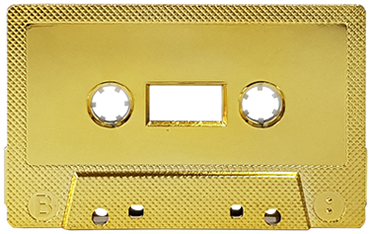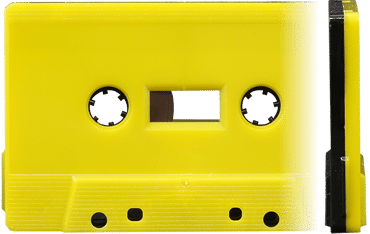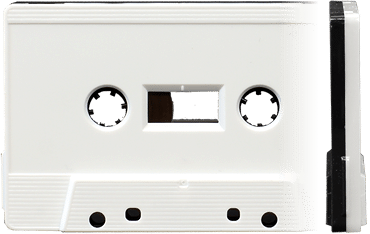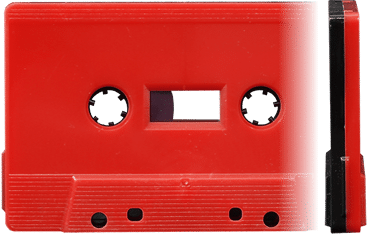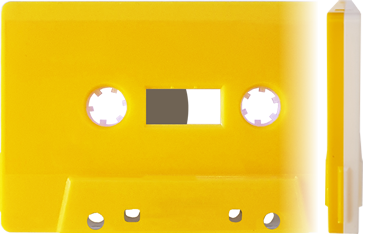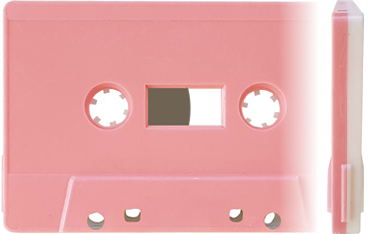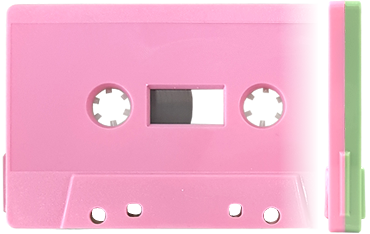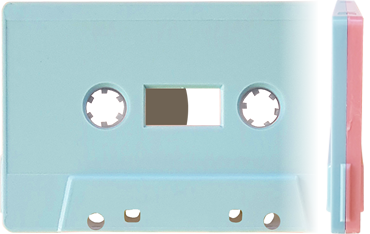 Pricing for sticker printed cassette tapes in clear cassette cases and packed within full colour printed cigarette pack outers for total lengths up to C45 (22.5 minutes per side)
Some examples of our work:
Optional extras:
Add a clear shrink wrap for £0.10+VAT per unit
If you don't require audio on the tapes then please deduct £0.50+VAT per cassette
For longer tapes, please add the following:

£0.40+VAT per unit for total lengths up to C90 (45 minutes per side)
£0.70+VAT per unit for total lengths up to C110 (55 minutes per side)

J-cards within the inner plastic cases can be added depending on the requirements, for a standard J-card printed full colour both sides, this would be an extra £0.30+VAT and for each additional fold-out panel printed full colour both sides, please add £0.12+VAT (up to 5 additional fold-out panels can be added)
Cassette case colour options
Most people choose the clear front and back cassette cases for their orders and these are the ones that are provided as standard. However you can also choose from over twenty different cassette case colours with solid or transparent back options: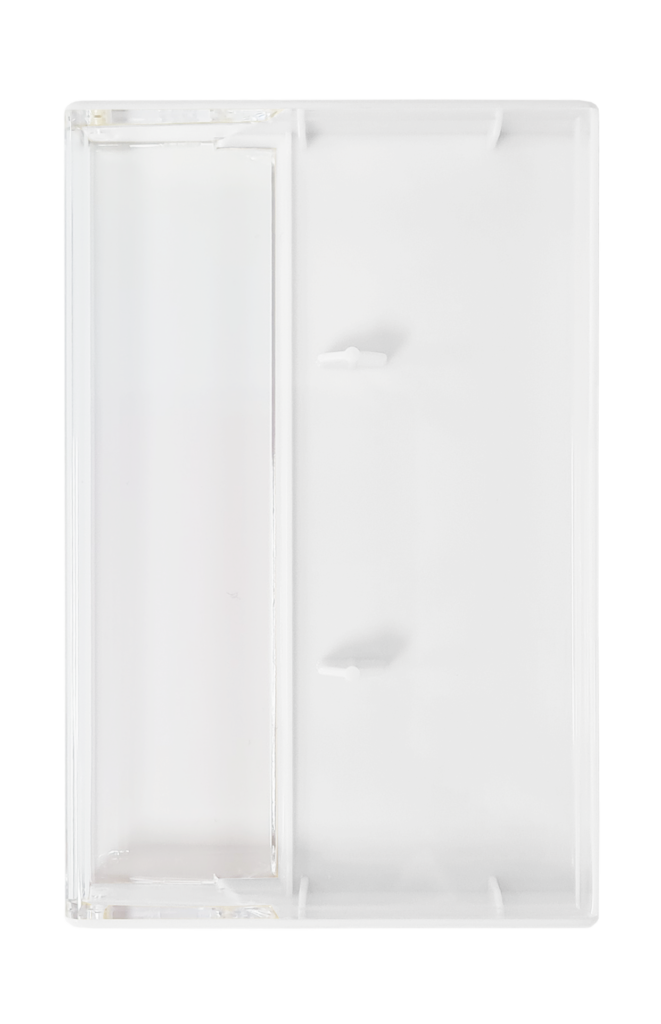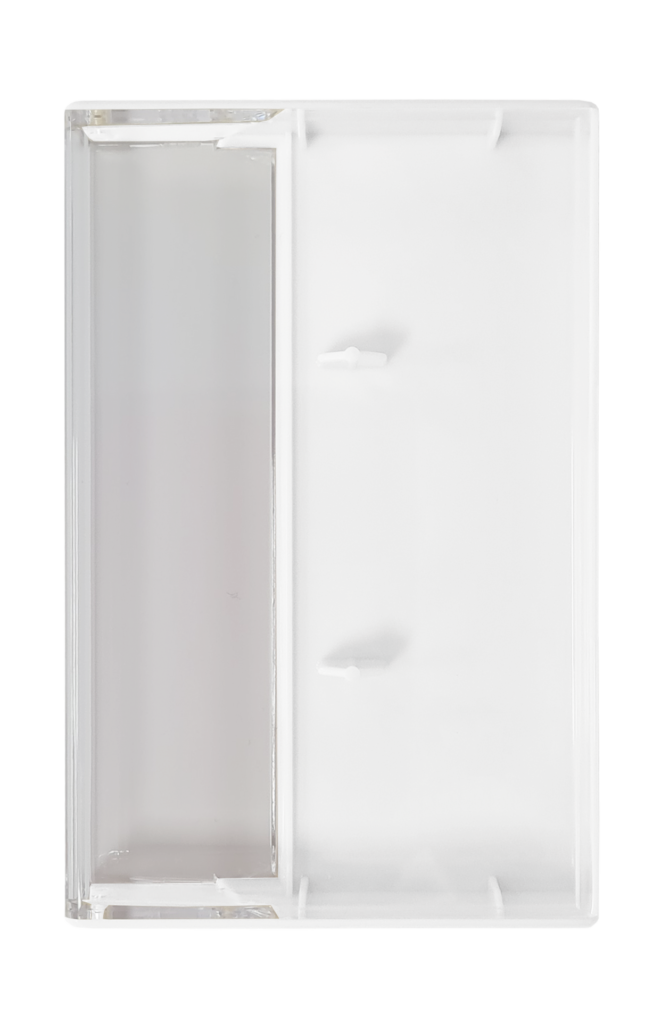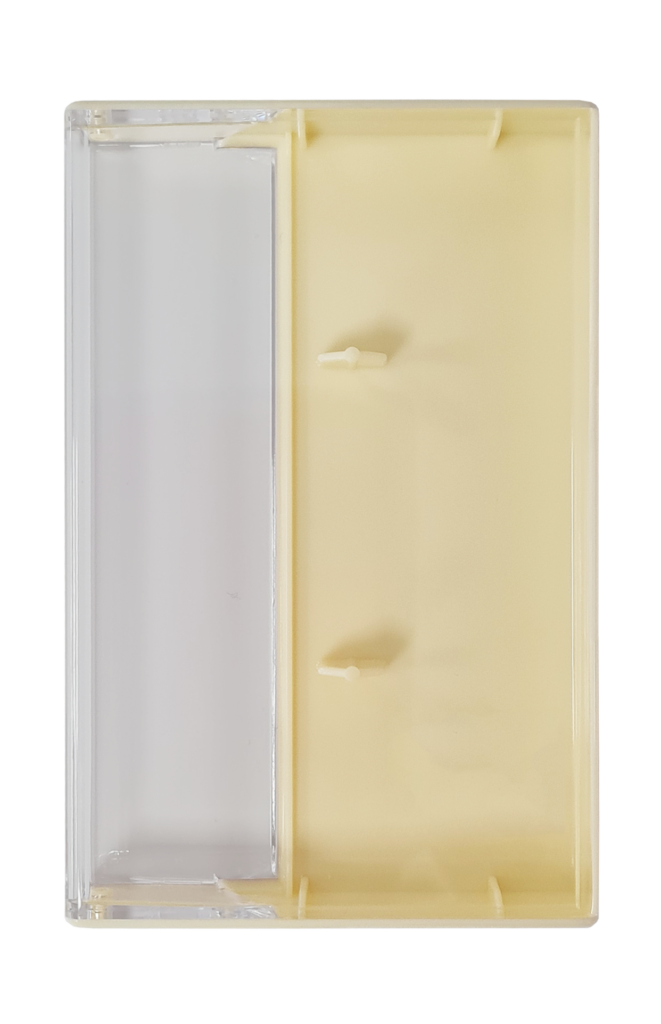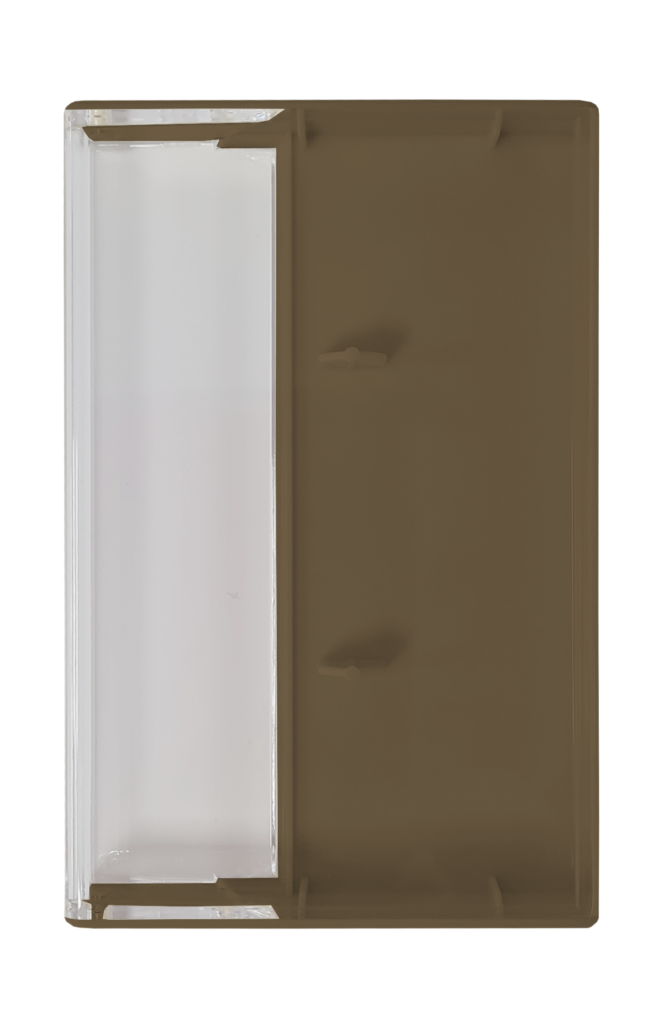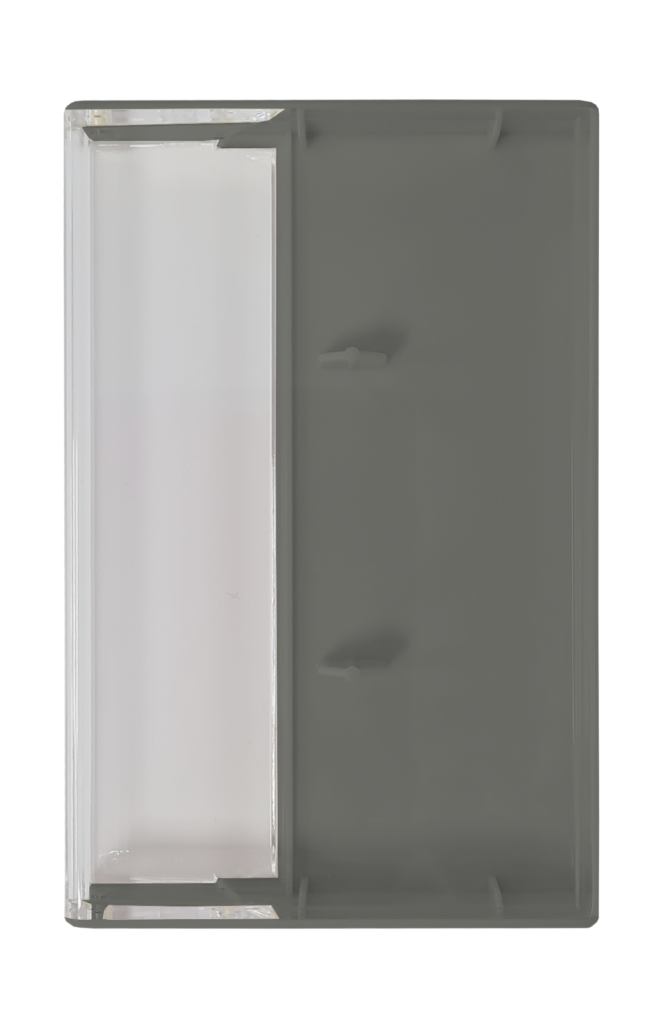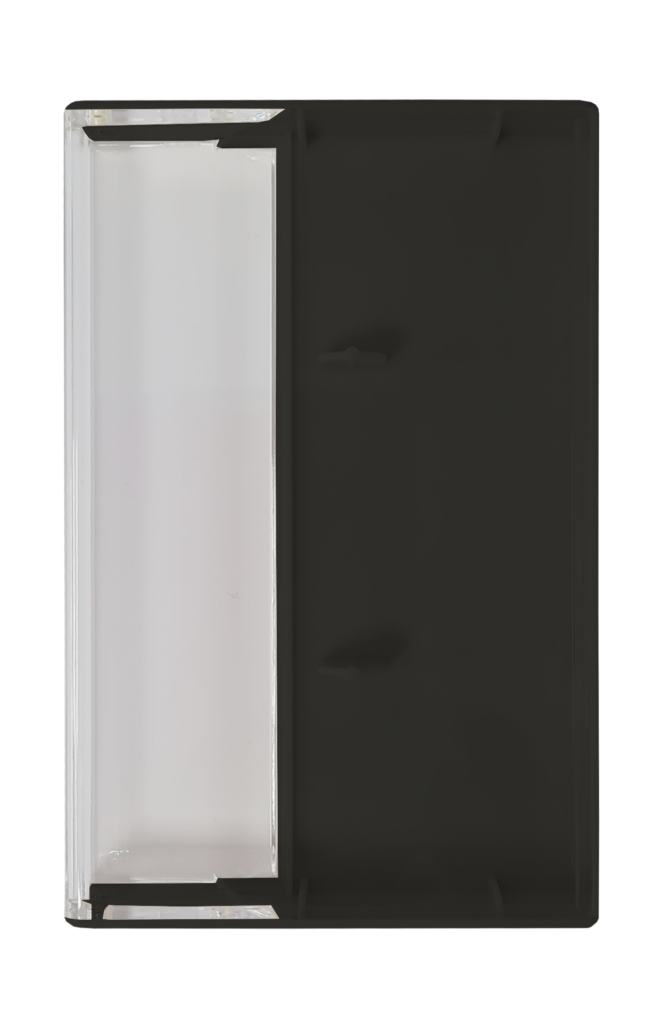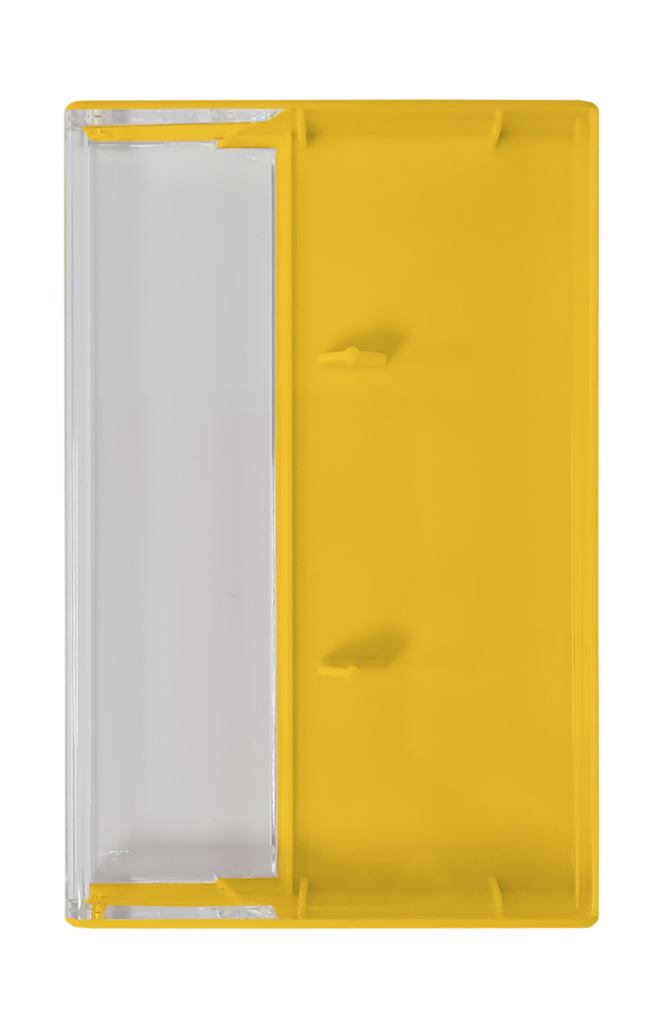 Light Yellow with Clear Front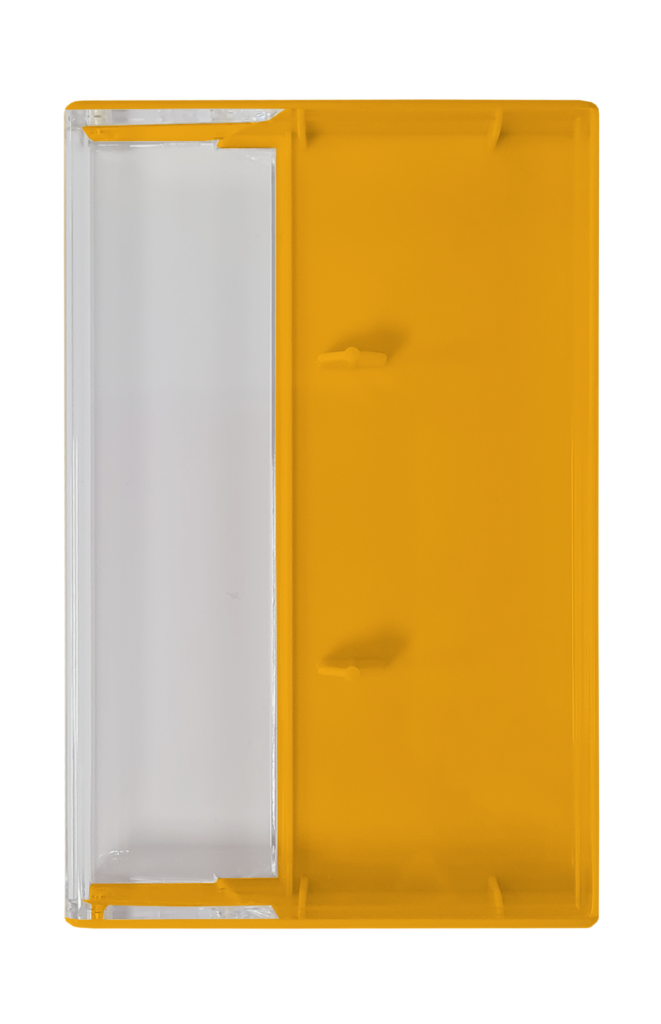 Dark Yellow with Clear Front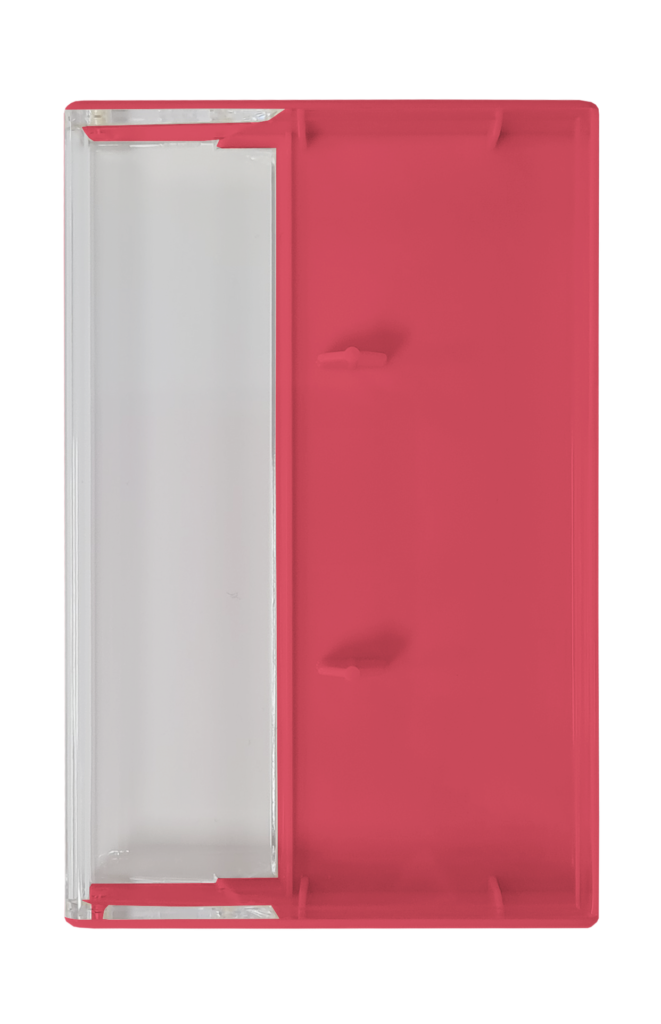 Neon Pink with Clear Front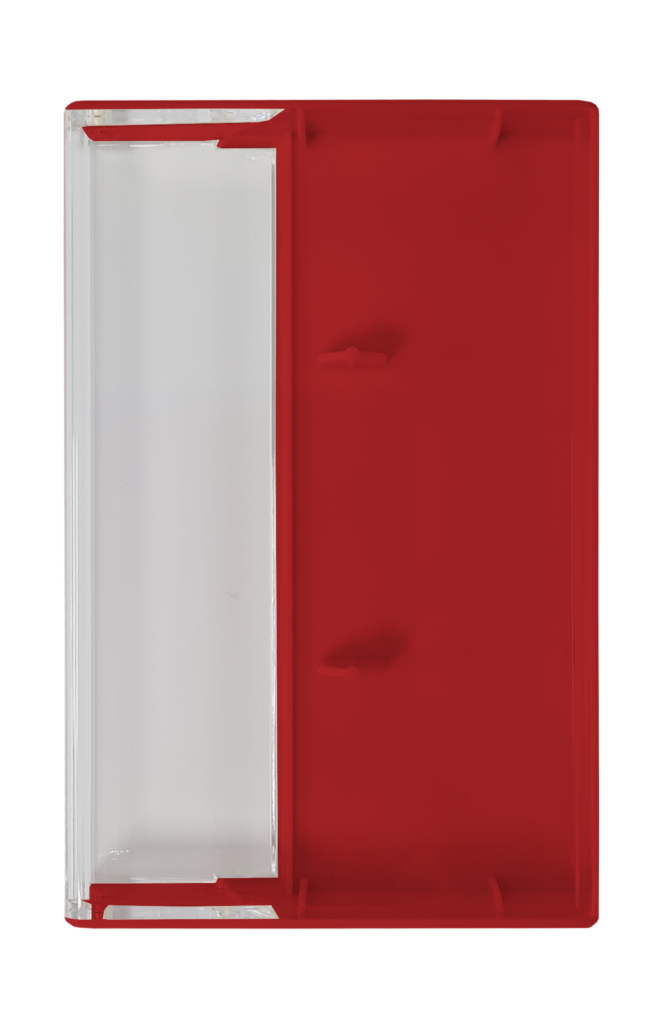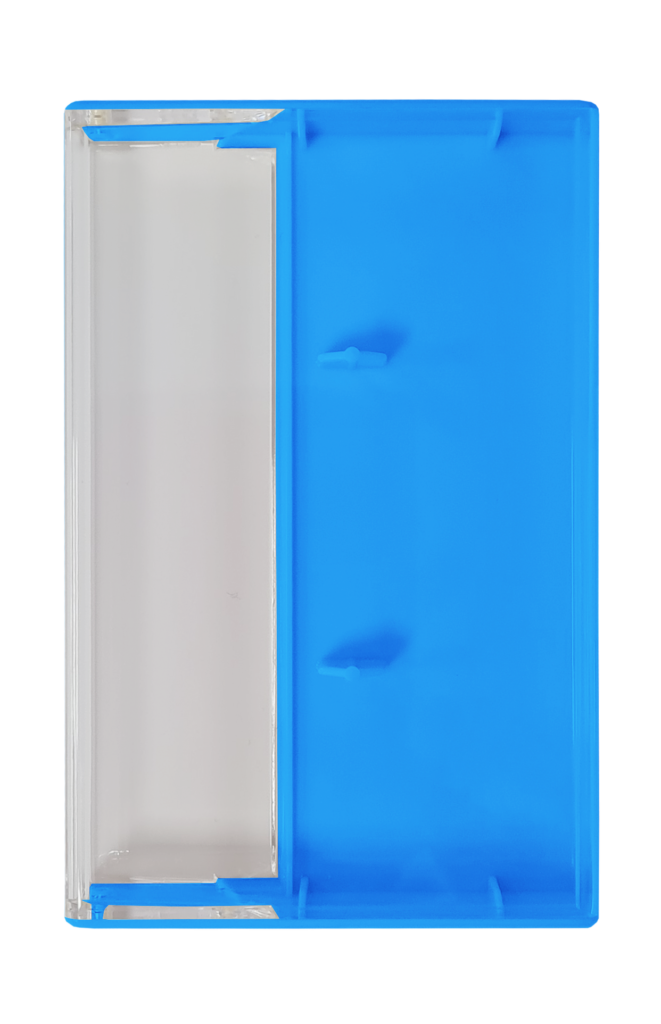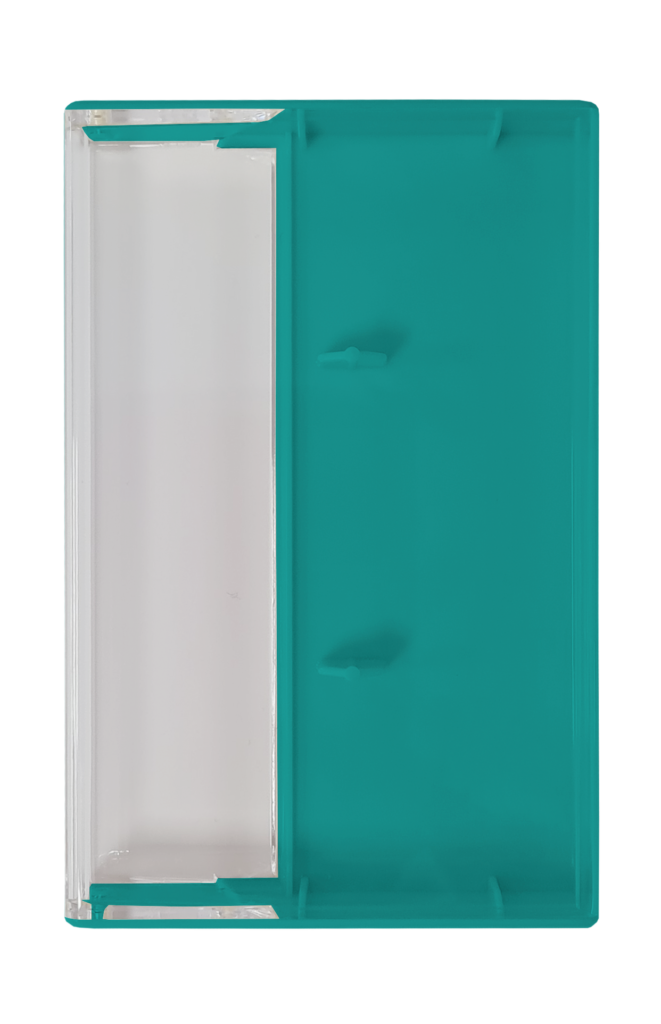 Turquoise with Clear Front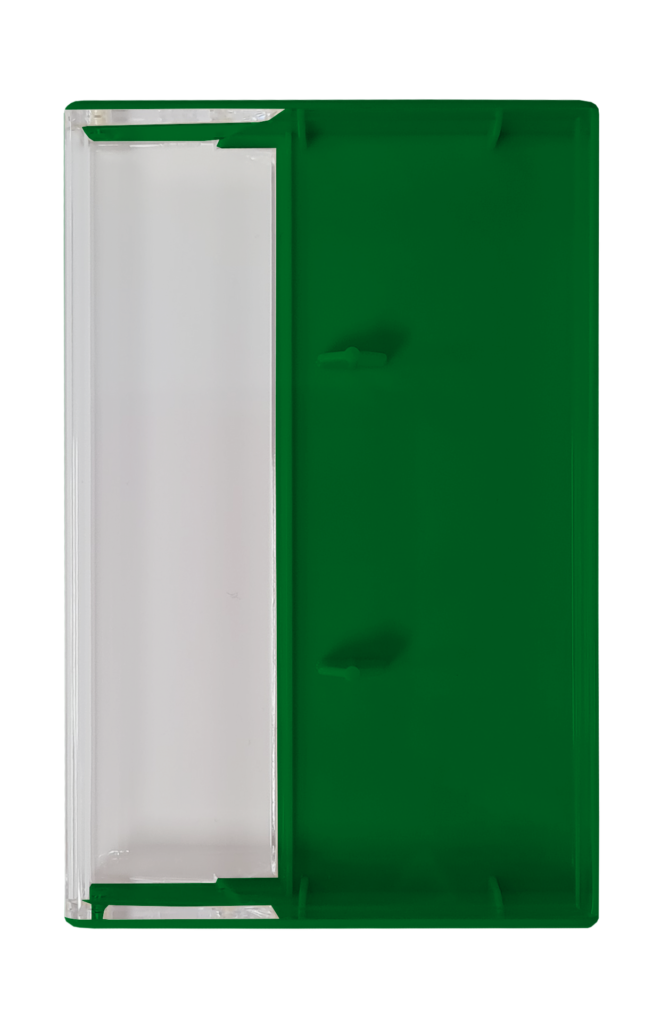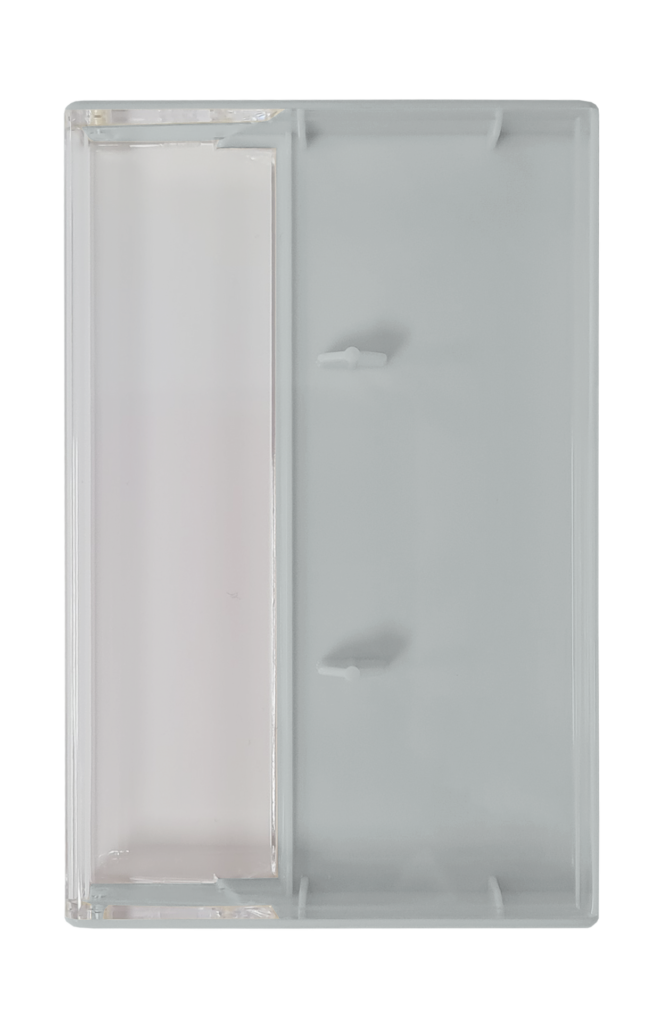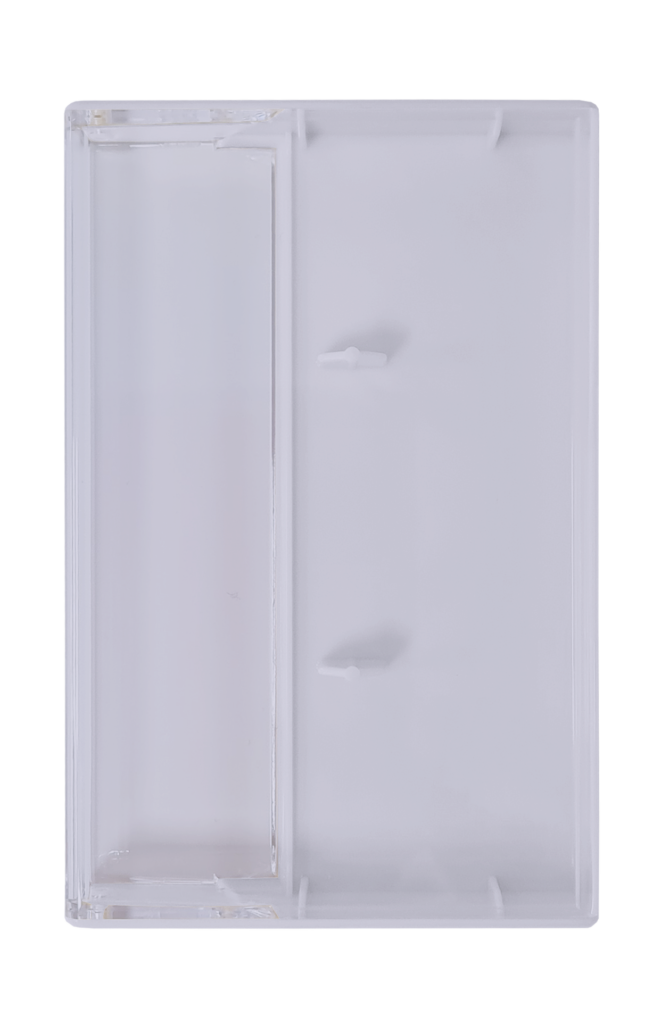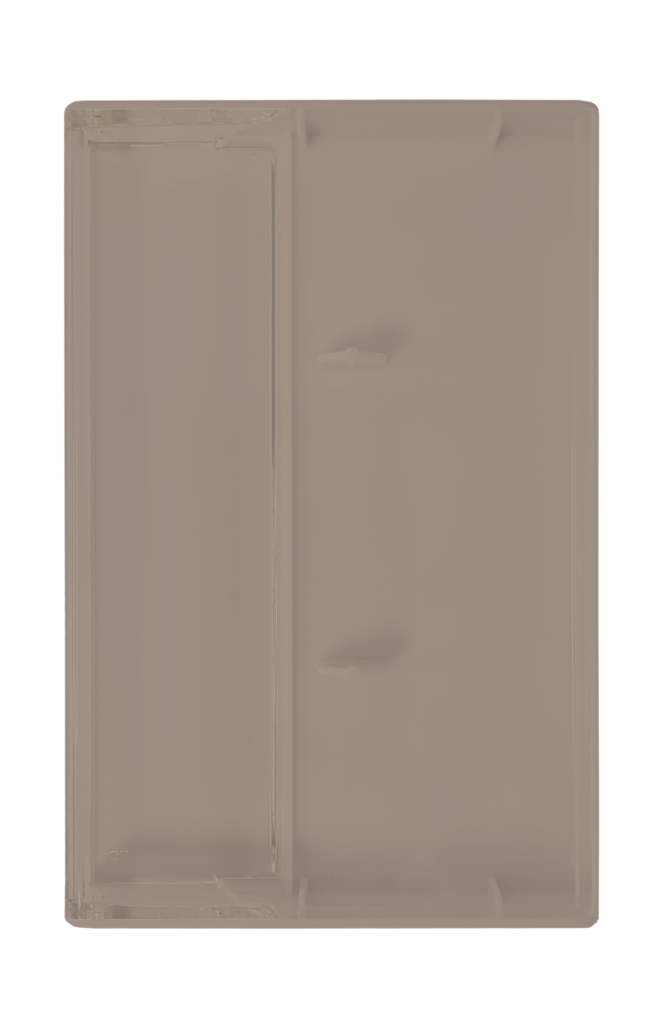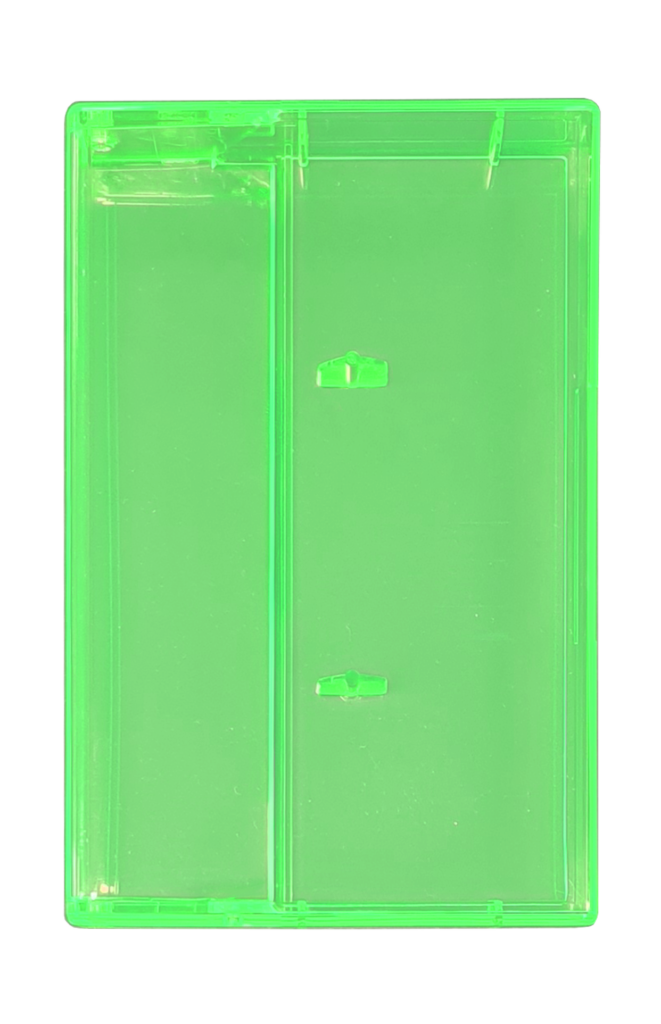 Transparent Fluorescent Green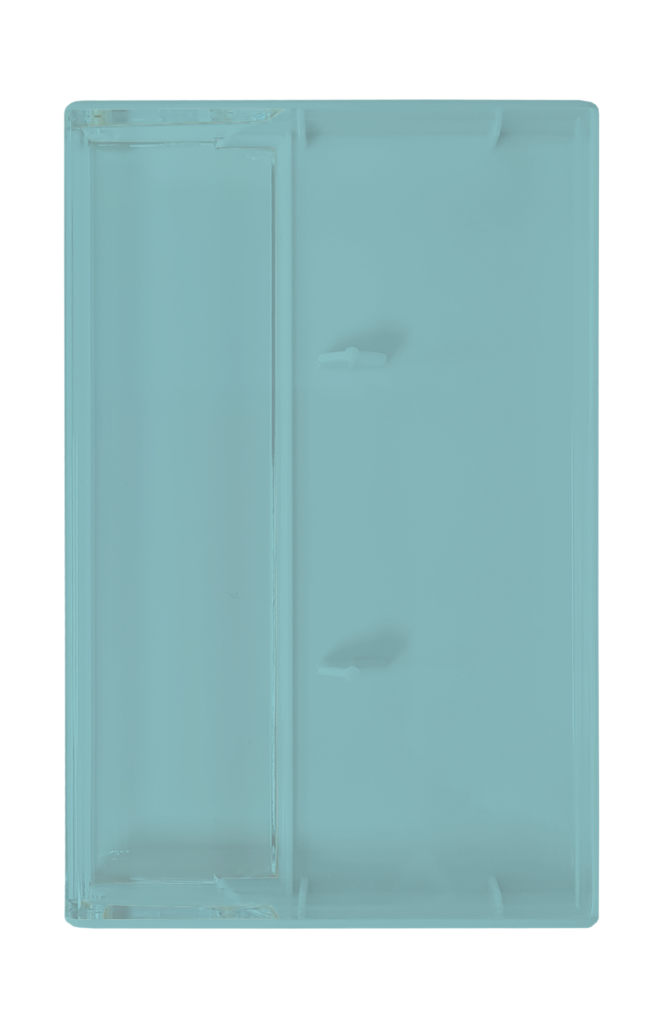 Transparent Turquoise Front and Back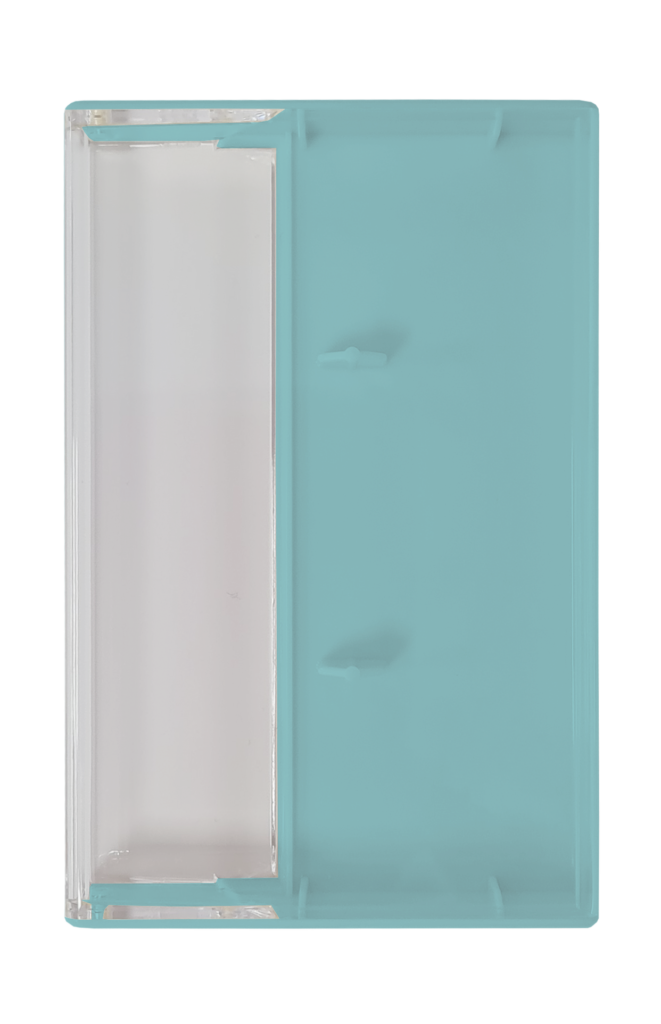 Transparent Turquoise with Clear Front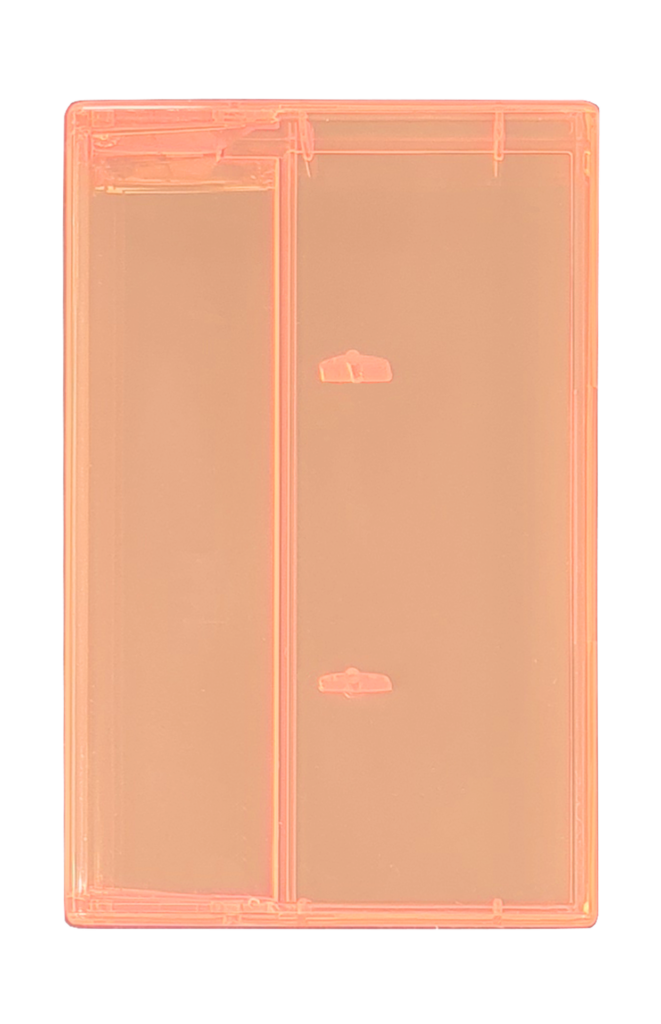 Transparent Fluorescent Orange Front and Back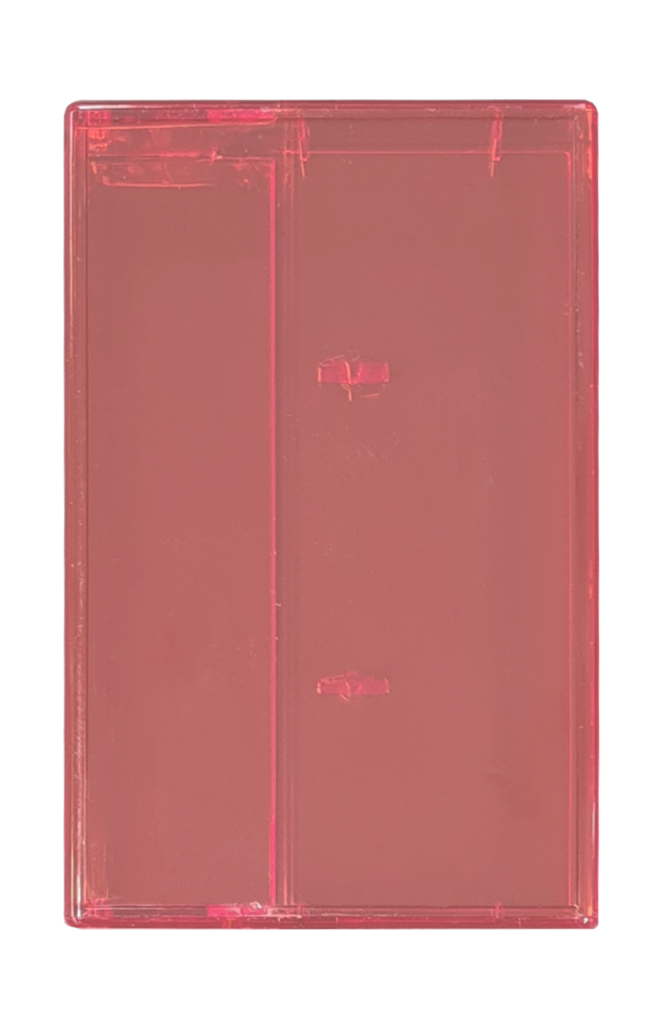 Full Transparent Red Front and Back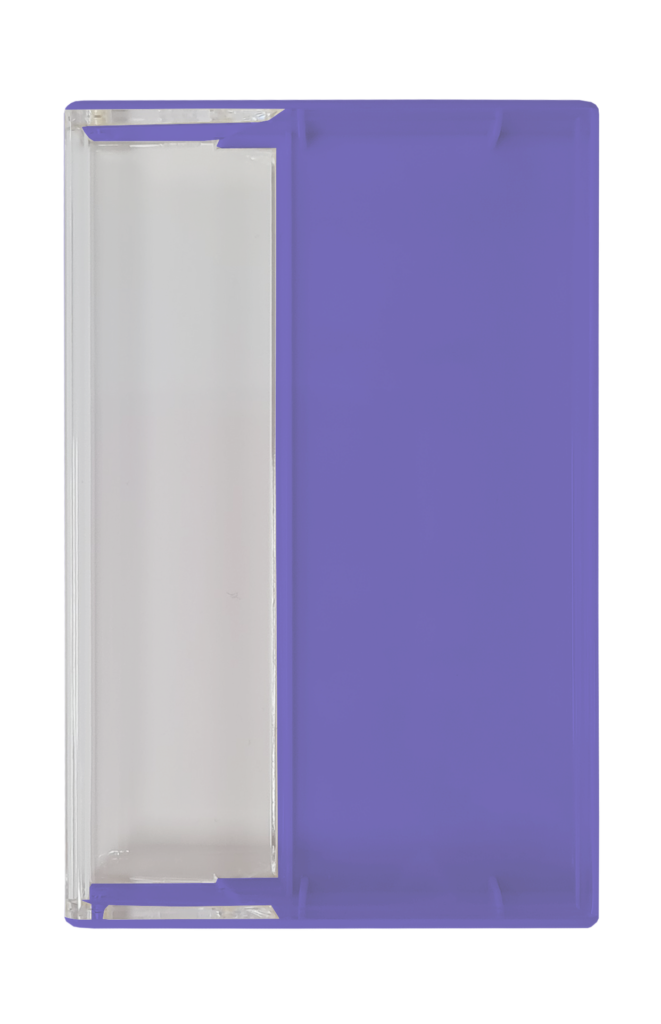 Transparent Purple with Clear Front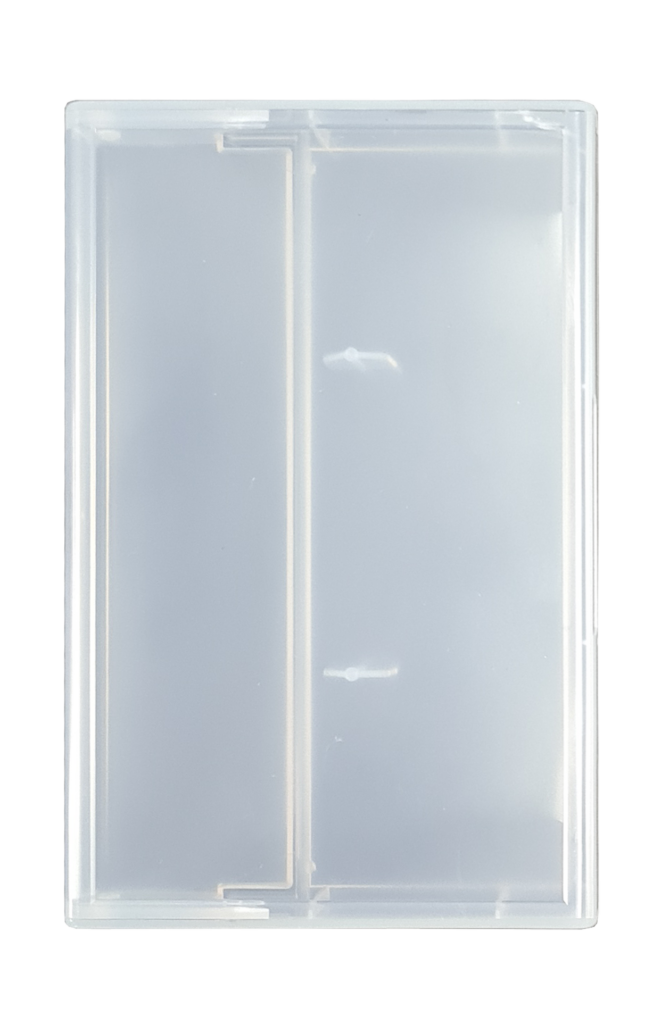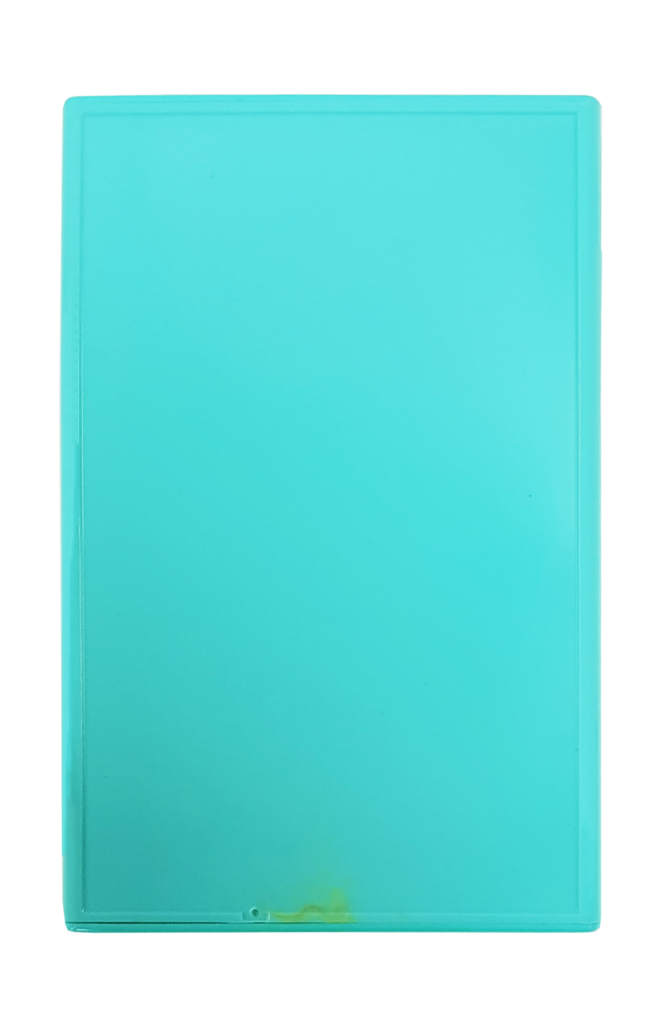 Cyan Opaque Recycled Case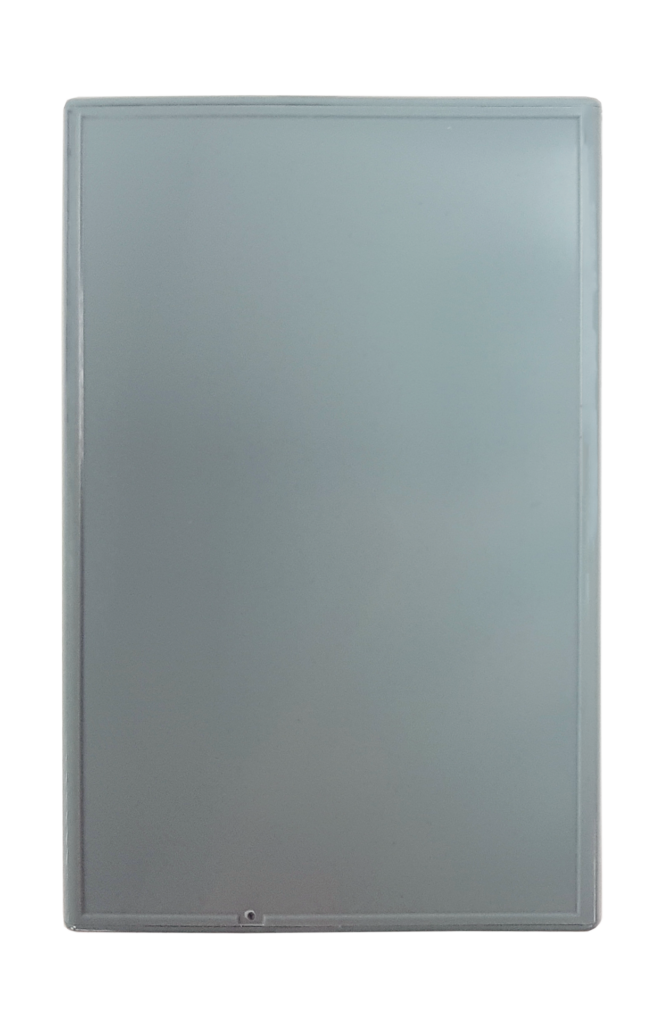 Grey Opaque Recycled Case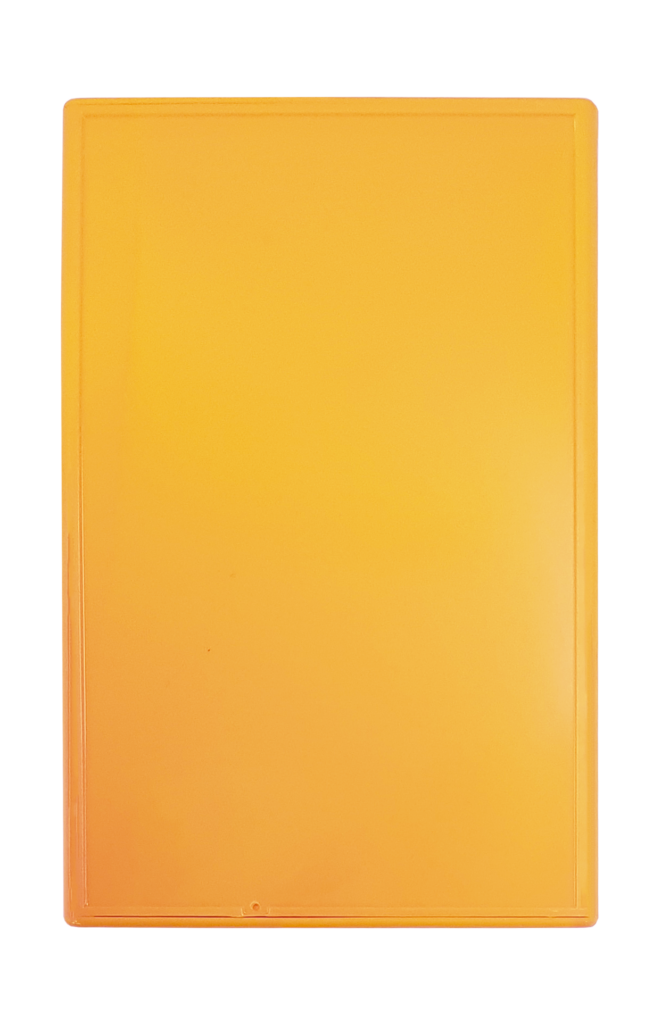 Orange Opaque Recycled Case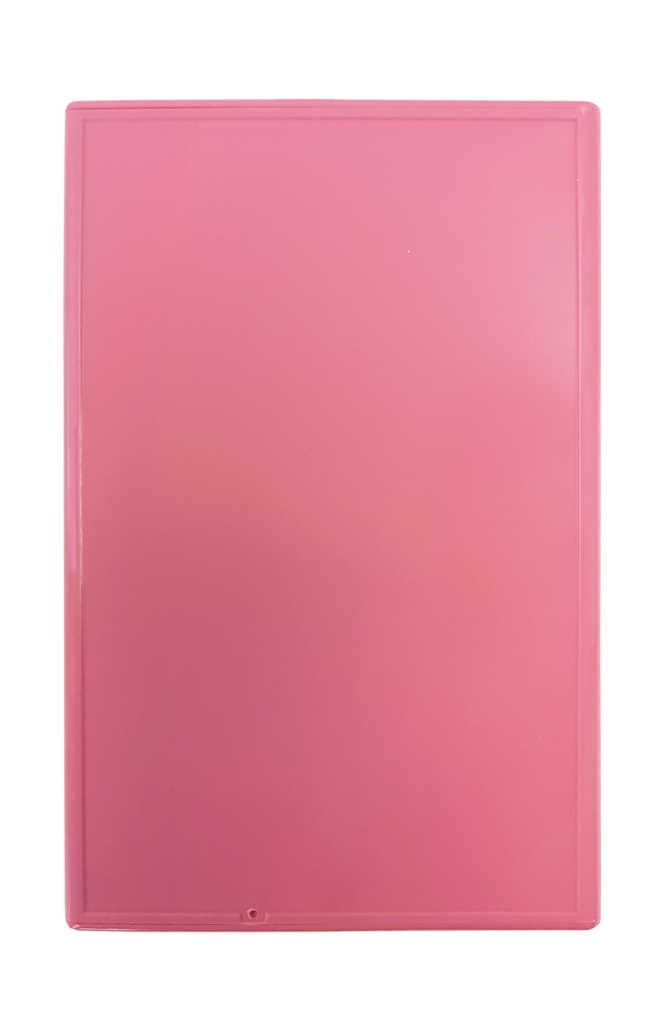 Pink Opaque Recycled Case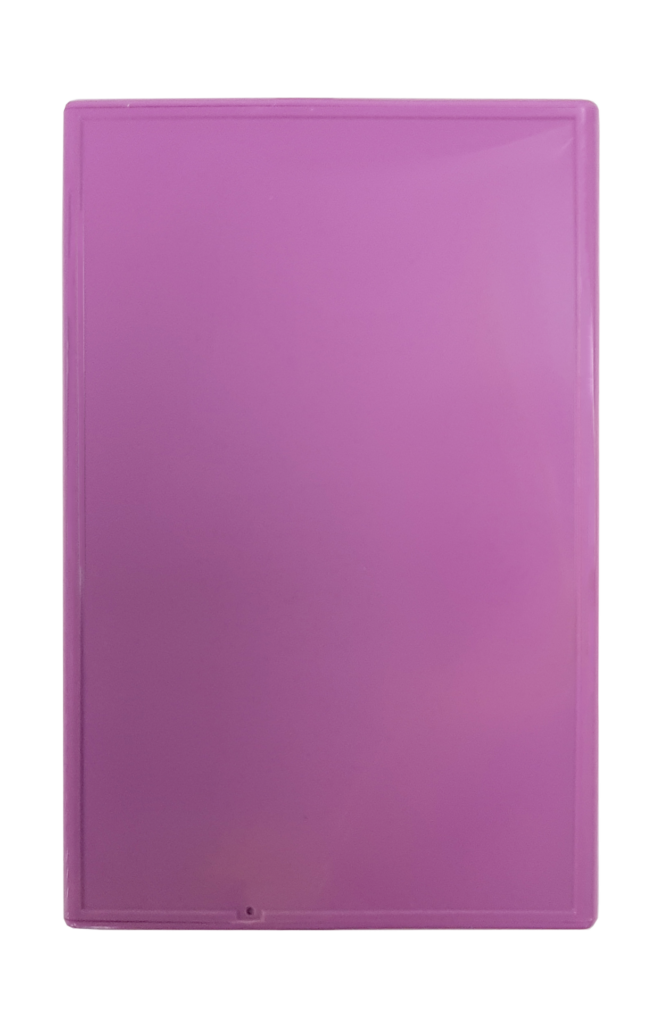 Purple Opaque Recycled Case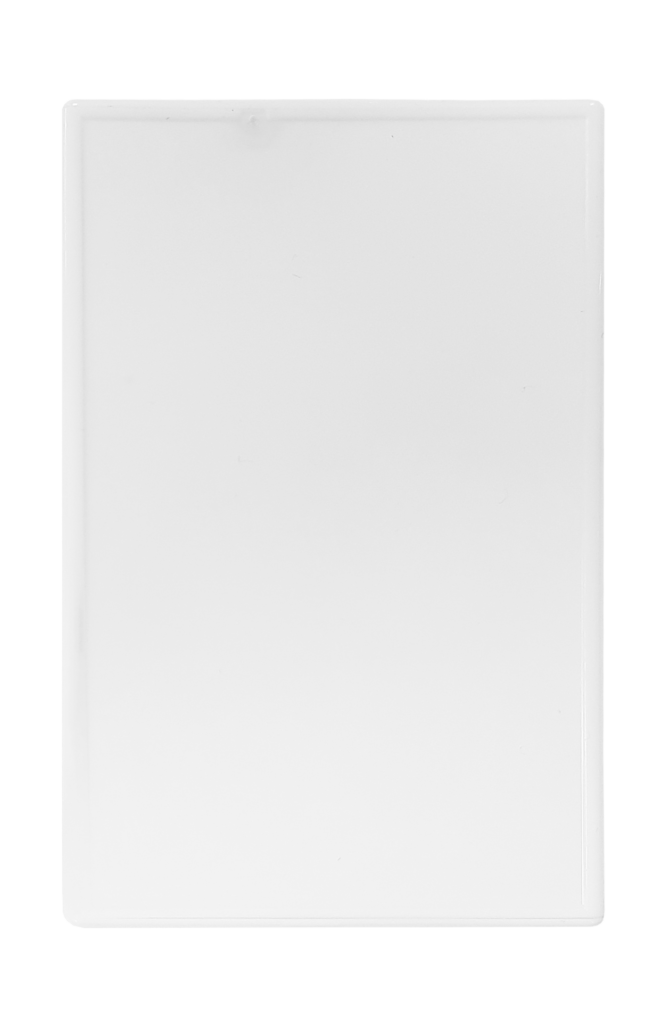 White Opaque Recycled Case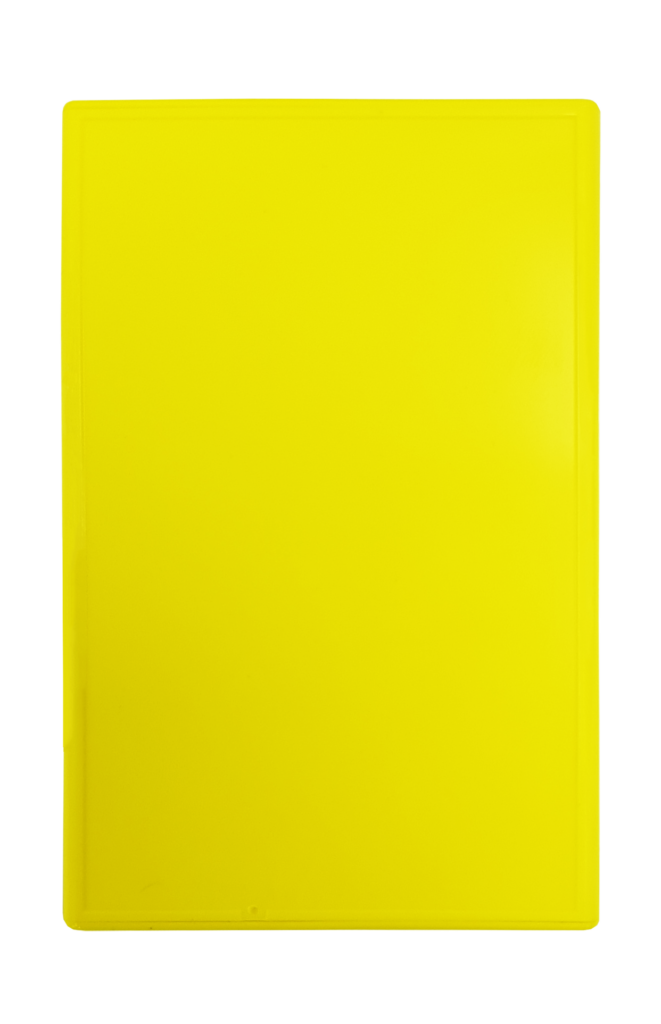 Yellow Opaque Recycled Case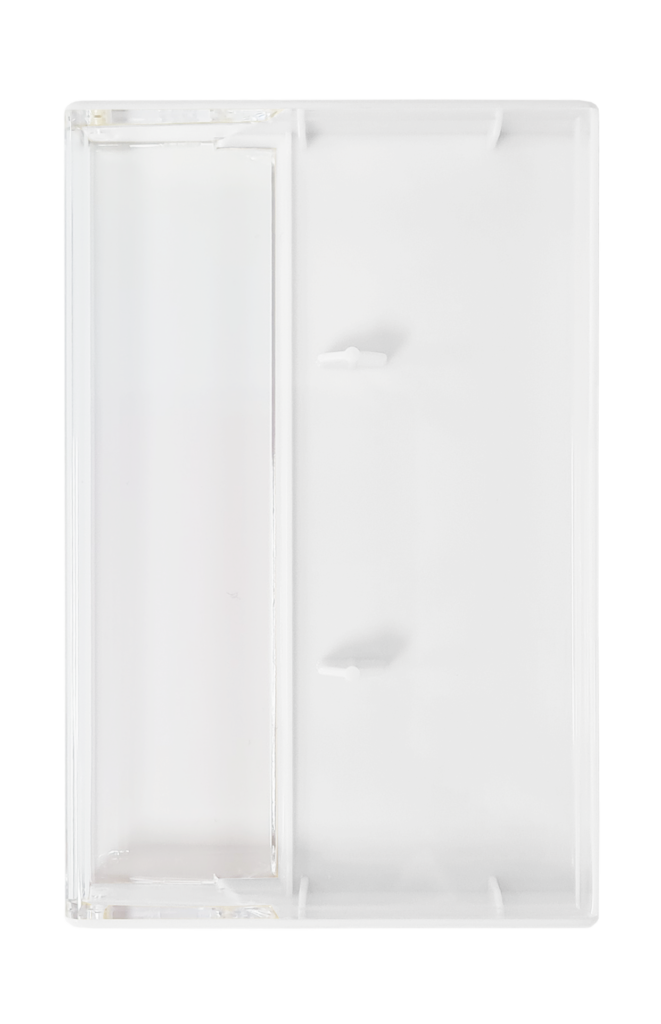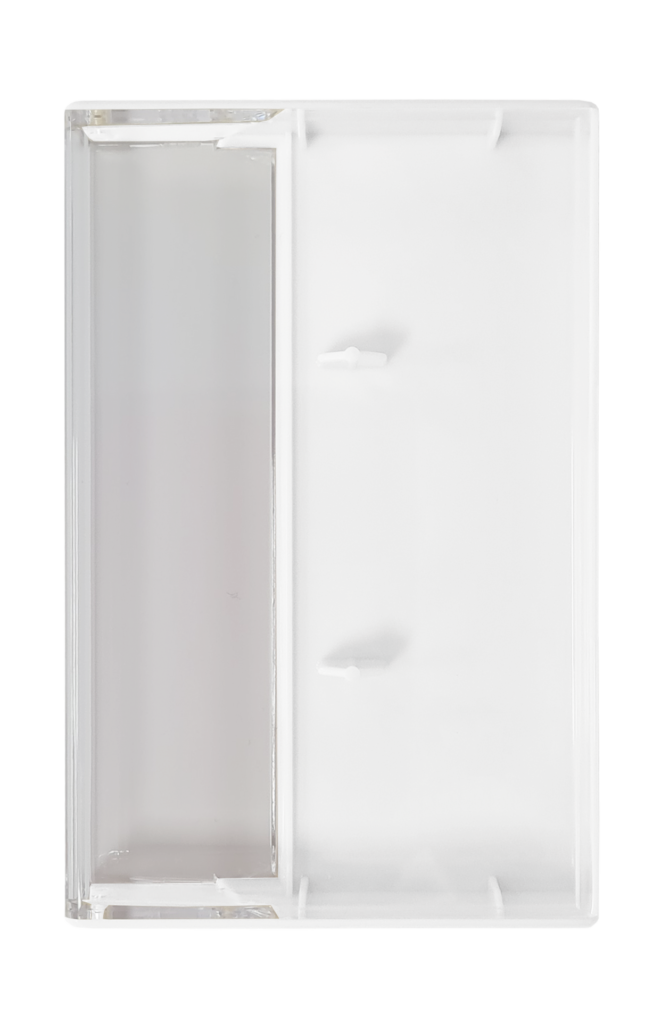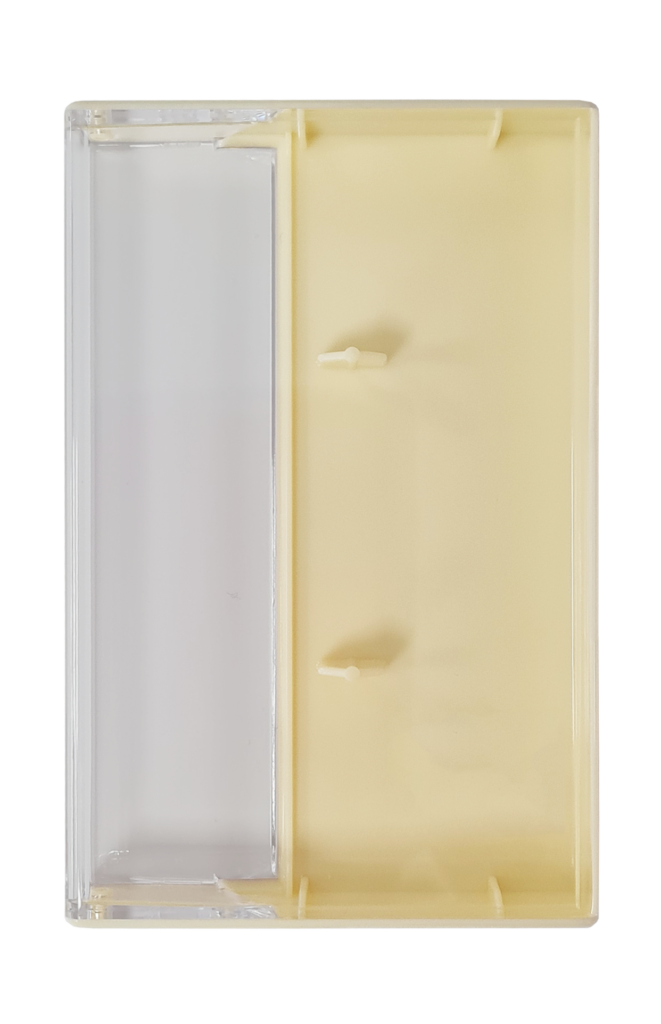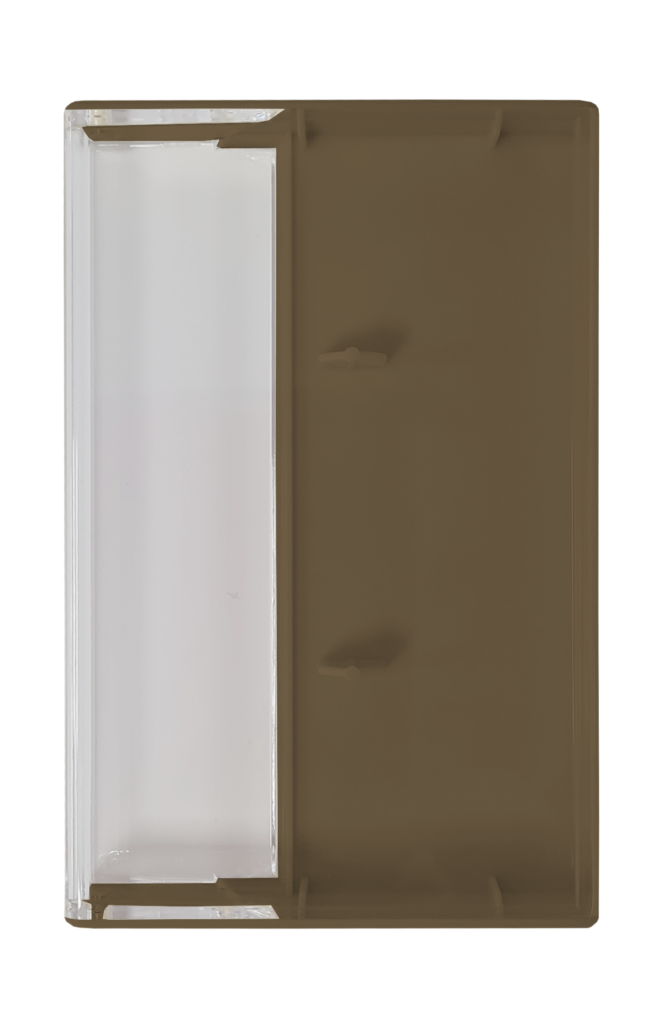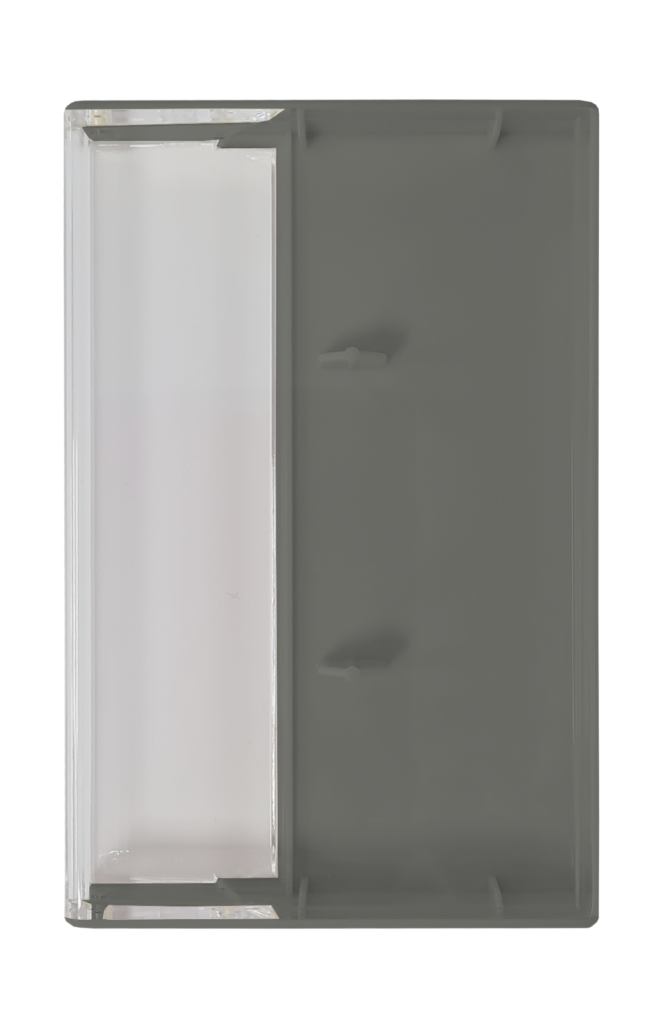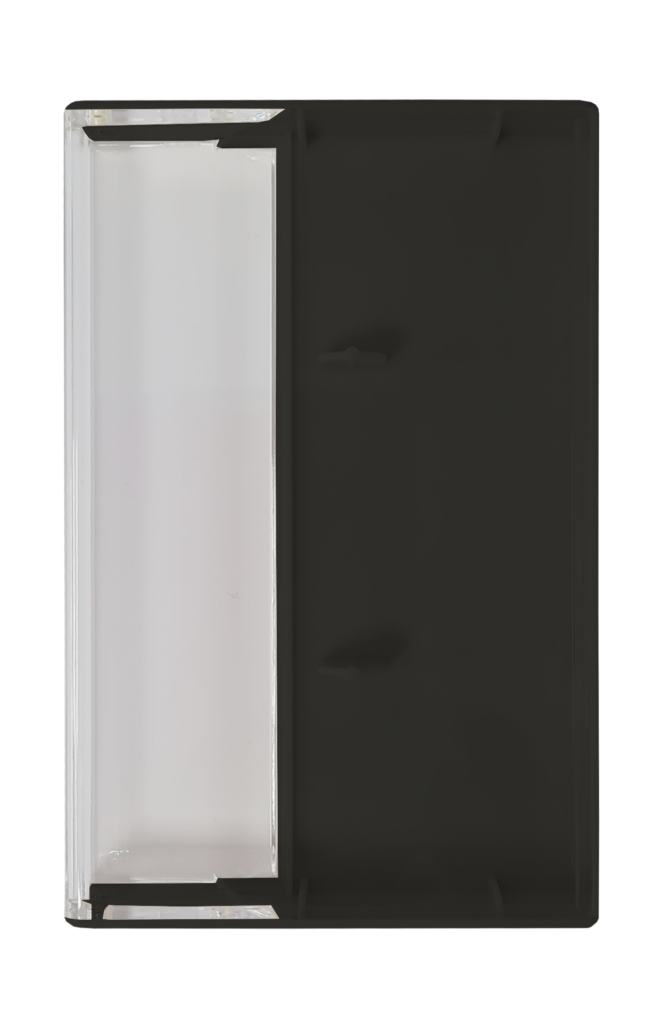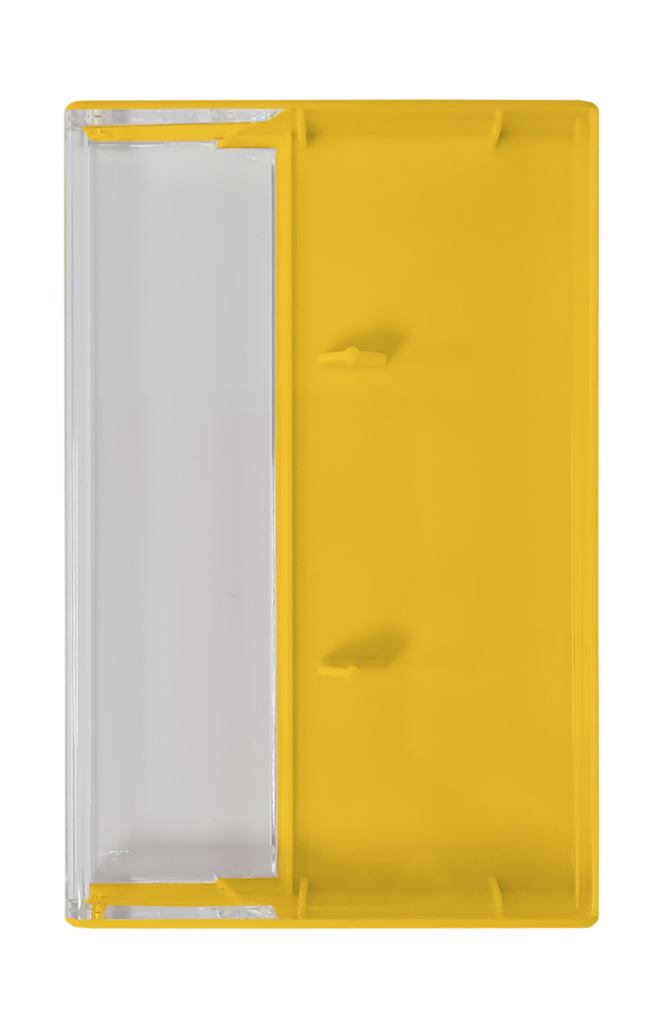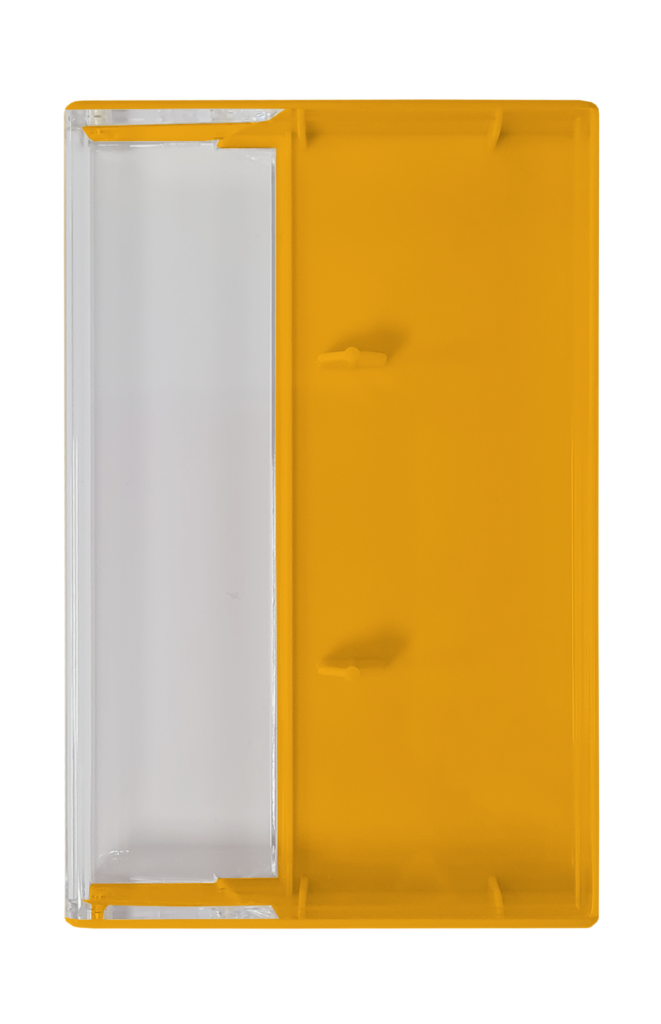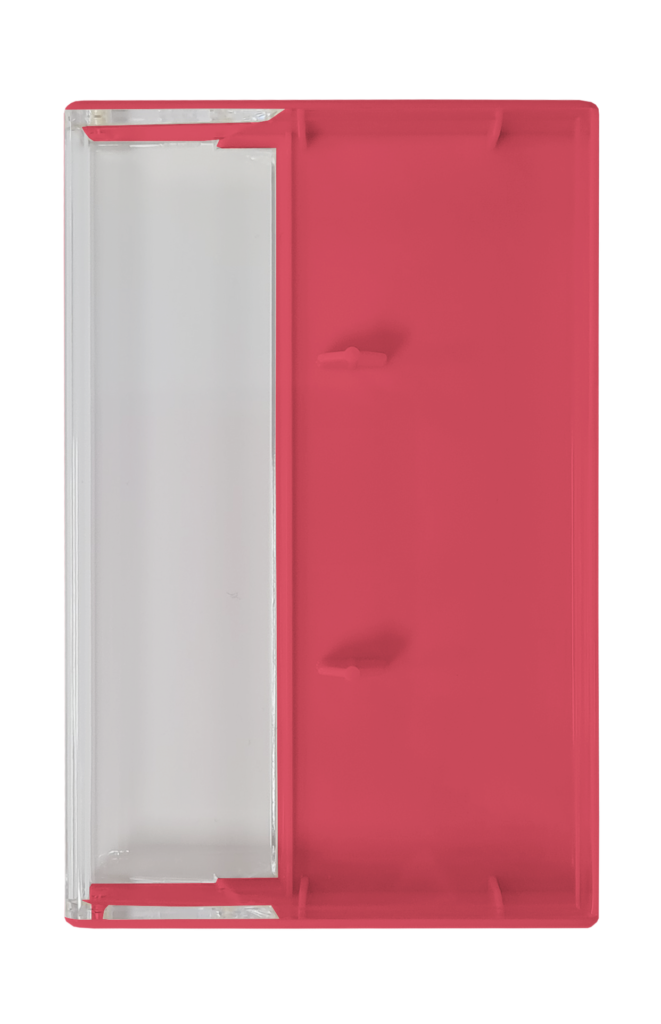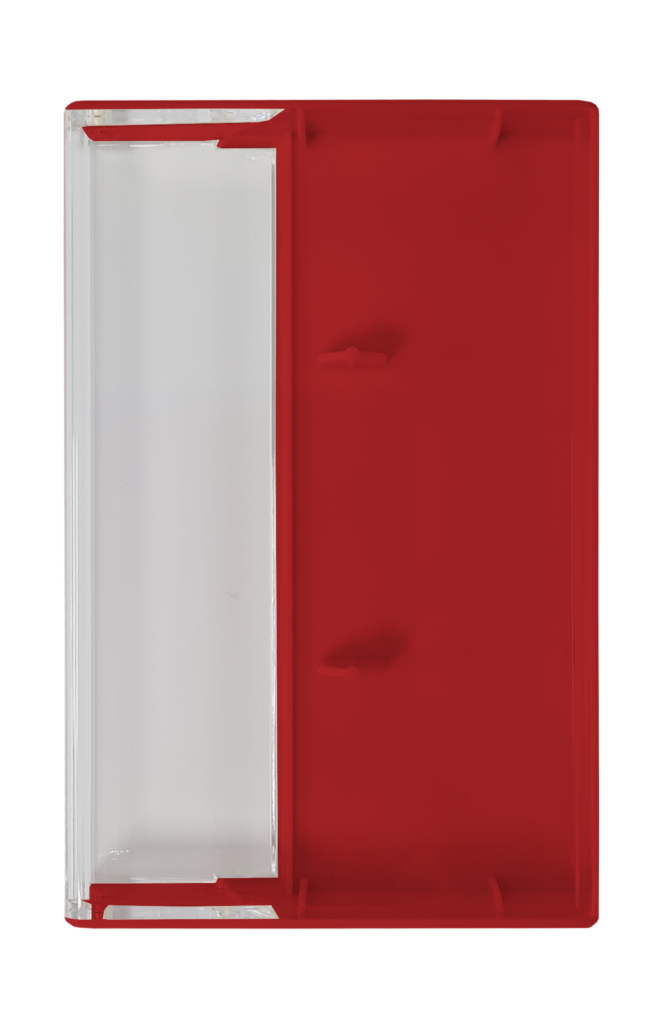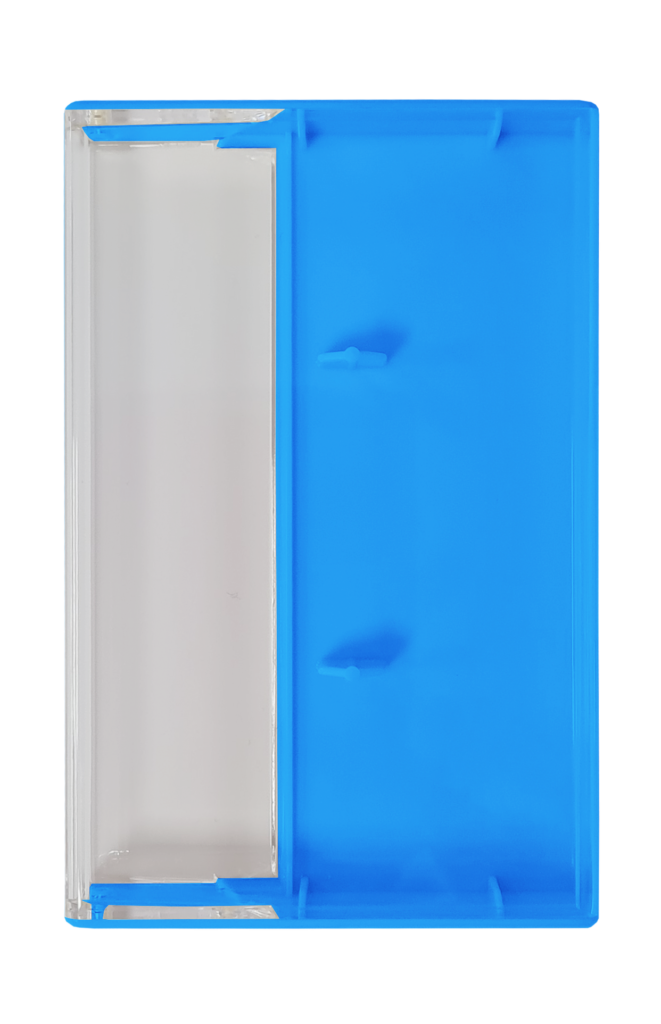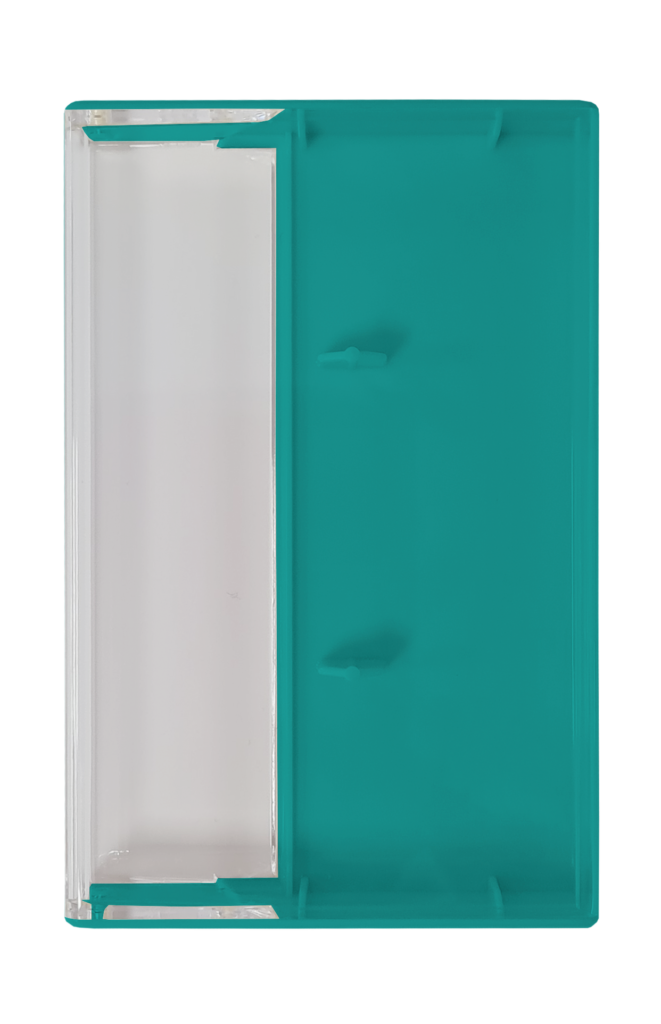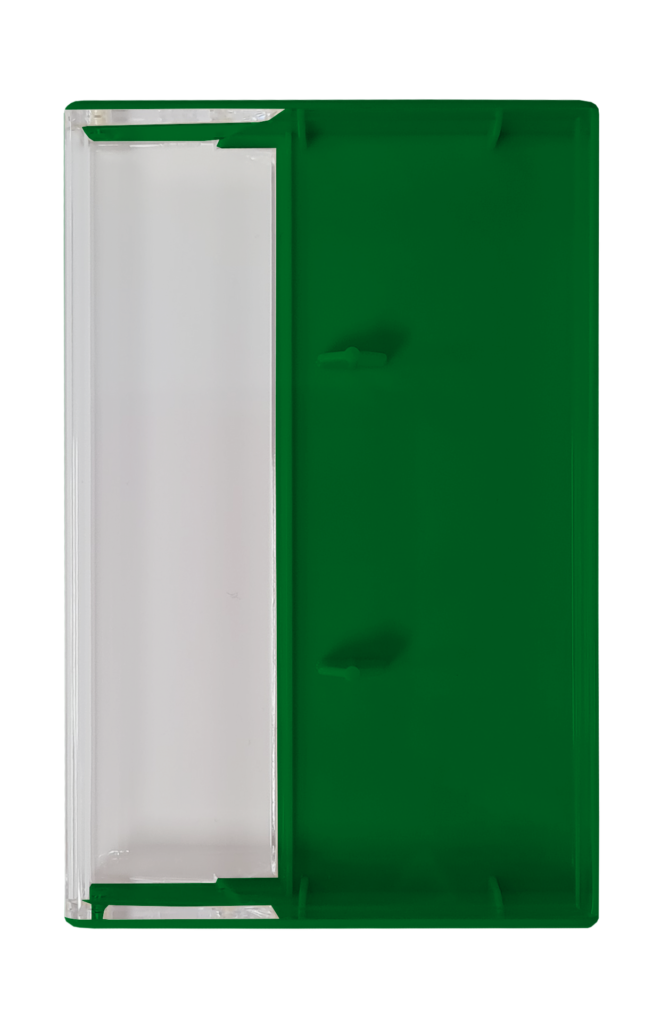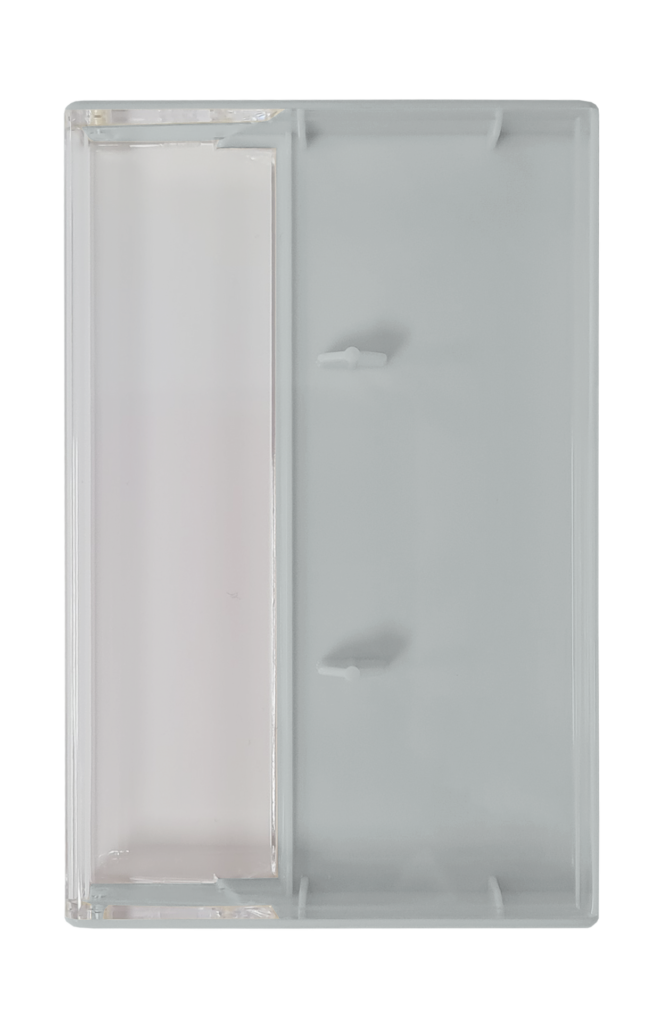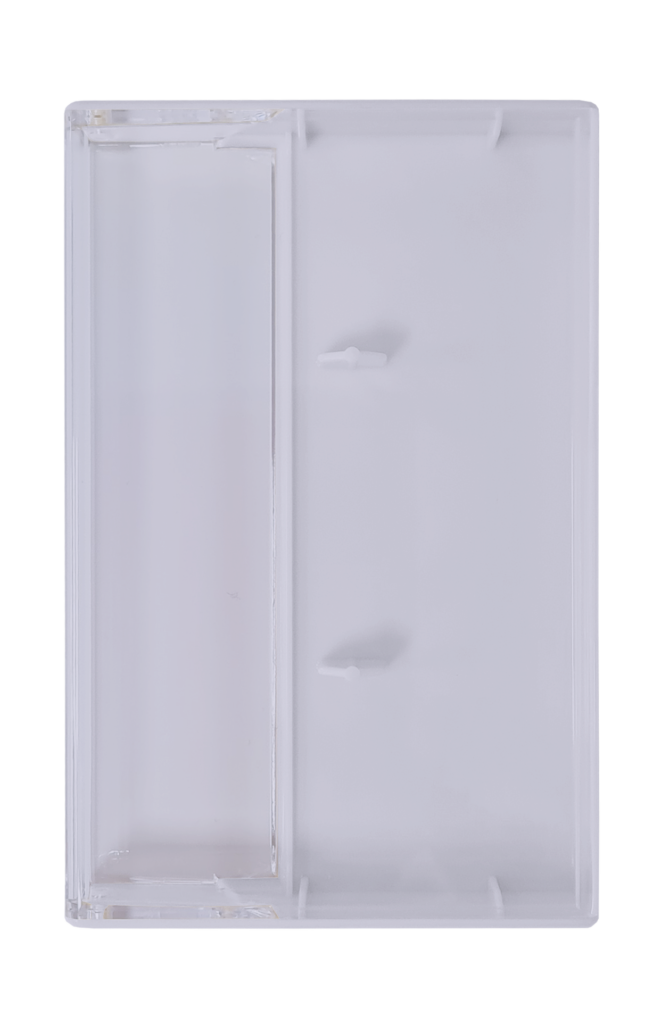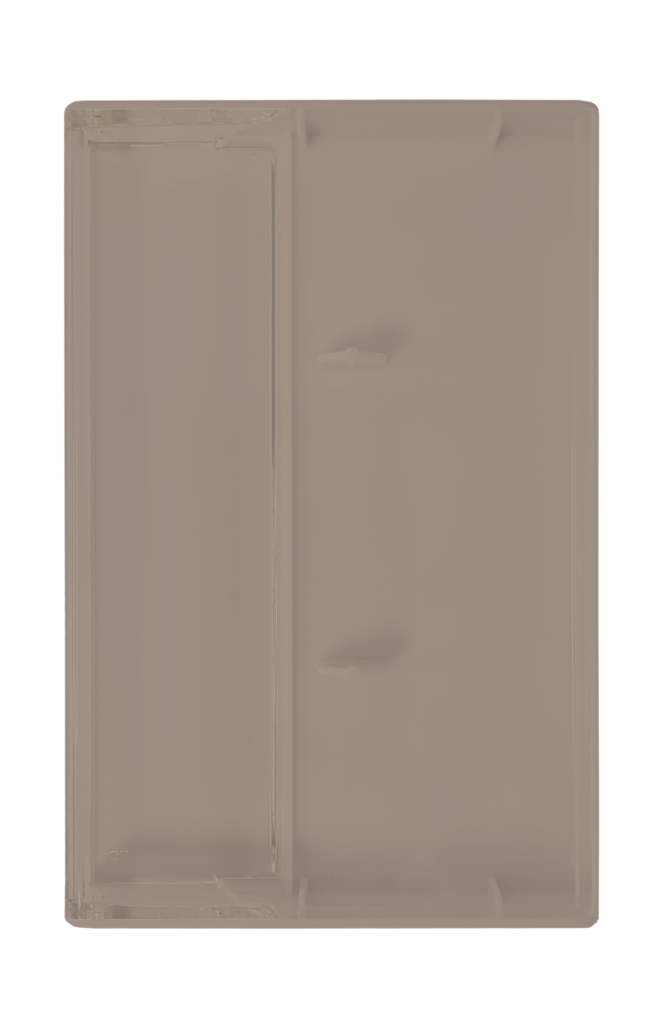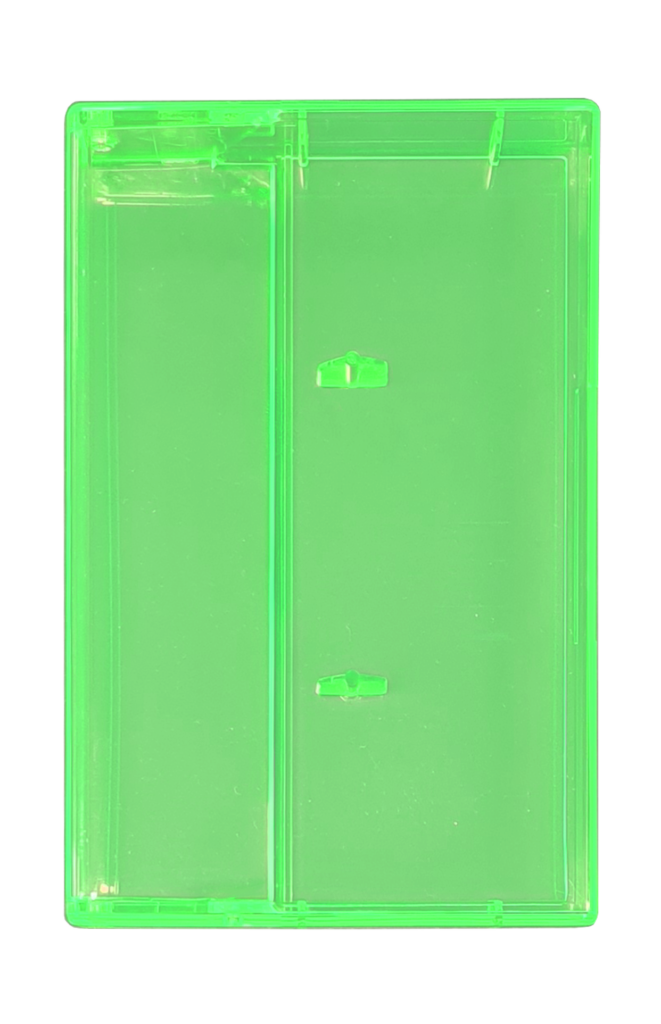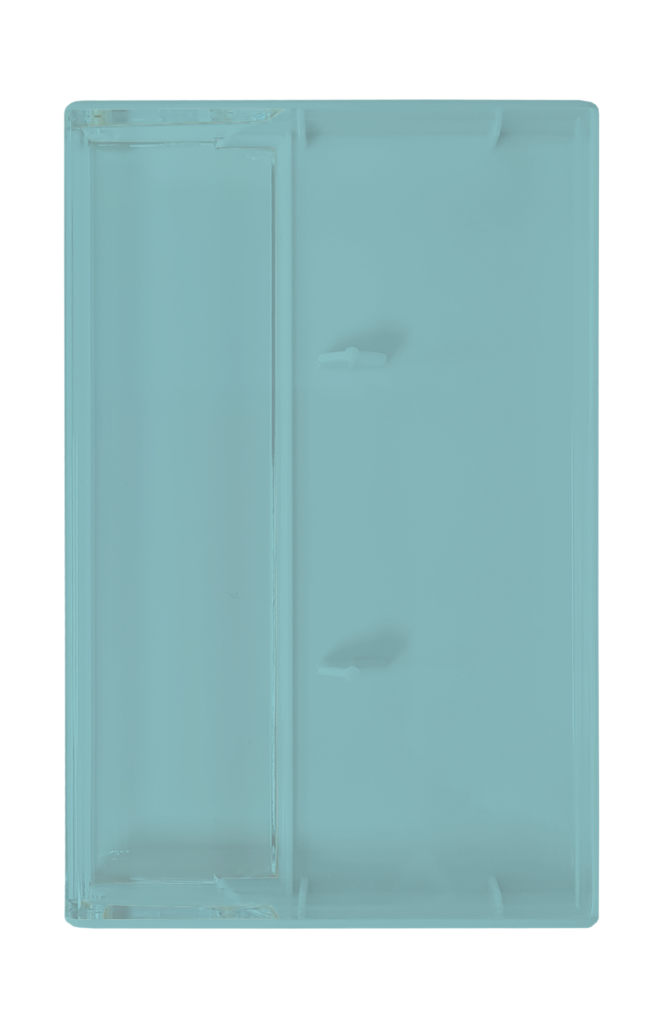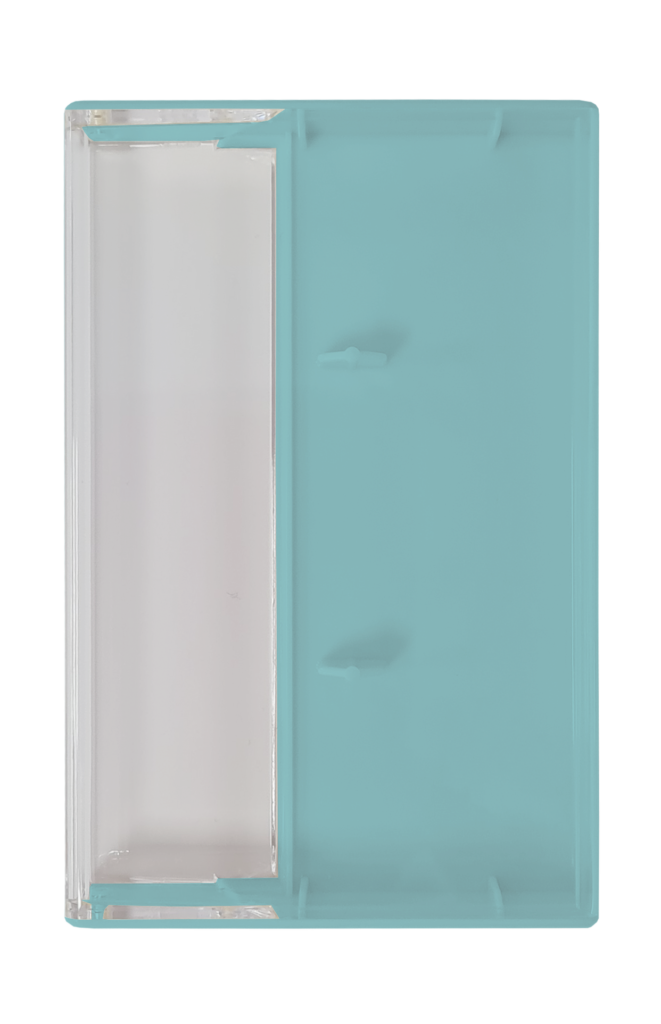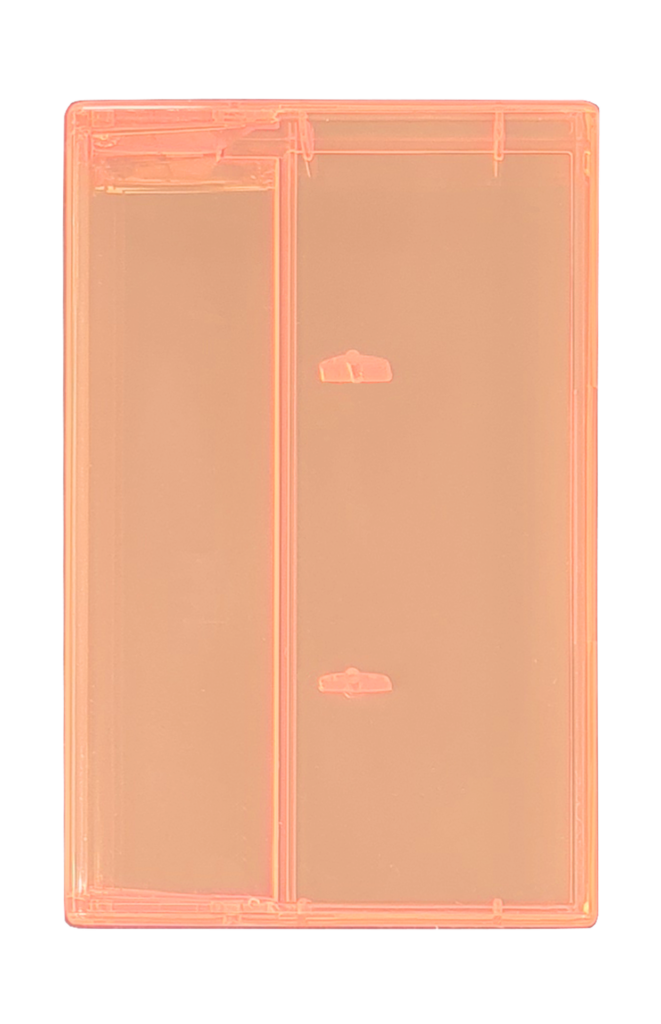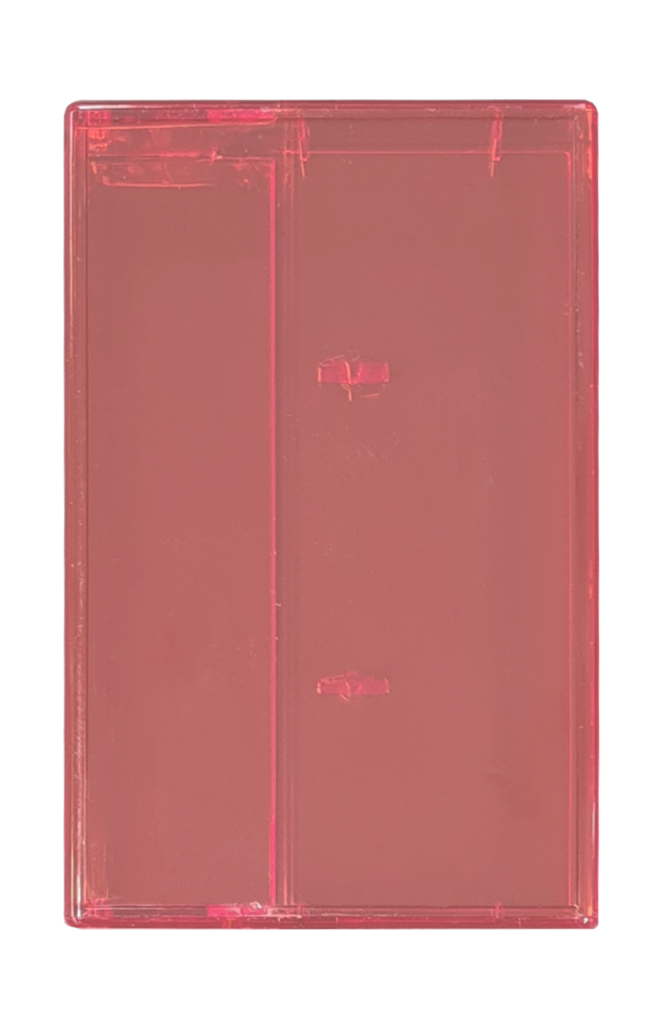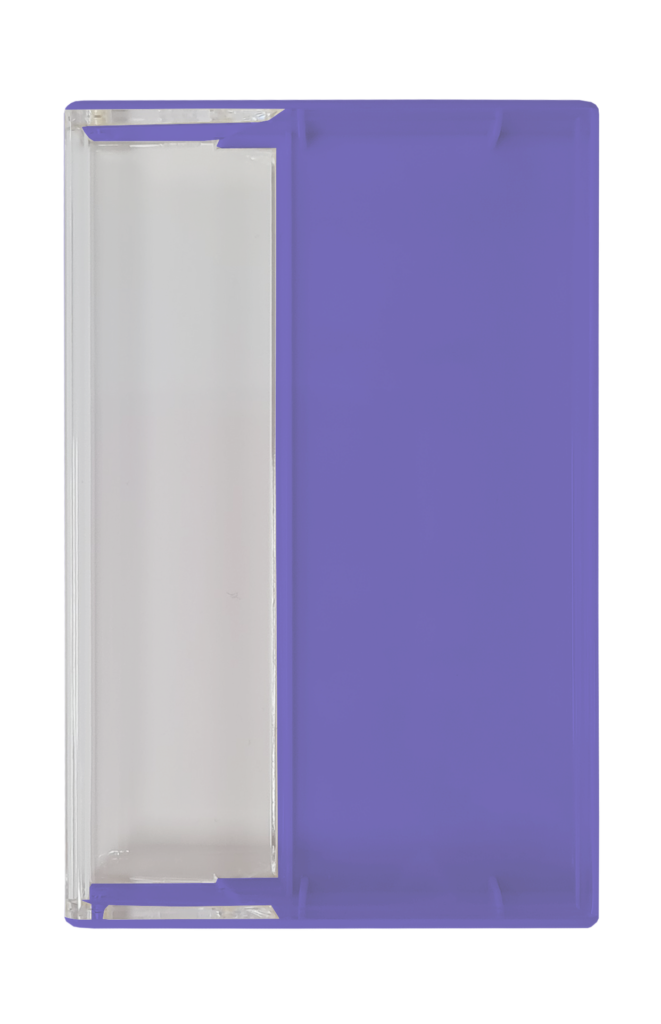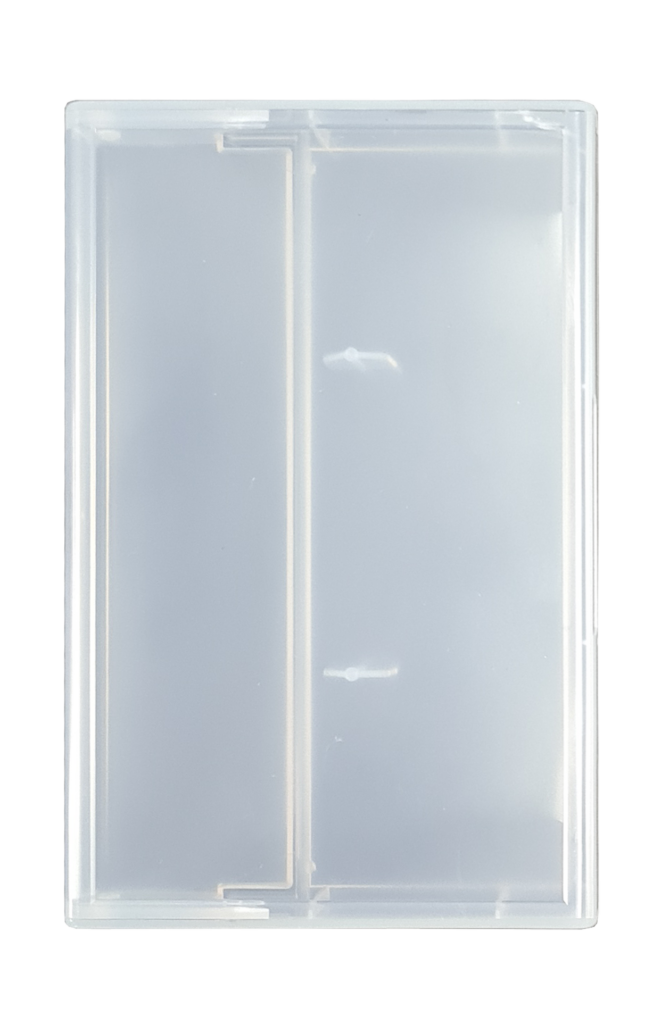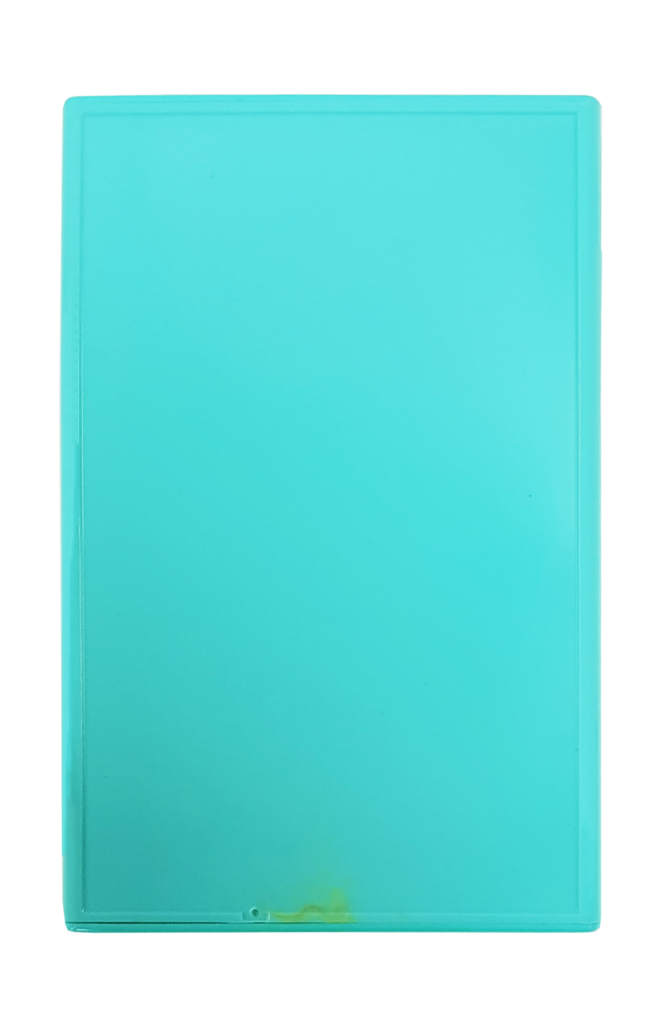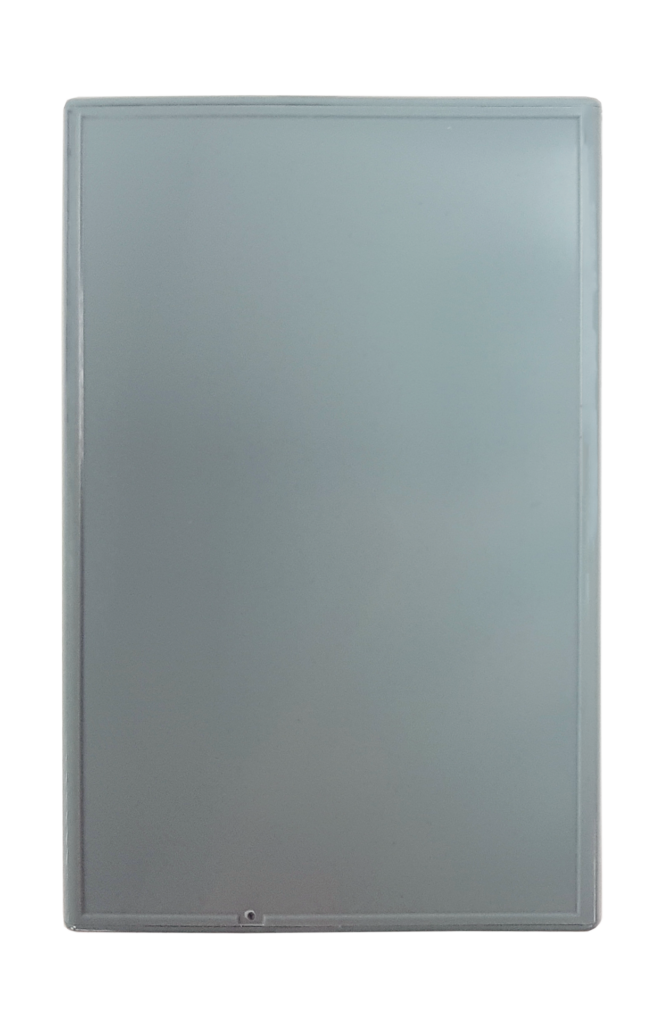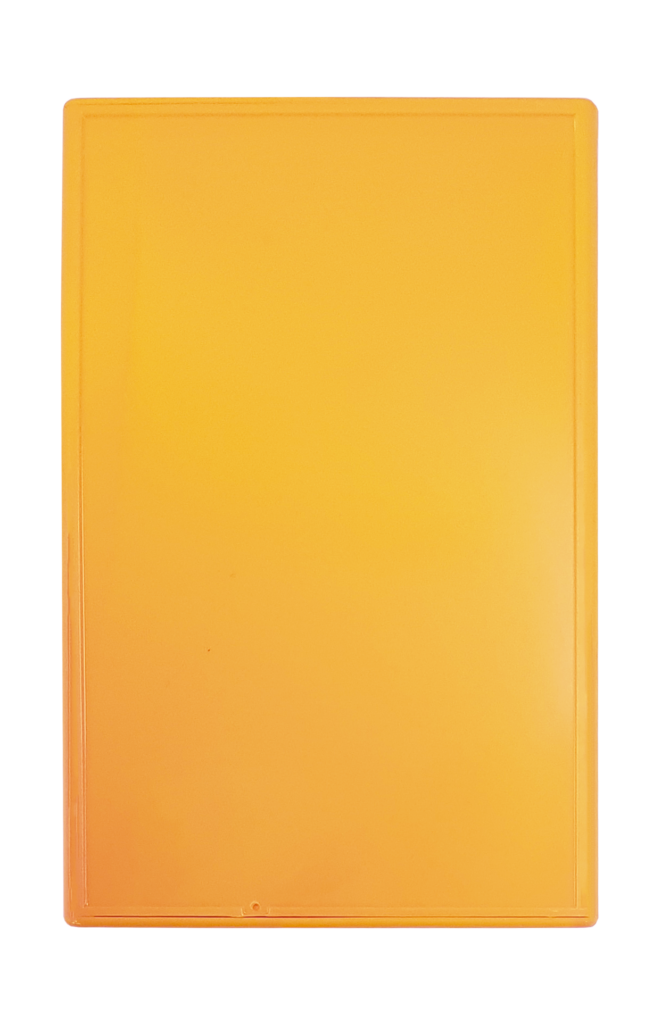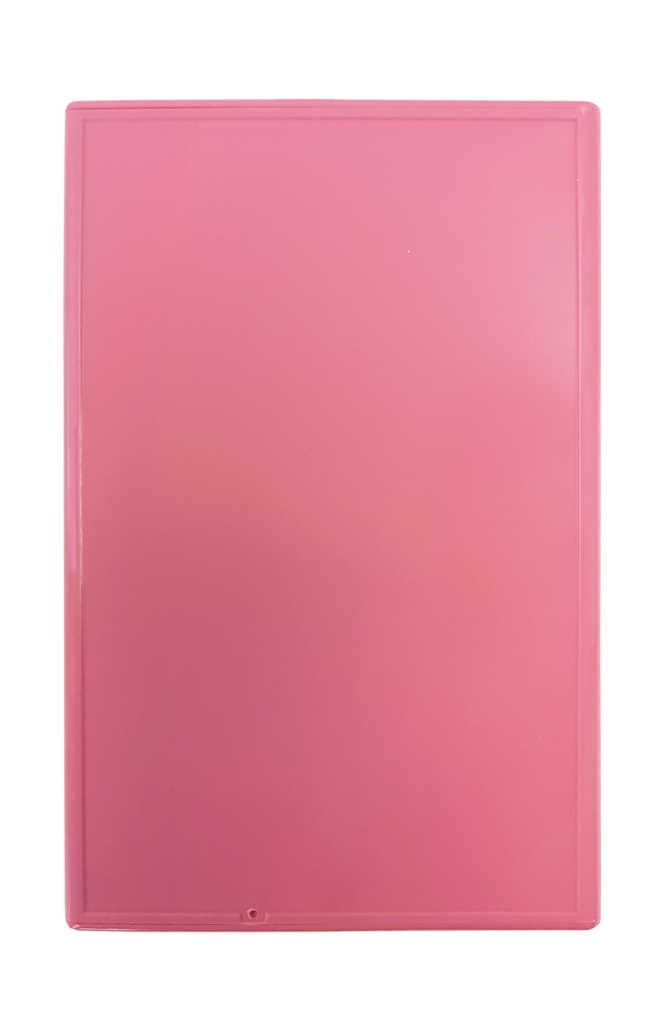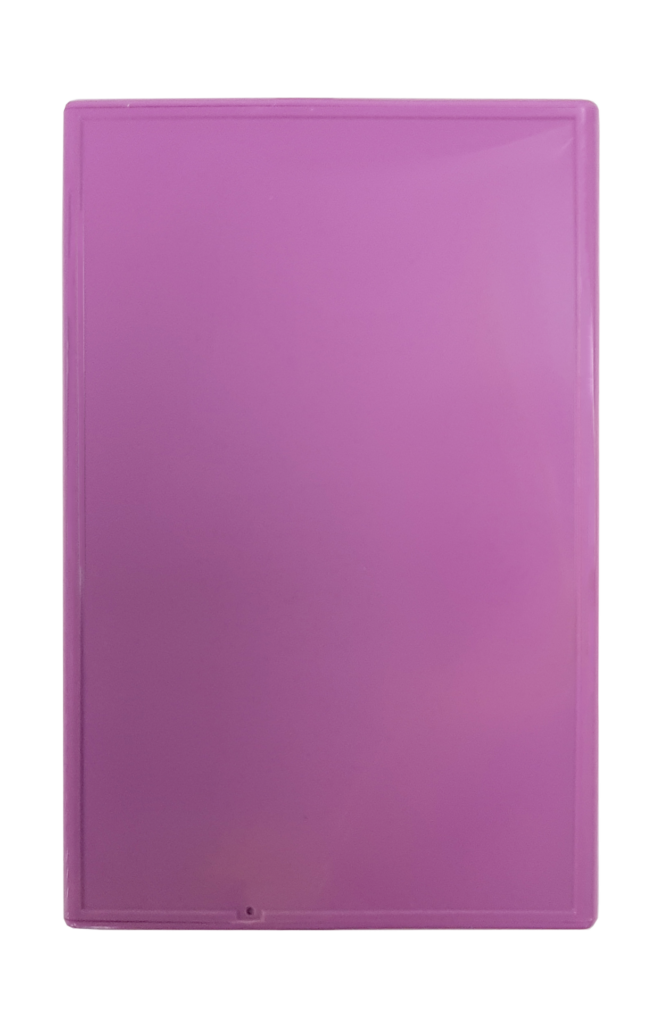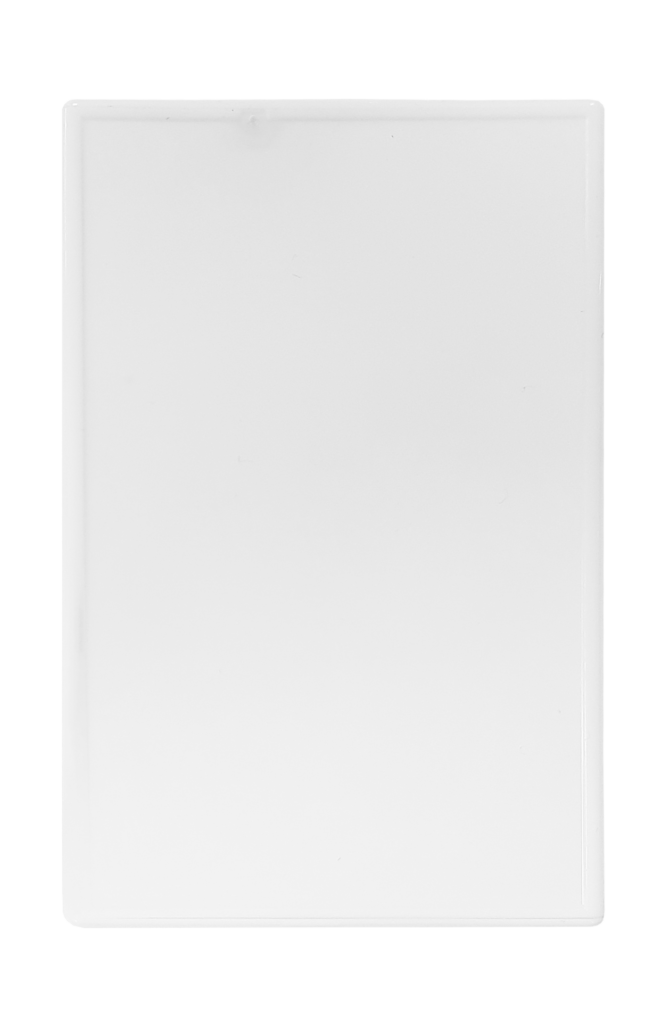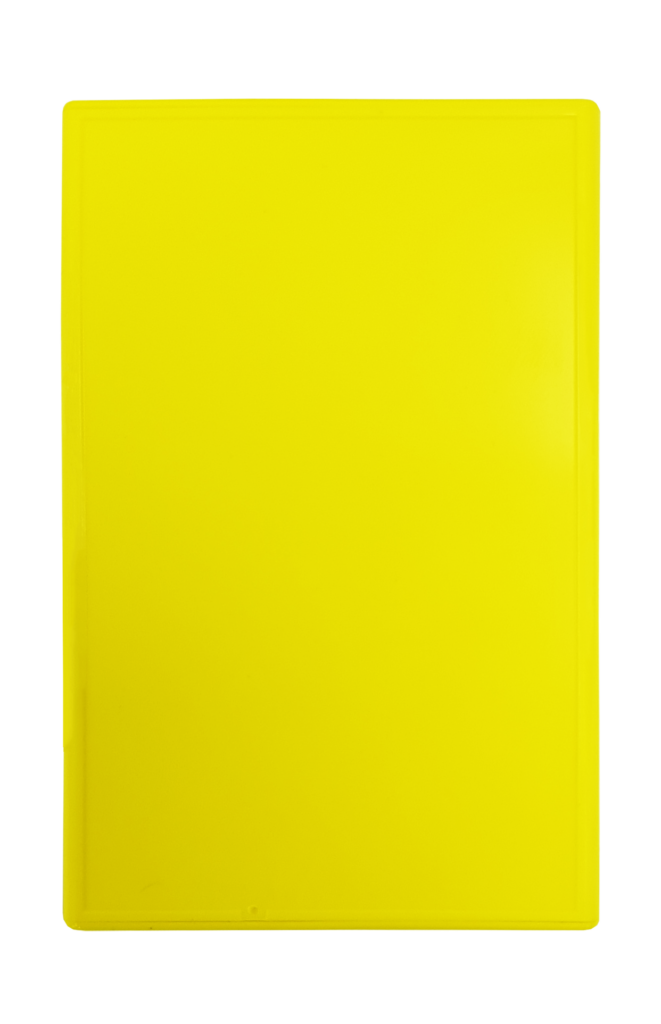 The prices for all the different cassette tape cases are the same, apart from the transparent red, transparent turquoise, transparent green and transparent purple cases that add £0.10+VAT per case. Please notify us when ordering if you would like a colour other than clear.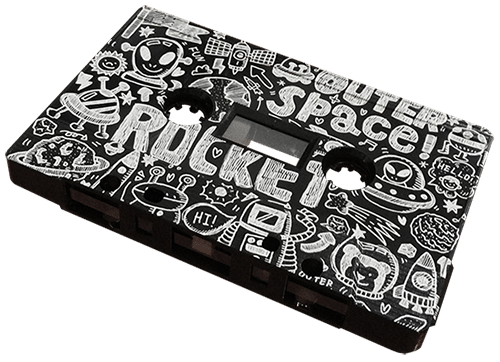 On-body cassette shell printing
We can now offer full colour, white, black and even spot gloss on-body cassette printing with the same turnaround times as stickers and with the option of printing over the full surface of the cassette as shown in the example on the right. Our new in-house printer is a state-of-the-art UV LED printer that is very high resolution and prints incredibly hard and durable inks directly onto the tapes in vibrant colours. There is a small additional fee for the on-body printing, but it is now priced per tape (rather than a fixed setup cost for printing plates), making it more economic for shorter production runs.
Click here to find out more about our new on-body printing, view prices and see some examples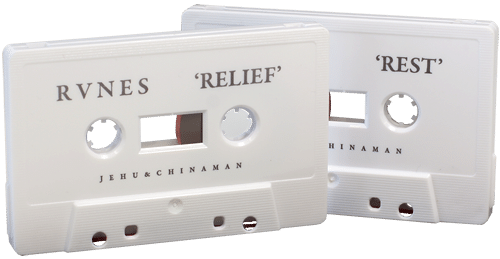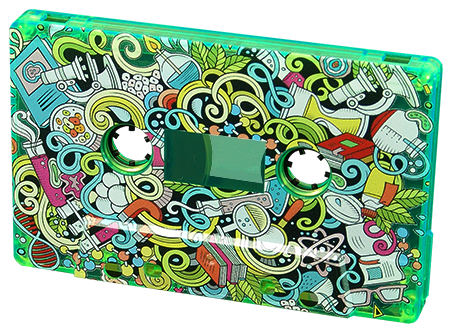 The journey of a cassette tape during manufacture
Have a quick tour in less than a minute through our cassette tape production process at Band CDs.
Footage taken and produced by the very talented folk at https://mescaline.co/
Chrome tape option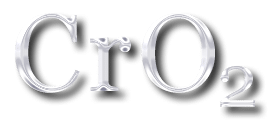 Unfortunately we are currently unable to wind tapes with higher quality chrome 'Type II' tape as the world has basically run out of it and it hasn't been produced for many years. We ran out of stock in early 2019. Our current tapes are however being wound with a higher quality and thicker 'super ferric' tape that is close to chrome in terms of quality.
If chrome reel does end up being manufactured again then we will of course start adding it as an option.
How are the cassettes recorded and what is the quality like?
We record all of our tapes in real-time from a master CD for the best sound quality. We run twenty eight active decks, allowing us to record over fifty tapes at a time and the decks are regularly serviced and calibrated to keep them in the best recording condition.
Click here to find out more about the setup and some the technical specifications that we work to.
Important note about the tape styles that we stock
Blank cassette production worldwide is very limited and stocks of our coloured tapes can be restricted and cannot be guaranteed, so please check before ordering as some are discontinued styles that may not be available again. However conversely, some new batches are produced from time to time, so we may be able to source alternative styles or other colours if required.
Cassette tape presentation frames
The frames are fully finished, ready to hang and include additional copies of your release and can even be provided with a full colour printed metal plaque with your artwork on to celebrate the cassette release or as a memento for the band members. The frames can include both a copy of the tape and also the packaging and are available in black or white borders with black or white backgrounds.
Click to find out more about our cassette tape presentation frames
Add some full colour printed guitar picks
When placing an order with us, why not add some custom printed guitar picks with your band logo on? The picks are available in different thicknesses for acoustic/electric and bass guitars and also lots of different base colours. We can then print full colour on-body artwork with partial white base layers and spot gloss layers if required. Ideal for not only playing with, but also for merch stands, added value online CD/cassette/vinyl sales or freebies for fans.
Click to find out more about our full colour printed custom guitar picks
Do you need a barcode?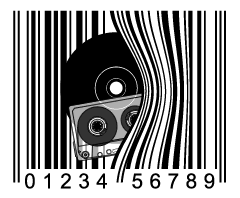 If you will be selling your cassettes through a retail store then you will probably need to register a unique barcode for your release and apply it to the rear outer artwork of your product to make it possible for them to sell via their product barcode scanner.
In Europe we use the EAN 13 barcode system and in North America the UPC system is used. We can register an EAN 13 barcode for you and embed the barcode graphic within your cassette packaging artwork for just £12+VAT. The only information that we will require from you will be the name of the band/artist and the title of the release, then just leave a suitable space in your artwork and we will register the barcode and add it to your artwork for you, all for just £12+VAT.
For further information about barcodes, please read our barcode FAQs.
How to place an order or request a sample
The best way to place your order or request a custom printed sample is to complete our ONLINE ORDER FORM
However there are also three other main ways in which you can get your contents and artwork across to us:
1. By email If the artwork (and contents if we are burning the discs for you) are less than 10MB then you can email them to us here.
2. By uploading online Any size of files can be uploaded to us free of charge online via our WeTransfer upload - please remember to provide your order details (band name, type of cassettes required, packaging type, total order quantity and delivery address) in the information field when uploading.
3. By post Please send your artwork (and contents if we are recording the tapes for you) to: Disc Production Manager, Wizbit Internet Services Ltd, Keppel K1, Daedalus Park, Lee-on-the-Solent, Hampshire, PO13 9FX
Payment for orders

Payment is required before production of the order. Once we have received your artwork files (and audio contents if also being recorded) and verified that they are ready for production then we will email an invoice across to you that can be paid by cheque, BACS, PayPal or credit/debit card. If you have already been sent an invoice then please click on the link below to pay for your order by credit or debit card:
Cassette name place holders and letter racks
Available now on our sister site, RetroStyleMedia.co.uk are some unique items that we have developed ourselves, including a cassette tape letter rack and cassette tape name place holders that are each available with 32 different mix and match cassette tape colours to help fit your décor or colour scheme. Just click on a picture below to visit the relevant page to view pricing and options:
Any questions?
There are often many questions that customers may have that are not answered above, in which case please do not hesitate to pick up the phone or email us and we will try to help. Our contact details can be found here.
We also have an extensive CD and cassette production FAQs section which may help to answer your questions.