Cassette Tape Obi Strips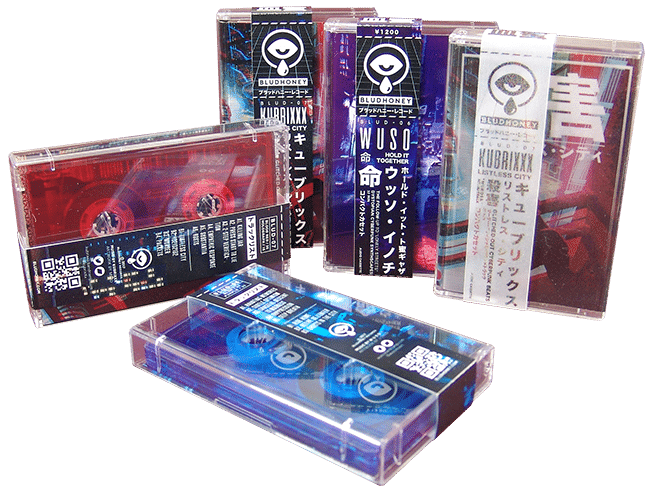 We can provide a range of cassette tape obi strips with full colour printing for standard cassette cases and they can have either a horizontal or vertical orientation around the cases.
The obi strips are very popular in Japan (their name comes from the sash worn around a Kimono) on CDs, cassettes, books, games or vinyl releases where presentation of the item is important and they can contain useful additional information such as barcodes (to avoid spoiling the artwork on the item itself with a barcode), pricing and forthcoming tour dates. Cassette tape obi strips have often become collectors items and can greatly enhance the value of a release if retained. Our obi strips are not fixed to the cases at all, so will not be damaged when removed, they just slip off the cases and can be replaced again afterwards.
Our obi strips are full colour printed onto a high quality 200gsm matt card. By request we can also print onto brown Manila, recycled and heavyweight gloss or matt card stocks, although they will add a little to the unit cost.
To add an obi strip to a release, the costs are the same whether they are horizontal or vertical strips and the unit prices are as follows:
Some examples of our work:
Cassette obi strip artwork template downloads
(also suitable for editing in Photoshop)
How to order
When placing your cassette tape order, please let your account manager know that you wish to add the obi strips to the release and send over the completed artwork for it (along with any specific instructions on positioning the strips if you have a preference) and we will then add them to your order and invoice.
Payment for orders

Payment is required before despatch of the order. Once we have received your artwork files (and audio contents if also being recorded) and verified that they are ready for production then we will email an invoice across to you that can be paid by cheque, BACS, PayPal or credit/debit card. The card receipts and VAT receipt will then be included with your order.
Cassette name place holders and letter racks
Available now on our sister site, RetroStyleMedia.co.uk are some unique items that we have developed ourselves, including a cassette tape letter rack and cassette tape name place holders that are each available with 32 different mix and match cassette tape colours to help fit your décor or colour scheme. Just click on a picture below to visit the relevant page to view pricing and options:
Any questions?
There are often many questions that customers may have that are not answered above, in which case please do not hesitate to pick up the phone or email us and we will try to help. Our contact details can be found here.
We also have an extensive CD and cassette production FAQs section which may help to answer your questions.