Philips DCC tape duplication and production
Custom Digital Compact Cassette printing and recording for orders of just five or more
If you are after a short run of professionally produced DCC tapes to go with your CD, vinyl or cassette tape release then we have just the service for you. We record onto DCC tapes with up to 90 minutes total play length, provide them with on-body full colour printing (no stickers) on the front, reverse and spines of the tapes, they are then packed in the original DCC slide cases with a full colour L-card with up to two additional fold-out panels before being cellophane wrapped.
The Digital Compact Cassette was a format created by Philips and was in production between 1992-1996, intended as a replacement for the compact audio cassette and to provide a high quality recording format when CD-R drives and discs were still very expensive. The DCC format was in competition with Sony's MiniDisc format in the 90s (in addition to CDs) and whilst neither gained the market share that their creators intended, they were both capable of excellent audio quality and provided interesting and protective shell and packaging designs that deserved a wider audience.
New DCC tapes these days are extremely rare when compared to audio cassettes or MiniDiscs, plus the recording process is a lot harder, so the unit prices for production are considerably higher and it is certainly a niche product.
Benefits of our DCC tape duplication include:
High quality recording on brand new DCC tapes
Minimum orders start at just 5 DCC tapes
Up to 90 minutes of audio playback
DCC tape full colour on-body printing (no labels), with white and spot gloss inks available
DCC tapes come in brand new original slide cases with full colour on-body printing on the top, rear and spines of the tapes and a double-sided full colour printed L-card in the slide case
Recorded using DCC Studio to include text information (on compatible playback players)
Pricing includes UK courier delivery (international delivery available) and quick turnaround times
Pricing for DCC tapes with full colour printing, audio added and supplied in cases with printed inserts:
DCC tapes with full colour on-body printing on the front, rear and spines of the tapes, audio added and supplied in new DCC slide cases with full colour printed two-sided L-cards, then cellophane wrapped
Additions or deductions from above pricing
If you require additional print options or don't require some of the standard options then please add or deduct the following from the above pricing:
Adding spot gloss printing to a printed side of the DCC: £0.30+VAT extra per side being printed, per DCC
No printed L-cards: £0.50+VAT less per DCC
No slide cases with the DCCs: £2.00+VAT less per DCC
No on-body UV-LED printed spine on the DCC: £1.00+VAT less per DCC
No on-body UV-LED printed rear of the DCC: £0.75+VAT extra per MiniDisc
No printing at all on the DCCs: £2.50+VAT less per DCC
No audio on the DCCs: £3.00+VAT less per DCC
Some examples of our work:
Some peculiarities of DCC tapes
Please note that on DCC tapes, the A side audio must always be longer than the B side audio, with at least 30 seconds or more longer to allow seamless skipping of tracks when moving from the end of the A side to the beginning of the B side and down to requirements of the DCC Studio software.
The track text information on recordable DCC media is only loaded at the beginning of tracks, so if you start a track part way through then the track text information will not be visible unless you rewind to the beginning of the song. Otherwise the track text information will then appear when you start the next track from the beginning. In addition, track text information will only be visible on 3rd and 4th generation DCC players such as the Philips DCC730, Philips DCC951, Technics RSDC8, Technics 909, Panasonic 505 or Victor ZDV919.
Where to find out more about DCC
If you wish to find out more about the DCC format or view other releases then we recommend visiting the www.dccmuseum.com website which is the world's leading resource on DCC tapes and players. They have been a great help in assisting us with our setup and working through initial teething problems and are doing great work in helping to keep the format alive.
Artwork template downloads
(also suitable for editing in Photoshop)
L-cards for DCC tape cases
Our printed inserts for the DCC cases provide up to two extra fold-out panels, all printed in full colour on both sides, in addition to the standard L-card insert.  In the artwork templates below, just fill in the additional panels of artwork that you require and leave any others blank that aren't required (please always fill in +1 as the first extra panel, then +2 if required).
DCC on-body printing artwork template download
We print on the DCC front, rear and spine areas using a full colour on-body print as standard. We need to lay down a white base first before printing the colours and can also add spot gloss inks if you wish. The spot gloss printing should be supplied as separate files or layers in the Photoshop document using a solid black and clearly state that they should be printed as spot gloss.
Cellophane wrapping the tape cases
The DCC tapes come with a cellophane wrap as standard to help protect from rub marks or scratching in transit and to assist with their retail presentation. If you don't wish for cellophane wraps to be added to the tapes then please let us know. This will save £0.10+VAT per unit if you don't require them.
Do you need a barcode?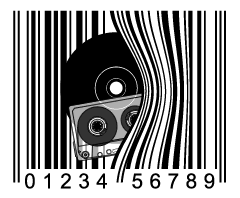 If you will be selling your cassettes through a retail store then you will probably need to register a unique barcode for your release and apply it to the rear outer artwork of your product to make it possible for them to sell via their product barcode scanner.
In Europe we use the EAN 13 barcode system and in North America the UPC system is used. We can register an EAN 13 barcode for you and embed the barcode graphic within your cassette packaging artwork for just £12+VAT. The only information that we will require from you will be the name of the band/artist and the title of the release, then just leave a suitable space in your artwork and we will register the barcode and add it to your artwork for you, all for just £12+VAT.
For further information about barcodes, please read our barcode FAQs.
How to place an order or request a sample
The best way to place your order or request a custom printed sample is to complete our ONLINE ORDER FORM
However there are also three other main ways in which you can get your contents and artwork across to us:
1. By email If the artwork (and contents if we are burning the discs for you) are less than 10MB then you can email them to us here.
2. By uploading online Any size of files can be uploaded to us free of charge online via our WeTransfer upload - please remember to provide your order details (band name, type of cassettes required, packaging type, total order quantity and delivery address) in the information field when uploading.
3. By post Please send your artwork (and contents if we are recording the tapes for you) to: Disc Production Manager, Wizbit Internet Services Ltd, Keppel K1, Daedalus Park, Lee-on-the-Solent, Hampshire, PO13 9FX
Payment for orders

Payment is required before production of the order. Once we have received your artwork files (and audio contents if also being recorded) and verified that they are ready for production then we will email an invoice across to you that can be paid by cheque, BACS, PayPal or credit/debit card. If you have already been sent an invoice then please click on the link below to pay for your order by credit or debit card:
Any questions?
There are often many questions that customers may have that are not answered above, in which case please do not hesitate to pick up the phone or email us and we will try to help. Our contact details can be found here.
We also have an extensive CD and cassette production FAQs section which may help to answer your questions.