CDs in luxury hardback digipaks with linen or velvet covers
For small run orders of 25 items or more
If you are after the 'wow' factor with a completely rigid digipak beautifully wrapped in linen or velvet, then this is just for you. These digipaks use a hardboard construction for a heavy weight that doesn't bend and has a white CD or DVD plastic tray, but the case is beautifully wrapped in linen or velvet from a wide selection of colours. They really do look stunning with a high quality construction and are very unusual, but obviously do cost a fair bit more than standard printed card digipaks which are not completely rigid and don't have the same tactile feel or premium presentation.
Suitable for both CDs, DVDs or Blurays, these digipaks are available for orders of 50 units or more.
The digipaks have hidden magnetic catches for closing.
Pricing for CDs in hardback linen or velvet digipaks (with audio contents added):
Material colours available
Quality of construction
The fabric work, craftsmanship and overall quality of build are very high, giving a really premium feel. The panels are completely rigid unlike a standard digipak and the quality impression is backed up by the weight of each hardback digipak, weighing 129g without a disc, in comparison to a standard printed card 4 page digipak at about 39g.  The hidden magnetic seal for keeping the digipak closed is also a nice touch.
Adding booklets to the hardback digipaks
Standard size CD booklets can be glued to the inside left panel with either eight or twelve pages (however please deduct the back page from the total number of visible pages as this one is glued to the digipak). We do not recommend more than 12 pages as the thickness then starts to push the digipak open a bit and the weight of the other pages can put extra stress on the glued page.
Pricing for CDs in hardback linen or velvet digipaks with eight page booklets:
Dimensions
The hardback digipaks are slightly larger than a standard 4 page digipak or CD jewel case, measuring 146mm wide x 135mm deep and 12mm thick when closed and 301mm in width when full open.
Cellophane or shrink wrapping the hardback CD digipaks
If you would like your CDs in a clear wrap for a glossy protective finish that is ideal for retail environments or presentation purposes then please add £0.08+VAT per disc for either a shrink wrap or  a cellophane resealable wrap.
Artwork template downloads:
Coloured CDs
Make your discs stand out or fit with your artwork colouring by adding a unique coloured glossy content layer (underside) in either purple, red, orange, green, blue or black, making them quite different and individual from the standard silver base discs. Adding a coloured base costs £0.05+VAT per unit.
Special offer on CD presentation frames
When placing a CD order with us, you can get 50% off our CD presentation frames when using the discs from your order and being ordered and delivered at the same time as your CDs. The frames are fully finished, ready to hang and include additional copies of your release and can even be provided with a full colour printed metal plaque with your artwork on to celebrate the CD release or as a memento for the band members. The frames can include both a copy of the disc and also the packaging and are available in black or white borders with black or white backgrounds.
Click to find out more about our CD presentation frames
Type of printing on the CDs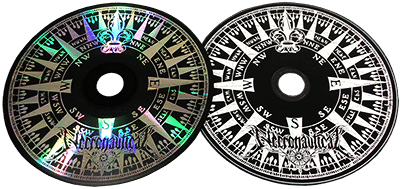 For quantities of fewer than 300 discs we use a full colour high resolution laser print onto gloss or matt permanent labels that are then applied to the discs. The matt labels go very well with our recycled card packaging and have a similar slightly rough texture. For quantities of 300 discs or more we include direct-to-disc printing free of charge. For fewer than 100 copies please add £0.35+VAT per disc if you would like direct-to-disc rather than label printing and for between 100-299 copies please add £0.25+VAT per disc for direct-to-disc printing. The picture illustrates the same artwork printed onto both a reflective silver base and white base on our UV LED printer (either option is the same price).
Do you need a barcode?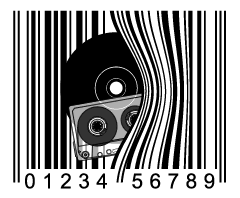 If you will be selling your discs through a retail store then you will probably need to register a unique barcode for your release and apply it to the rear outer artwork of your product to make it possible for them to sell via their product barcode scanner.
In Europe we use the EAN 13 barcode system and in North America the UPC system is used. We can register an EAN 13 barcode for you and embed the barcode graphic within your disc packaging artwork for just £12+VAT. The only information that we will require from you will be the name of the band/artist and the title of the release, then just leave a suitable space in your artwork and we will register the barcode and add it to your artwork for you, all for just £12+VAT.
For further information about barcodes, please read our barcode FAQs.
Delivery
The above prices include courier delivery fees to a single UK address. International delivery can be arranged, please click here to view our overseas delivery rates.
How to place an order or request a sample
The best way to place your order or request a custom printed sample is to complete our ONLINE ORDER FORM
However there are also three other main ways in which you can get your contents and artwork across to us:
1. By email If the artwork (and contents if we are burning the discs for you) are less than 10MB then you can email them to us here.
2. By uploading online Any size of files can be uploaded to us free of charge online via our WeTransfer upload - please remember to provide your order details (band name, type of cassettes required, packaging type, total order quantity and delivery address) in the information field when uploading.
3. By post Please send your artwork (and contents if we are burning the discs for you) to: Disc Production Manager, Wizbit Internet Services Ltd, Corhampton Lane Farm, Corhampton, Hampshire SO32 3NB
Payment for orders

Payment is required before production of the order. Once we have received your artwork files (and disc contents if also being produced) and verified that they are ready for production then we will email an invoice across to you that can be paid by cheque, BACS, PayPal or credit/debit card. The card receipts and VAT receipt will then be included with your order.
Any questions?
There are often many questions that customers may have that are not answered above, in which case please do not hesitate to pick up the phone or email us and we will try to help. Our contact details can be found here.
We also have an extensive CD production FAQs section which may help to answer your questions.