DVD boxset slipcases
For DVD sets of three to ten discs
If you have a set of DVDs in standard size cases that you would like to package together then our DVD boxset slipcases may be a suitable option.
They are printed in full colour using an offset litho print and then have a gloss UV varnish (please let us know if you would prefer a matt varnish instead).
The slipcases are made from a high quality folding boxboard of 400 micron thickness with a white back. The DVD slipcases have an open front to allow the DVD case spine artwork to be visible and to allow the easy removal of individual discs. The rear is then covered by a tuck-in flap. For five cases or more the slipcases are double-walled for extra strength and rigidity.
The minimum order quantity is 250 slipcases due to the custom nature of the construction and the printing process used, however the prices quickly reduce for larger quantities.
The slipcases are supplied flat-packed for easy construction with no gluing required and the delivery times are typically 5-7 working days from receipt of artwork.
Pricing for DVD boxset slipcases for 2 standard size DVD cases:
Pricing for DVD boxset slipcases for 3 standard size DVD cases:
Pricing for DVD boxset slipcases for 4 standard size DVD cases:
Pricing for DVD boxset slipcases for 5 standard size DVD cases:
Pricing for DVD boxset slipcases for 6 standard size DVD cases:
Pricing for DVD boxset slipcases for 7 standard size DVD cases:
Pricing for DVD boxset slipcases for 8 standard size DVD cases:
Get double or quadruple the quantity of discs in the slipcases with our slimline DVD cases…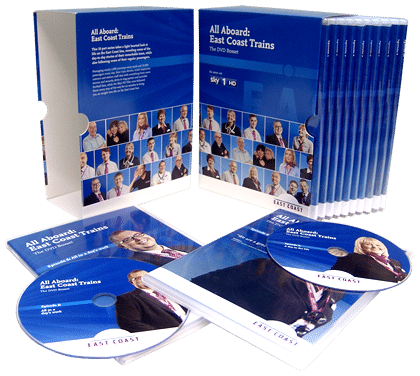 If you have a large number of discs to include in your sets then you can always use slimline DVD cases that are only half the width of a standard DVD case at 7mm wide, allowing you to get twice as many disc cases in the slipcases. So the slipcase prices are still the same as above, but you will be able to get twice as many cases in if you use the slimline cases (we can also provide the discs and printed slimline cases for you if you require them – the prices are the same as for our DVDs in coloured standard size DVD cases).
For example the image on the right shows a 10 disc DVD set that was produced for East Coast Trains as part of their series on Sky 1 HD. This allowed 10 DVDs in individual slimline cases to fit in the 5 disc slipcase from above. This can help to save costs in not needing such a large slipcase and they are also more compact and so easier to file and store.
In addition, we can also provide double disc slimline cases allowing 2 discs in each slimline 7mm case. This could potentially allow up to 40 separate DVDs to be stored in a slipcase designed for 10 standard size DVDs.
Laminate options for the DVD boxsets:
As standard the DVD boxsets are supplied with no laminate coating applied, however for just £0.25+VAT per DVD boxset for quantities up to 999 copies or £0.15+VAT per boxset for quantities over 1000 copies, we can coat them in either a gloss or matt plastic laminate. The lamination makes the DVD boxsets far more durable, stronger, more resistant to liquids and a little more rigid. In the case of the gloss laminates the colours are enhanced with blacks looking deeper and colours richer overall. With matt lamination, finger prints do not show up at all, but colours are not quite as deep and appear a little lighter than either the uncoated or gloss options. If you wish to get your DVD boxsets laminated then please mention it to us when placing the order and let us know whether you would prefer matt or gloss.
DVD boxset slipcase artwork template downloads
(also suitable for editing in Photoshop)
Please design all artwork at 300dpi using a CMYK colour scheme and add a 3mm bleed around any trimmed edges. The PDF template can be used in programs like Adobe Illustrator, InDesign or Photoshop.
Matchbox-style CD box sets with CDs printed card wallets
Another alternative packaging option when releasing a multi disc single compilation, album collection or set of DVDs are our rigid card matchbox-style presentation cases, available in black, white or brown Manila card and either unprinted, full colour printed or with a metallic foil print. You can then fit up to seven CDs in printed card wallets or five of our vinyl-style CDs in premium oversized wallets with record-style inner wallets.
Click here to find out more about our matchbox-style CD box set packaging
Do you need a barcode?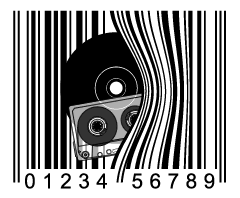 If you will be selling your discs or cassettes through a retail store then you will probably need to register a unique barcode for your release and apply it to the rear outer artwork of your product to make it possible for them to sell via their product barcode scanner.
In Europe we use the EAN 13 barcode system and in North America the UPC system is used. We can register an EAN 13 barcode for you and embed the barcode graphic within your disc or cassette packaging artwork for just £12+VAT. The only information that we will require from you will be the name of the band/artist and the title of the release, then just leave a suitable space in your artwork and we will register the barcode and add it to your artwork for you, all for just £12+VAT.
For further information about barcodes, please read our barcode FAQs.
How to place an order or request a sample
The best way to place your order or request a custom printed sample is to complete our ONLINE ORDER FORM
However there are also three other main ways in which you can get your contents and artwork across to us:
1. By email If the artwork (and contents if we are burning the discs for you) are less than 10MB then you can email them to us here.
2. By uploading online Any size of files can be uploaded to us free of charge online via our WeTransfer upload - please remember to provide your order details (band name, type of cassettes required, packaging type, total order quantity and delivery address) in the information field when uploading.
3. By post Please send your artwork (and contents if we are burning the discs for you) to: Disc Production Manager, Wizbit Internet Services Ltd, Keppel K1, Daedalus Park, Lee-on-the-Solent, Hampshire, PO13 9FX
Payment for orders

Payment is required before production of the order. Once we have received your artwork files (and audio contents if also being recorded) and verified that they are ready for production then we will email an invoice across to you that can be paid by cheque, BACS, PayPal or credit/debit card. If you have already been sent an invoice then please click on the link below to pay for your order by credit or debit card:
Any questions?
There are often many questions that customers may have that are not answered above, in which case please do not hesitate to pick up the phone or email us and we will try to help. Our contact details can be found here.
We also have an extensive CD production FAQs section which may help to answer your questions.