DVDs in Clear Plastic Wallets
For small run orders of 50 items or more
Our clear plastic wallets are the most cost-efficient packaging solution that we offer for DVDs being provided as demos, singles or albums. They are also available with really quick turnaround times of 1-2 working days for quantities of up to 1000 copies.
The clear plastic wallets protect the discs from scratches and also look great, particularly if you opt for the printed insert with two sides of full colour printing on a thick 350gsm card.
Our DVDs in clear plastic wallet prices are as follows:
Pricing for DVDs in clear plastic wallets (without inserts):
Further unit price reductions are available for larger quantities, please contact us with your requirements and we can quote.
Pricing for DVDs in clear plastic wallets (with printed inserts):
Further unit price reductions are available for larger quantities, please contact us with your requirements and we can quote.
Some examples of our work:
Artwork template downloads
(also suitable for editing in Photoshop)
Special offer on DVD presentation frames
When placing a DVD order with us, you can get 50% off our DVD presentation frames when using the discs from your order and being ordered and delivered at the same time as your DVDs. The frames are fully finished, ready to hang and include additional copies of your release and can even be provided with a full colour printed metal plaque with your artwork on to celebrate the DVD release or as a memento for the band members. The frames can include both a copy of the disc and also the packaging and are available in black or white borders with black or white backgrounds.
Click to find out more about our DVD presentation frames
Type of printing on the DVDs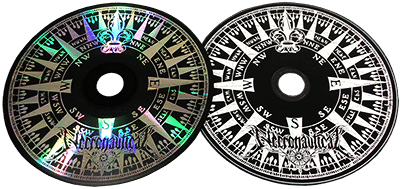 For quantities of fewer than 300 discs we use a full colour high resolution laser print onto gloss or matt permanent labels that are then applied to the discs. The matt labels go very well with our recycled card packaging and have a similar slightly rough texture. For quantities of 300 discs or more we use a direct-to-disc full colour offset litho or silk screen print onto the discs for the best quality gloss finish. If you are ordering fewer than 300 discs and still wish to have a direct-to-disc print then we can supply a great quality UV LED direct to disc print either onto a white base or directly onto the silver shiny disc surface for a reflective effect behind the artwork for an additional £0.25+VAT per disc for a quantity of 200 discs, £0.40+VAT per disc for a quantity of 100 discs or £0.60+VAT per disc for a quantity of 50 discs. The picture illustrates the same artwork printed onto both a reflective silver base and white base on our UV LED printer.
Add some full colour printed guitar picks
When placing an order with us, why not add some custom printed guitar picks with your band logo on? The picks are available in different thicknesses for acoustic/electric and bass guitars and also lots of different base colours. We can then print full colour on-body artwork with partial white base layers and spot gloss layers if required. Ideal for not only playing with, but also for merch stands, added value online CD/cassette/vinyl sales or freebies for fans.
Click to find out more about our full colour printed custom guitar picks
Do you need a barcode?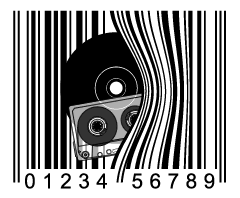 If you will be selling your DVDs through a retail store then you will probably need to register a unique barcode for your release and apply it to the rear outer artwork of your product to make it possible for them to sell via their product barcode scanner.
In Europe we use the EAN 13 barcode system and in North America the UPC system is used. We can register an EAN 13 barcode for you and embed the barcode graphic within your disc packaging artwork for just £12+VAT. The only information that we will require from you will be the name of the band/artist and the title of the release, then just leave a suitable space in your artwork and we will register the barcode and add it to your artwork for you, all for just £12+VAT.
For further information about barcodes, please read our barcode FAQs.
Delivery
The above prices include courier delivery fees to a single UK address. International delivery can be arranged, please click here to view our overseas delivery rates.
How to place an order or request a sample
The best way to place your order or request a custom printed sample is to complete our ONLINE ORDER FORM
However there are also three other main ways in which you can get your contents and artwork across to us:
1. By email If the artwork (and contents if we are burning the discs for you) are less than 10MB then you can email them to us here.
2. By uploading online Any size of files can be uploaded to us free of charge online via our WeTransfer upload - please remember to provide your order details (band name, type of cassettes required, packaging type, total order quantity and delivery address) in the information field when uploading.
3. By post Please send your artwork (and contents if we are burning the discs for you) to: Disc Production Manager, Wizbit Internet Services Ltd, Keppel K1, Daedalus Park, Lee-on-the-Solent, Hampshire, PO13 9FX
Payment for orders

Payment is required before production of the order. Once we have received your artwork files (and audio contents if also being recorded) and verified that they are ready for production then we will email an invoice across to you that can be paid by cheque, BACS, PayPal or credit/debit card. If you have already been sent an invoice then please click on the link below to pay for your order by credit or debit card:
Any questions?
There are often many questions that customers may have that are not answered above, in which case please do not hesitate to pick up the phone or email us and we will try to help. Our contact details can be found here.
We also have an extensive DVD production FAQs section which may help to answer your questions.