Wedding favour and wedding invitation vinyl CD design service
Our designers will help to create your personalised discs and wallets for you
The most popular option for wedding favours and invitations that we produce are the vinyl-style CDs that look like old records with raised ridges and grooves on the top side and are then supplied in record-style printed card wallets on either stunning metallic stocks (using the Curious Metallics range of premium card stocks), rougher and more natural recycled stocks or standard matt or gloss white stocks. The metallic stocks are highly recommended and look amazing when finished. The vinyl CDs even have matching colour bases (apart from the white and gold vinyl discs – please see below).
We can provide you with a complete customised design and production service for your finished discs. Simply view the different designs and colours below and then select the appropriate options in the form at the base if you wish to proceed, we can even use the front cover from one design and the rear from another if you would like to mix and match. The disc label colours can be whatever you like, although unfortunately cannot match the glitter outer wallets as that effect is only available with the card used for the wallets. You will obviously need to provide us with your own unique details that you would like added to the discs and wallets such as your names, the location, time and date, however as it is a customised service from our own graphic designers, we can also make further minor amends or add other messages or personalisation if you wish.
You can view our different options below and please then enter your selections and customised details in the form at the base of the page so that we can put together your own artwork proof and email it over to you.
1. Pick a wallet and disc design
(click below to view the design in all the different card colours)
2. Pick a card wallet colour
(click on swatch for enlarged view)
Metallic cardstocks
Standard and recycled cardstocks
3. Pick a vinyl CD colour
(click on a disc for enlarged view)
Pricing for vinyl-style wedding CDs in printed card wallets with disc contents added
Vinyl-effect CDs with full colour printing and contents added, supplied in full colour printed record-style card wallets with your own custom artwork that we have designed for you
Pricing for vinyl-style wedding CDs in printed card wallets left blank for you to burn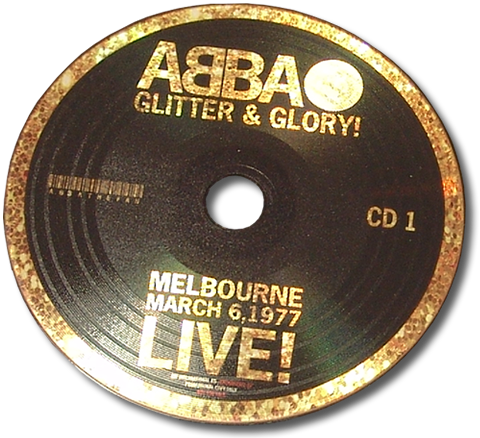 Custom printed vinyl wedding CDs with full coverage printing of your artwork under the vinyl rings
We can now offer full surface on-body printing of your artwork with the vinyl ridges and grooves laid on top, for some stunning effects on the discs. The standard central printed labels are replaced with a very durable and extremely high resolution on-body print that is still available with coloured bases (CD data sides of either silver, black, green, a light turquoise or blue). We can either print onto a white base layer for accurate colour reproduction or for a reflective metallic effect (highly recommended) we can print directly on the silver reflective disc surface as shown in the Abba disc. If you wish to go for full coverage vinyl CD printing then please add £0.35+VAT per disc if ordering fewer than 100 units to the costs in the pricing tables above, or for quantities of 100 or more, it is just £0.25+VAT per disc.
Click here to find out more and view some gallery examples of our custom printed full coverage vinyl CDs
Cellophane wrapping the CD wallets
If you would like your vinyl CDs supplied in cellophane wraps for a glossy protective finish then please add £0.08+VAT per disc.
CD wallet mailers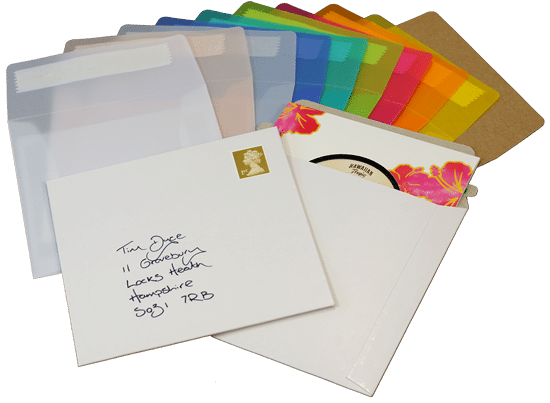 If you are creating wedding invitations and will be mailing them out then you may wish to consider our high quality CD mailer wallets that are available in either translucent tracing papers (in white, baby pink, baby blue, blue, turquoise, green, pink, orange and yellow), brown Manila or a rigid white cardboard.
The white cardboard CD mailers are 140mm x 135mm in size once sealed and have a 45mm peel and seal flap and are only a few millimetres deep, allowing them to also be sent as a standard letter size with the Royal Mail, saving postage costs over a Jiffy or bubble envelope that often have to be sent as large letters.
The translucent tracing paper wallets are thinner than the rigid white mailers at 100gsm, however they offer a very unique type of mailer that offer a semi-transparent view as to what may be inside. The brown Manila wallets are also 100gsm, match our Manila card stock very closely and are 100% recycled if you are looking for an e environmentally friendly option. Both the tracing paper and brown Manila wallets are available in the 135mm x 135mm size and have peal and seal flaps to close the wallets.
These mailers are ideal for use with our vinyl CDs in the record style card wallets as they fit perfectly and cost just £0.19+VAT each for the white cardboard, £0.49+VAT for the brown Manila or £0.59+VAT for any of the tracing paper colours if you wish to add any with your order.
The tracing paper mailers can also just be used as unusual finishes to encapsulate discs in wallets when handing them out or presenting them on tables for example.
If you have any questions at all, or would rather talk the design through with a member of staff, then please email us or call us on 01489 872 980.