Bulk wrapped pre-printed CD-R discs
Offset litho or silk screen printed CD-R
We can provide you with CD-R discs either with or without contents (that you can then burn yourself) but with a full colour direct-to-disc print using either offset litho or silk screen printing. This is the same type of printing as shop-bought CD albums for the very best print quality and durability – just fill in our sample request form below to see some examples.
The discs are typically supplied bulk wrapped, although if we are adding the contents then we can also supply them in clear plastic wallets as per the third pricing column below. The minimum order quantity due to the printing processes used is 100 units of a single design, but the prices quickly come down for larger quantities.
The discs are inserted from near the inner spine of the wallets and there are thumbcuts added to help remove the discs.
Pricing for our bulk wrapped pre-printed CD-R discs (with no audio contents added):
Pricing for our bulk wrapped pre-printed CD-R discs (with contents added):
Pricing for pre-printed CD-R discs (with contents added and packed in clear plastic wallets):
Disc artwork template download
(also suitable for editing in Photoshop)
Do you need a barcode?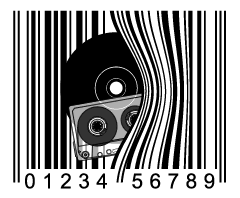 If you will be selling your discs or cassettes through a retail store then you will probably need to register a unique barcode for your release and apply it to the rear outer artwork of your product to make it possible for them to sell via their product barcode scanner.
In Europe we use the EAN 13 barcode system and in North America the UPC system is used. We can register an EAN 13 barcode for you and embed the barcode graphic within your disc or cassette packaging artwork for just £12+VAT. The only information that we will require from you will be the name of the band/artist and the title of the release, then just leave a suitable space in your artwork and we will register the barcode and add it to your artwork for you, all for just £12+VAT.
For further information about barcodes, please read our barcode FAQs.
How to place an order or request a sample
The best way to place your order or request a custom printed sample is to complete our ONLINE ORDER FORM
However there are also three other main ways in which you can get your contents and artwork across to us:
1. By email If the artwork (and contents if we are burning the discs for you) are less than 10MB then you can email them to us here.
2. By uploading online Any size of files can be uploaded to us free of charge online via our WeTransfer upload - please remember to provide your order details (band name, type of cassettes required, packaging type, total order quantity and delivery address) in the information field when uploading.
3. By post Please send your artwork (and contents if we are burning the discs for you) to: Disc Production Manager, Wizbit Internet Services Ltd, Keppel K1, Daedalus Park, Lee-on-the-Solent, Hampshire, PO13 9FX
Payment for orders

Payment is required before production of the order. Once we have received your artwork files (and audio contents if also being recorded) and verified that they are ready for production then we will email an invoice across to you that can be paid by cheque, BACS, PayPal or credit/debit card. If you have already been sent an invoice then please click on the link below to pay for your order by credit or debit card:
Any questions?
There are often many questions that customers may have that are not answered above, in which case please do not hesitate to pick up the phone or email us and we will try to help. Our contact details can be found here.
We also have an extensive CD production FAQs section which may help to answer your questions.