Cassette Tape USB Drives
Exactly the same size as a cassette tape, but with 4GB or 8GB of digital storage space
We now offer USB storage drives that look just like actual cassettes, with the option of full colour printed cassette labels and the ability to pack them in a standard cassette case with J-card inserts if you like. They are available in white or black shells and in very small production quantities if you only need a few copies.
These USB cassette storage drives are perfect for distributing large files like videos, complete album sets of audio or as useful tools for everyday use in storing and transferring digital files.
The capacity of the drives is 4GB (8GB also available) which is the equivalent of nearly six CDs or a whole DVD of content.
Benefits of our USB cassette storage drives include:
Large 4GB or 8GB capacities, with larger available by request
Exactly the same size as standard cassettes, so can be stored in cassette cases and associated packaging
Unusual and unique USB style in either white or black cassette-style shells, ideal for bands, studios or retro products
Full colour printing onto standard cassette labels on both sides of the cassettes, allowing plenty of space for your own artwork
Available in much smaller quantities than most other USB manufacturers allow, with the minimum being five copies.
Competitive pricing that includes UK delivery (international delivery available) and can offer quick turnaround times
Pricing for cassette tape USB drives, blank with no printing:
Pricing for cassette tape USB drives, blank with full colour printing both sides:
Pricing for cassette tape USB drives, contents added with full colour printing both sides:
Additional options to above pricing
Upgrade storage size from 4GB to 8GB £0.40+VAT each
Upgrade connection from USB 2.0 to USB3.0 for faster read and write speeds: £0.50+VAT each
Cassette USBs supplied in clear hard plastic cassette cases: £0.25+VAT each
Adding full colour printed (both sides) J-cards: £0.30+VAT each
Printed labels only on one side of the cassettes: £0.10+VAT less each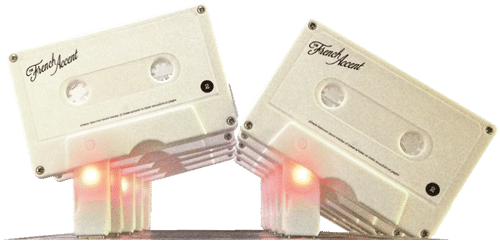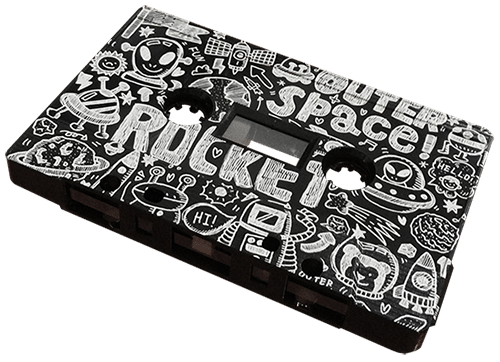 On-body cassette USB shell printing – new options!
We can now offer full colour, white, black and even spot gloss on-body cassette USB printing with the same turnaround times as stickers and with the option of printing over the full surface of the cassette as shown in the example on the right. Our new in-house printer is a state-of-the-art UV LED printer that is very high resolution and prints incredibly hard and durable inks directly onto the tapes in vibrant colours. There is a small additional fee for the on-body printing, but it is now priced per tape (rather than a fixed setup cost), making it more economic for shorter production runs.
Click here to find out more about our new on-body printing, view prices and see some examples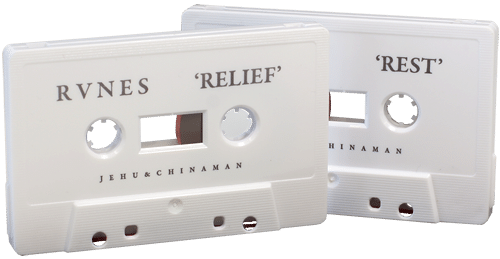 Some examples of our work: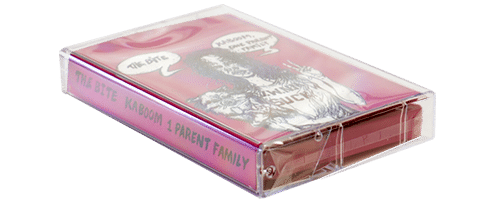 Cellophane or shrink wrapping the cassette cases
If you would like your cassettes supplied in neat boxed-corner cellophane wraps for a glossy protective finish that is ideal for retail environments or presentation purposes then please add £0.10+VAT per cassette. Alternatively we can also provide a heat sealed clear shrink wrap for the same price of £0.10+VAT per cassette.
Both help to avoid the cases getting scratched in transit, storage or during retail.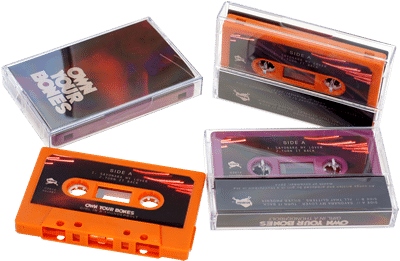 Standard cassette tape production
If you are actually after standard audio cassettes to play in a traditional tape player, then please view our extensive range here.
Shown here are retro orange and blackberry purple standard audio cassettes produced for a client.
Cassette case obi strips
If you wish to add a Japanese-style release obi strip to the cassette case with full colour printing then we can make them for your order with either a horizontal or vertical orientation around the cases.
Our obi strips are full colour printed onto a high quality 300gsm matt card, although other material options could be arranged.
Click here to find out more about the obi strips, pricing and artwork templates
USB cassette tape artwork template downloads:
USB cassette tape Sticker printing template downloads
USB cassette tape on-body printing template downloads
The yellow areas show the artwork area to be printed. Please select between standard printing or full coverage printing when downloading a template (the prices vary depending on coverage, please see our on-body printing pricing table). Generally if printing on anything other than white, cream or grey tapes, we will add a white base layer beneath colours so that the colours come out accurately and are not affected by the shade of the tape shell behind. If you would only like a partial white layer or would only like your artwork to be printed in white then please supply a separate copy of the artwork for the white layer only (with white print in the file name so that we can easily identify it as being a white print), with the white area to be printed using a solid black colour (essentially white colours are never printed in artwork and for us to print a white base layer we load up a specific file with the black in the file representing the white layer to print). The same is true if you would like a spot gloss layer applied, please supply another copy of the file with gloss print in the file name with the black area showing where the gloss should be printed. This may mean that if some areas are just printed white, some areas are full colour and some bits have a spot gloss then you would need to supply three different artwork files per side, one for the white, one for the colour and black areas and one for the gloss areas.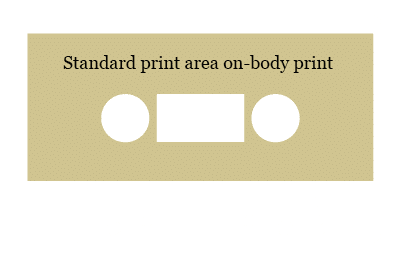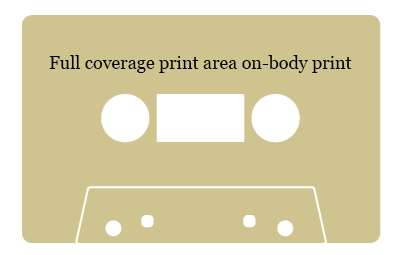 Standard cassette case insert 'J-card' artwork templates
The standard cassette case 'J-card' front insert artwork is as follows: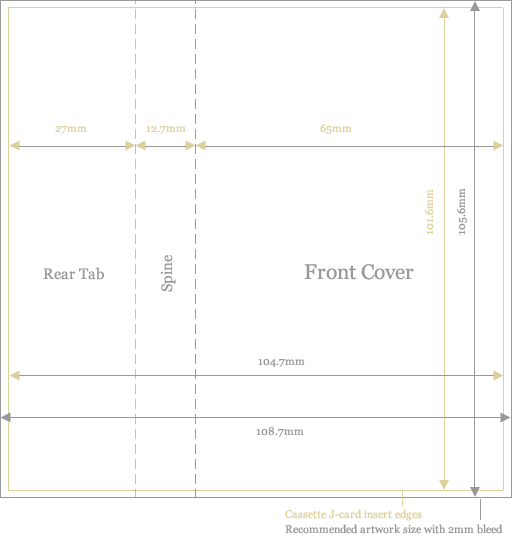 The standard cassette case 'J-card' inner insert artwork is as follows: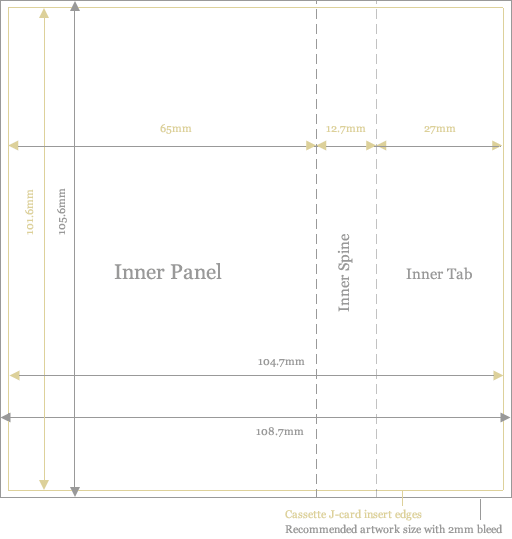 Cassette case J-card artwork template downloads
Extended cassette case J-card artwork templates with additional panels downloads
If you require additional panels for your cassette J-card inserts, then you can add up to five additional fold-out pages by using the templates below. Each page is printed full colour on both sides, so for example three pages actually give up to six sides of additional artwork content and each additional double-sided page costs an additional £0.12+VAT per cassette (so a full five additional pages would add £0.60+VAT per tape). In the artwork templates below, just fill in the additional panels of artwork that you require and leave any others blank that aren't required (please always fill in +1 as the first extra panel, then +2 and +3 if required). Please only use the five extra panel template if you are going for four or five extra panels, otherwise please use the three extra panel template.
Delivery
The above prices include courier delivery fees to a single UK address. International delivery can be arranged, please click here to view our overseas delivery rates.
How to place an order
The best way to place your order or request a custom printed sample is to complete our ONLINE ORDER FORM
However there are also three other main ways in which you can get your contents and artwork across to us:
1. By email
If the artwork (and contents if we are burning the discs for you) are less than 10MB then you can email them to us here.
2. By uploading online
Any size of files can be uploaded to us free of charge online via our Hightail upload – please remember to provide your order details (band name, type of cassettes required, packaging type, total order quantity and delivery address) in the information field when uploading. – please remember to provide your order details (band name, type of cassettes required, packaging type, total order quantity and delivery address) in the information field when uploading.
3. By post
Please send your artwork (and contents if we are recording the tapes for you) to:
Disc Production Manager, Wizbit Internet Services Ltd, Corhampton Lane Farm, Corhampton, Hampshire SO32 3NB
Payment for orders

Payment is required before despatch of the order. Once we have received your artwork files (and audio contents if also being recorded) and verified that they are ready for production then we will email an invoice across to you that can be paid by cheque, BACS, PayPal or credit/debit card. The card receipts and VAT receipt will then be included with your order.
Any questions?
There are often many questions that customers may have that are not answered above, in which case please do not hesitate to pick up the phone or email us and we will try to help. Our contact details can be found here.
We also have an extensive CD and cassette production FAQs section which may help to answer your questions.